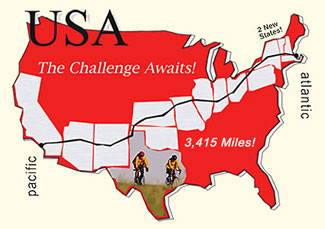 Where is Lance?
Follow Al on his cross country bike tour!
If you want to see the itinerary, click here.
To learn more about the tour, click here.
Day 1 S Portland Maine
2011-09-21

Arrival

Up a 5am, pick up Larry, miss connection in Philly, get on stand by, get to hotel by 1:45, get bike, it needs work, ride to bike shop in nasty traffic, get it adjusted. But what the hey, I'm riding from Maine to Florida with old buddies and new friends. All is well. Tomorrow is what is billed as beautiful 70 mile ride into New Hampshire.

Weatherunderground forecast: Cloudy. Patchy fog in the morning. Showers likely with a chance of thunderstorms in the morning...then a chance of showers in the afternoon. Highs in the upper 60s. Southeast winds around 10 mph. Chance of rain 60 percent.

Tomorrow will be interesting. It should set the tone for the riding tempo for the rest of the trip. All riders seem fit.

Little know facts: a shipyard was established in 1940 in S. Portland to build cargo ships for Great Britain. When the United States became involved with World War II the shipyard expanded and turned out 236 of the 440 foot long Liberty Ships, more than 10 percent of all the Liberty ships built during the war years. At its peak, the shipyard employed some 30,000 people, including thousands of women, Wendy Welders and Rosie Riveters who took over the jobs vacated by men going into the service. The shipyard gradually ceased operations after the war ended in 1945.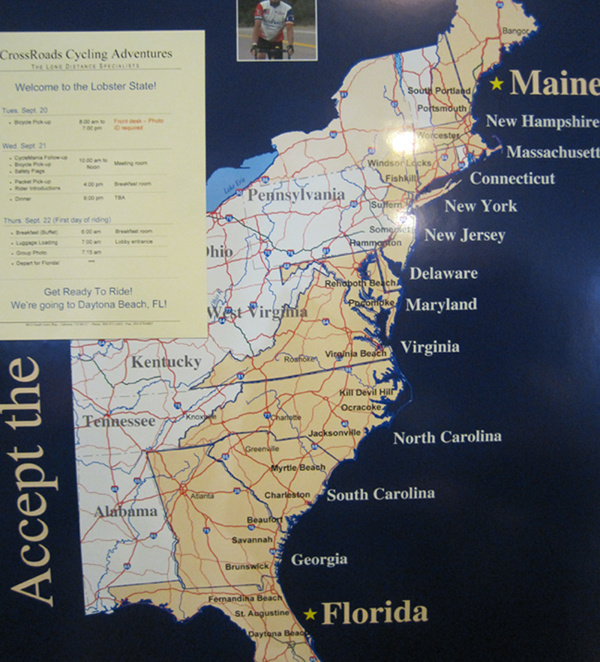 The map. If you look closely you can see the towns that we will stay in.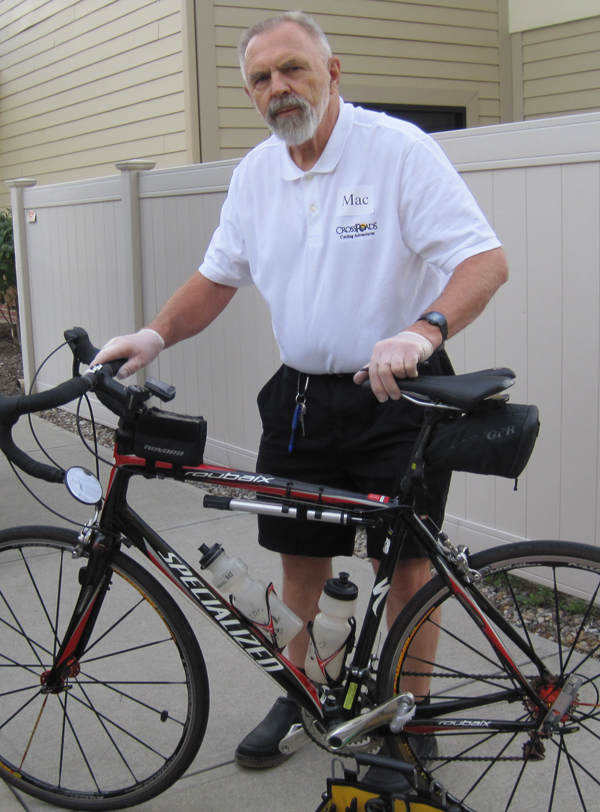 Crossroads bike mechanic Mac helping me fit my bike.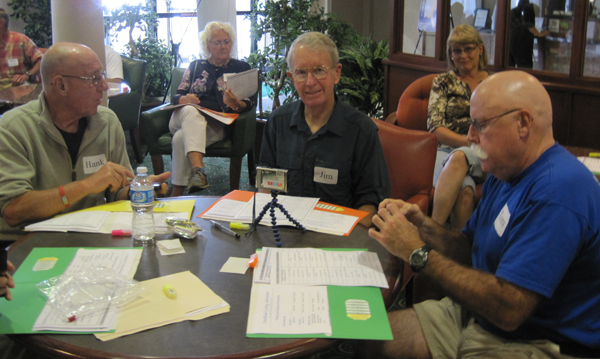 In foreground fellow XC09ers Hank, Jim, Tom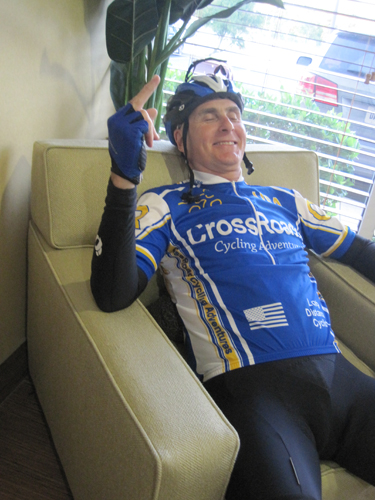 Peter, obviously
Messages
Go Gramps Go!!! Love you!
Sent 2011-09-22 from Ella
go tigers!
Sent 2011-09-22 from peter b
Good luck Al! Saw this link and thought of you ... not sure that's good.

http://www.thepostgame.com/blog/training-day/201109/craziest-bike-race-earth
Sent 2011-09-21 from Chip and Carol
Good luck tomorrow Dad! Ride safe and smart. Love you xo
Sent 2011-09-21 from Katie