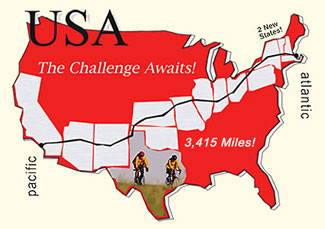 Where is Lance?
Follow Al on his cross country bike tour!
If you want to see the itinerary, click here.
To learn more about the tour, click here.
Surprising Peter on His 60th Birthday
2010-05-03

I had been thinking about riding up unannounced on Peter since Boston. In Boston I had met Peter's riding buddy Mario and I figured if I could get him to be a coconspirator then I could actually pull this off. With Peter's 60th birthday approaching I made the calls. Mario didn't hesitate for a second. Andrea thought it was a great idea. We started planning.
This past Friday I put the bike in the car, drove 10 hours to NYC, met Mario and we went over the route and looked for appropriate hiding places. This precautionary planning was absolutely a waste of time. I could have been standing naked by the side of the road holding a sign that said "hi Peter, its Al" and it would not have computed for Peter.
Mario lives in Jersey so Peter rides over the George Washington Bridge and they meet there and then ride north. Mario makes the call. "I'm with my friend and I will be a little late coming back to the office." This is my clue that they have met and will be passing my hiding place in 5 minutes. I ride behind them for a while but Peter has no mirror and doesn't notice me. I than announce "passing on the left" and zoom pass. Peter yells "Go Michigan" but does not notice it is me. So I have to slow down and he comes along side. He then says to me "I have a shirt like that, a friend of mine from Michigan sent it to me, but I'm not from Michigan." I'm about to ask him what his friend's name is when Mario yells "Peter are you F***ing blind?" A couple of glances, muttering of "What? What? Is that you Al? Pull over, pull over" and he has figured it out.
It was great.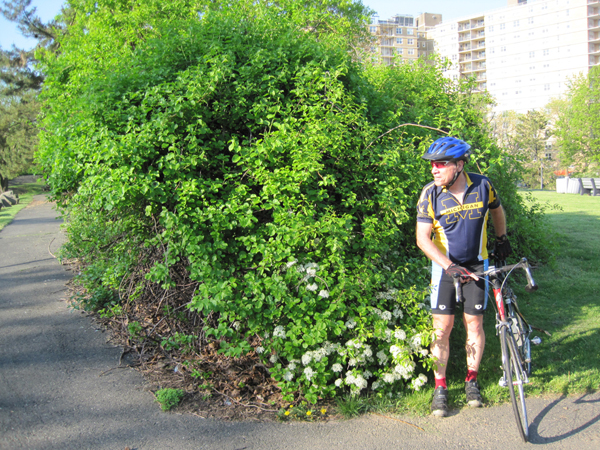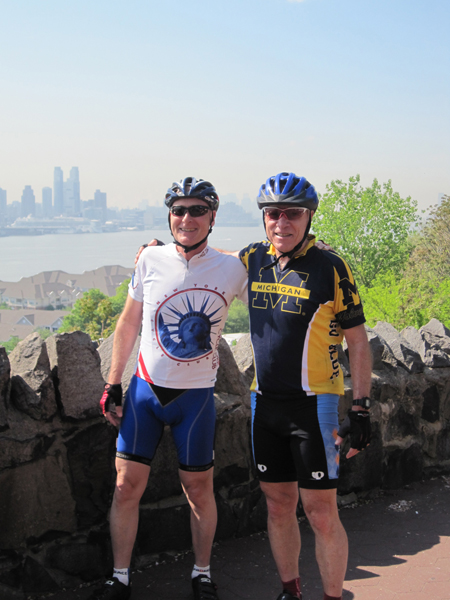 Manhattan in the background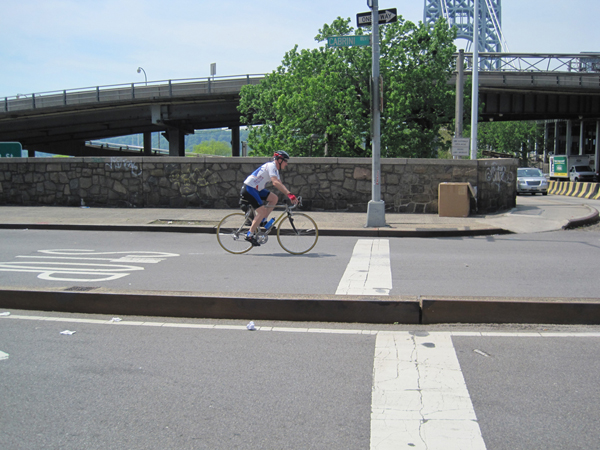 Peter by the George Washington Bridge.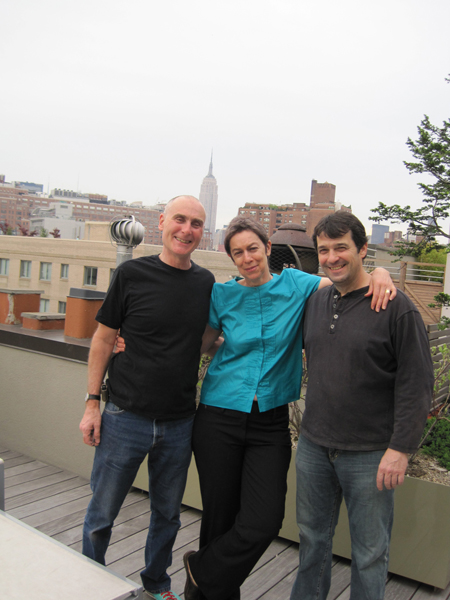 Peter,Andrea,Mario
Messages
HI! It was great meeting you at Eagle's Kabob today, and I look forward to hearing about more rides!
Sent 2011-08-27 from Gwen
Al,
Just wanted to say we enjoyed riding with you in Toledo on Saturday and can't wait to read the full blog!
Robyn, Shane & Nate
Sent 2010-07-21 from Robyn
Thanks, Al. What a great story. Wish I had been there.

RSRO
Sent 2010-05-04 from Jim