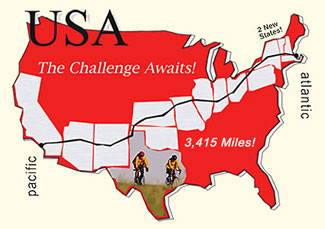 Where is Lance?
Follow Al on his cross country bike tour!
If you want to see the itinerary, click here.
To learn more about the tour, click here.
Day 44---Only Five more days of riding 70 miles from Canandaigua to Syracuse NY
2009-06-21

Scores from the wet and wild, bike tour.

Riding in the rain: What choice do we have?
Wet clothing, shoes, bike: What choice do we have?
A biggie on fathers day: This place has a laundry, Since we were first into it I can wash and dry my clothes. You can't understand how much I need this.
Hills: Enough already. But wait, it only continues for four more days.
Another rider to the ER: Nancy hit a curb today. Separated shoulder, road rash, on morphine. Chris has leg pain so sever that he doesn't think he can continue to ride.
Survival: Given the conditions we ride in, the fatigue level, bad roads, and crazy motorists I am becoming more and more wary. Fortunately I am riding with cyclists who are very experienced and safety conscious.
The wind: It is never out of the west. Fortunately in terrain with lots of forest it is less of an issue. Tomorrow the forecast is no rain, wind out of the nne.
The route: It is probably very nice but I've been focused on the road and weather issues. From Erie we rode along the lake with vineyards on our right. We stopped in Hamburg which was not far from Niagra Falls. The past two days we rode through the northern section of the Finger Lakes. I assume it was very scenic but I've been in survival mode.

Little known fact: Waterloo NY is the birthplace for Memorial Day.
Another little know fact: Seneca Falls NY is home of the Womens Rights Movement.

We left Canandiagua in a hurry. I was riding with Jim, Peter, Chris, an Willie. We stopped at the 3000 mile mark for pictures and Either Willie or Peter had a flat because they never caught up. Rick, our mechanic had a flat, Chris stopped to talk to them and Jim and I were out front. Chris decided to ride with Rick, passed us, but eventually had a bike problem so he ended up riding with us the last half of the ride. We rode quickly today because were in and out of the rain all day. Tomorrow 84 hilly miles to Little Falls.






Canandaigua NY to Syracuse NY 68 Miles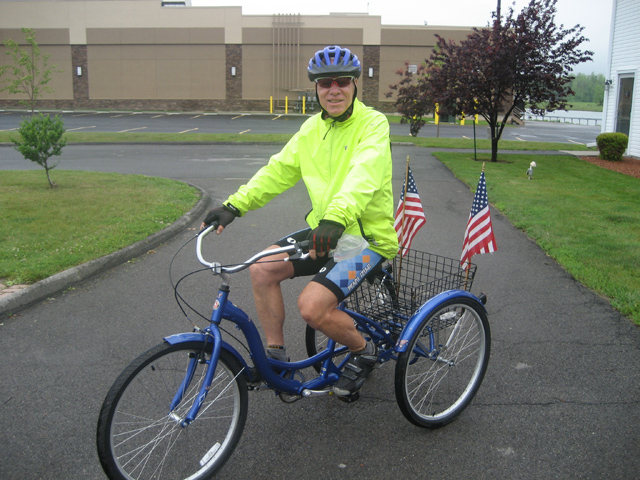 I hope Aberdeen bike doesn't mind but I traded my two wheeler for one a little safer.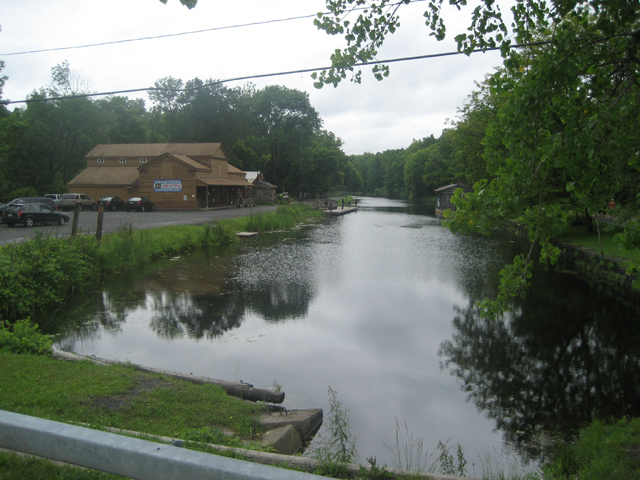 Low bridge everybody down, Low bridge we are going through the town. The Erie Canal.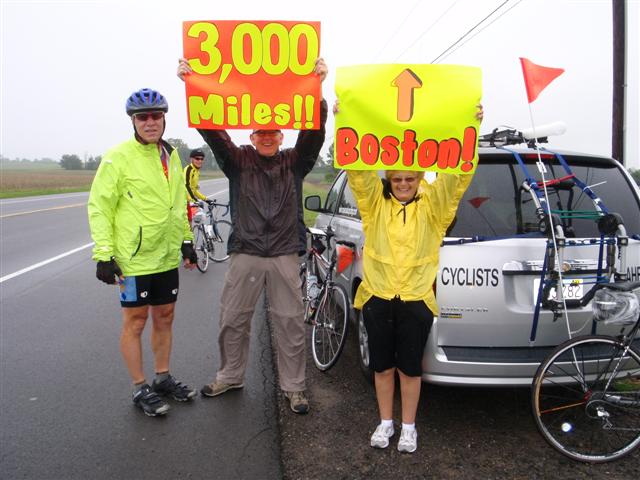 Messages
Hey Dad,

Sounds like they are dropping like flies... Stay alert and finish in one piece! Looks like the trike may help in that regard.
Sent 2009-06-22 from Dave
only 5 more days--of reading my comments! Hope you look around alittle in the time left. Your in my part of the country! Go Tigers!!!
Sent 2009-06-22 from peter brown
Happy Father's Day Dad! You're the best. Stay safe the last few days, we are all thinking of you and cheering you on. Love you!
Sent 2009-06-22 from Katie
Happy Father's Day! You look cold and wet... and rather out of place on that trike. Keep peddlin and stay safe. Love you.
Sent 2009-06-21 from Your dearest Anna Bo
Happy Father's Day!
Love ya
Sent 2009-06-21 from Jessie
Sent 2009-06-21 from