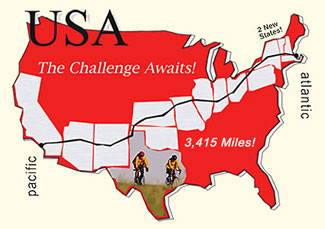 Where is Lance?
Follow Al on his cross country bike tour!
If you want to see the itinerary, click here.
To learn more about the tour, click here.
Day 35 ----62 Theoretical miles from Crawfordsville to Indianapolis
2009-06-12

Scores from the: Oh happy day, bike tour.

Noticing that the road sign says it's 45 miles to Indianapolis, not the 62 on our clue sheet: Now isn't that interesting.
Google earth: Now let me see, I can actually look at the route.
Tracing the route: Well lookey here, if I take this road, and then these roads, I can cut off, let me see, 17 miles!!!!: Yes 17 miles!!! Oh my God, I can cut off 17 miles.
Having the DNA that would never take the designated route if I can cut off 17 mile: Thank you parents.
Dancing in the hotel parking lot with Jim and Peter: Yes grown men dancing.
A no Gatorate day: Wow.


Trivia question: Indianapolis is the capital of Indiana. Which other state has a capital which incorporates the name of the state?

Having figured out that I could cut the ride short I had trouble sleeping. It was Fred's last day and a friend of his rode out to meet us. His friend, Bob, is a 500 mile a week biker and when I told him of my plan he said "I live right by the hotel I'll lead you there". Oh go ahead and break my heart. I told many riders about the shortcut but only Jim, Peter and Fred took it. It was a beautiful ride, nice roads, no traffic, horse country, and best of all, only 45 miles. Fred had turned to go to his house so Peter, Jim and I celebrated at the hotel. It doesn't get much better than this.

Answer to trivia question: Oklahoma City.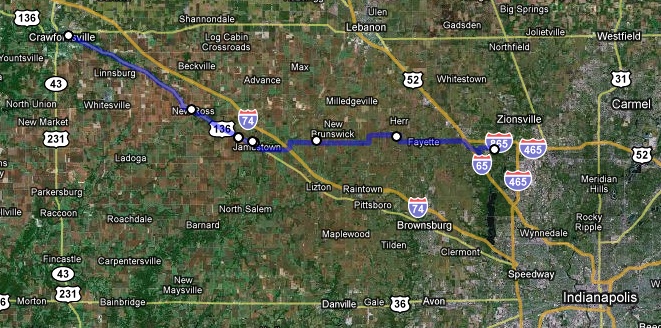 Crawfordsville IN to Indianapolis IN 64 Mile

GO WINGS!!!!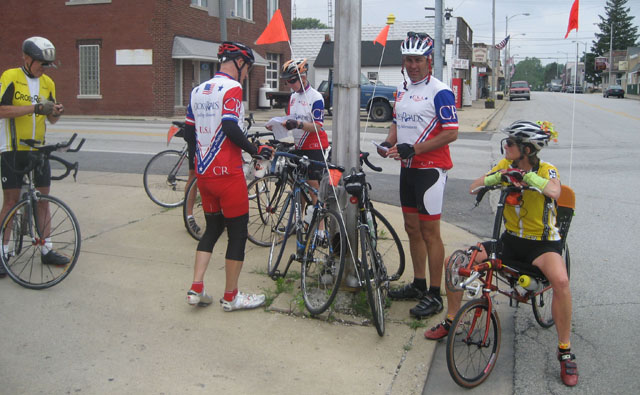 We stopped at a gas station in Jamestown. Left to right. Fred, Peter, Jim, Willie and Sue. Only Fred Peter, Jim and I took the short cut.




Indiana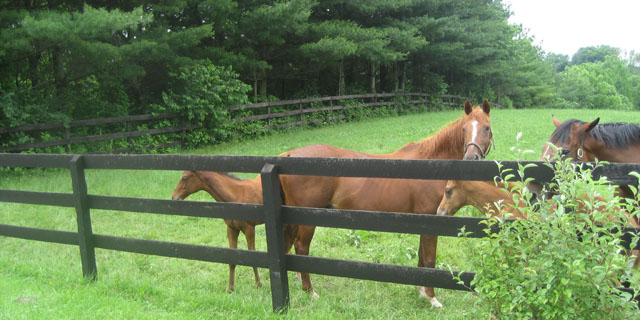 We rode through horse country.
Messages
note sue's bike! you are getting closer! see ya sunday.
Sent 2009-06-13 from peter brown
You know if you had ridden the designated route you would have made up for the 16 you lost on the bump. Seems a shame. Who knows when you'll have that chance again?
Sent 2009-06-12 from Mike N.
When you get to Ohio, you may be ready for a GOOOOD soul food meal...I can hook you up.
smile ( let me know)
Sent 2009-06-12 from RC
Al, waddya mean you don't ride in electrical storms. Word on the trail and street has it that you're world-class at dodging lightning.

And if lightning is predicted, you can always wear Katie's foam Wolverine helmet on top of your bike helmet. Besides being a totally awesome fashion statement, it'll probably act as electrical insulation.
Sent 2009-06-12 from Old Uncle John
Al, I haven't known you that long but I can say that this bike ride is the craziest thing you've done all year. Are you tempted to turn north?
Sent 2009-06-12 from Phillis
Al,

I'm catching up on your amazing trek across the US. You're already to Indiana? I hope to hear some great stories at the orienteering races this fall.

Have fun! Be safe! Keep on pedaling.

-Parker
Sent 2009-06-12 from Parker
go wings? where's lance???
Sent 2009-06-12 from peter brown