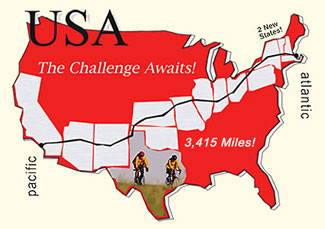 Where is Lance?
Follow Al on his cross country bike tour!
If you want to see the itinerary, click here.
To learn more about the tour, click here.
Day 34 --80 Miles across the Heartland from Champaign IL to Crawfordsville IN
2009-06-11

Scores from the: I can't possibly be this tired, yesterday was a rest day, bike tour.

Serious question, at least serious to us bike riders. How can storms be racing across the country from west to east and the ground winds be going in the opposite direction? Even Professor Jim has no explanation. A beverage of your choice to the correct answer.
Big storms: Yesterday weatherunderground predicted 80% chance of thunderstorms during the period we were to ride. Nada, not a drop. I can't decide if this is a good thing or not. If there is an electrical storm in the area I will not ride.
Fatigue: Way too high. We've been told that this is mentally the most difficult part of the trip. Long rides, not spectacular scenery, and we have been pushing hard for almost five weeks.
Prediction: Saturday at between five and six pm four men from Ann Arbor will walk into the Upstream Brewery in Omaha and order calamari for an appetizer. I'm missing it already and it hasn't even started yet.

Little know fact. Crawfordsville is home to Walbash College, one of only four all male liberal arts schools in the country.

Another little known fact: When I asked Fred who is from Indianapolis what a Hoosier was he replied "Nobody knows". So I looked it up. Apparently nobody does know.

I began the ride with attack of mental illness. Our mechanic, Rick is a much stronger rider than any of us on this tour. Some days he does not ride, some days he rides sweep, and occasionally
he rides in front. Today a friend of his, Mike, arrived and they pulled out front. Mike is a big guy and rides quite upright, a very nice draft. I pulled in behind him until Rick made the motion that he was pulling off the lead and dropping to the back of the paceline. Oops, I'm going to have to pull too? Could not be done and I waited for Jim, Fred, and Peter to arrive and we rode together into Crawfordsville. I didn't feel particularly great but except for Jim, nobody else did either. We cruised in at slower than normal speeds into the hotel. I am tired.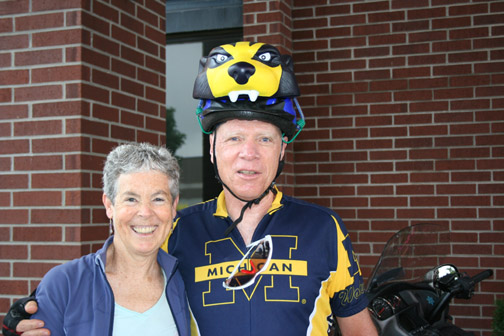 Proud to be a Michigan Wolverine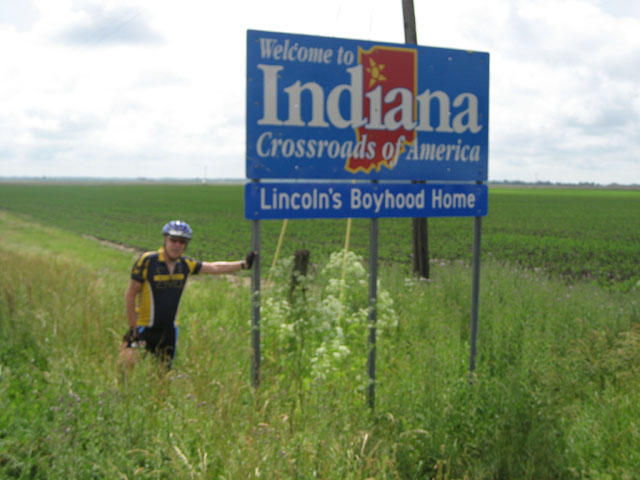 Ninth State.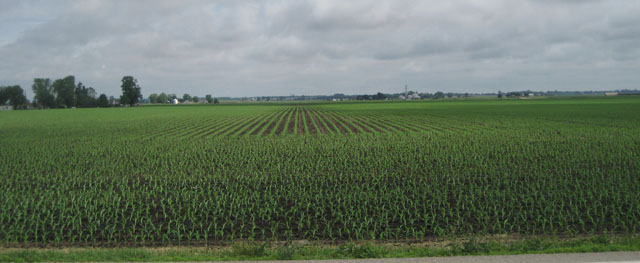 Indiana.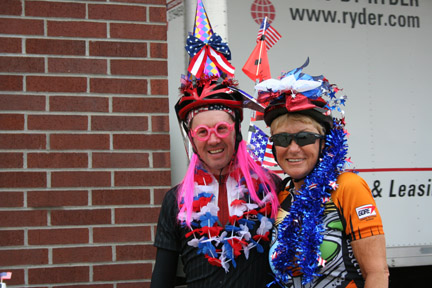 Harry and Nancy - Helmet Day
Messages
I can see that I will have to spruce up my helmet. It is
drab in comparison to these wonders.
Sent 2009-06-12 from Ellen
Glad to see my foamhead it getting some good wear! It looks great on you dad. Go blue, and go wings!
Sent 2009-06-12 from Katie
IF Lew is right and if you do get high pressure behind you tomorrow... both things could be true... then you could get a tail wind.
As I was driving along I-74 today, it seemed like a long way to Crawfordsville from Champaign. I guess it seemed even farther on the bike.
From the looks of the directions to Indianapolis tomorrow, your orienteering skills (and compass) may come in handy.
Miss ya already.
Sent 2009-06-11 from Roddy
Hate to be the serious one here - but winds generally travel in a clockwise direction around a high pressure system and counter-clockwise around a low. If a low is approaching (usually from the west), you often get winds with an easterly component. Once a high moves through to replace a low, however, the winds will shift - sometimes suddenly - to come from the northwest quadrant.

So, without having looked at the charts, I suspect you've been making progress to the east at about the same speed as a slow-moving low pressure center. Bad luck, dude. Suggest you press the weather re-set button.
Sent 2009-06-11 from Lew K.
Al - NPR had a story this week on Spam! Shades of Corned Beef Junction, Drummond Island. Hope you're not eating any in lieu of that calamari.... Will think of Roddy's dad while rooting for the Red Wings tomorrow night.
Sent 2009-06-11 from jude h.
Al, you can take advantage of the upper level west-to-east storm winds to help pull you through the ground level east-to-west winds. Get a large parasail and attach it to your handle bars with a heavy rope. Fly the sail in the upper level winds and sit back and enjoy the tow. All you have to do is steer. This should completely solve all wind and hill problems and enable you to be first into the hotel every night in fully rested condition.
Sent 2009-06-11 from Bill P. in SMOC
Re: your question about the storms and ground winds seemingly moving in opposite directions, it seems unlikely there is a physical/weather- based explanation, so will opt for a psychological one based on memories of running. It seemed we were always running uphill even on circular routes.
Sent 2009-06-11 from Barry
The Omaha Crew will be thinking of you! Rich is likely to retain all of his recruits with the top guy going in the 6th round and the next in the 10th. Coach Rod has 13 verbals.
Sent 2009-06-11 from Ed