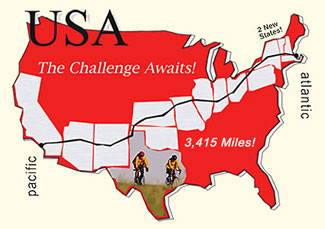 Where is Lance?
Follow Al on his cross country bike tour!
If you want to see the itinerary, click here.
To learn more about the tour, click here.
Day 24 Thank you Lord for the tail winds and the coming rest day. 62 easy miles from Mcpheson to Abilene KS
2009-06-01

Scores from the: For amber waves of grain, bike tour:

Trivia question: Why does Elmo, KS have over 1,500,000 google hits?

Amber waves of grain: Either we are later in the season or they are farther into the growing season but with these winds we are now seeing amber waves of grain. Neat
Being able to determine by the stench whether we are approaching a cattle or a pig farm: It comes with experience.
Rest day: This is most welcomed: Many wives are visiting for their, how can I put this since there are 4th graders following this blog? Well you know.
Being in the plains but now seeing rolling hills and smaller farms: Yes
Predicted 70% chance of thunderstorms on our rest day: Nice
Web crawlers: We are not endorsing "Free Poker Bankroll". Mark is there a way to stop and delete?

Answer to trivia question. We rode through Elmo today but it was undetectable to me. It is famous for Permian fossil insects. They were found in a limestone hill. How anyone would decide to look here is beyond me.

We rode with strong winds today. Twenty two miles with it on our right and the rest following as we turned north. Most welcomed. We did the 62 miles in about three hours. I rode with the same gang today, Jim, Chris, Willie and Peter. At the SAG Peter, Jim and I headed out. It was very hot and we are getting more humidity as we descend from the mountains. I let them go because of the heat. About 20 miles out there was Margret in the van and I stop and poured cold water over me. I could see Jim and Peter in the distance, so I put the hammer down and caught them before Abilene. A rest day tomorrow, much needed as we have ridden for 9 straight days.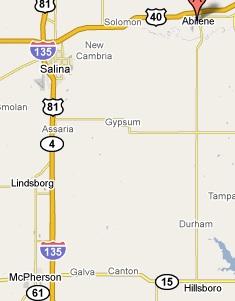 McPherson KS to Abilene KS via Hillsboro 62 Miles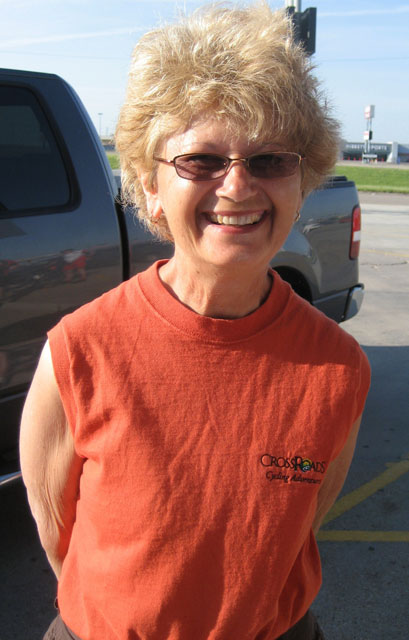 Margret: She is on the Crossroad's staff and drives one of the two vans. She may be the most cheerful person I have ever met and she is always willing to help.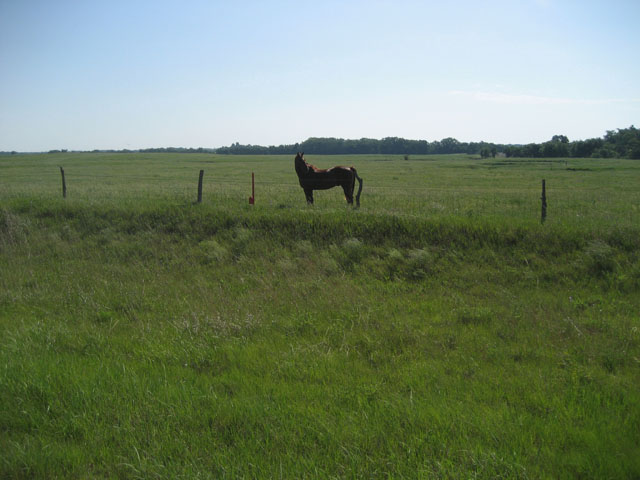 A horse. Hey, It was a poor picture day and we were in a hurry. We often cause the cattle and horses to flee.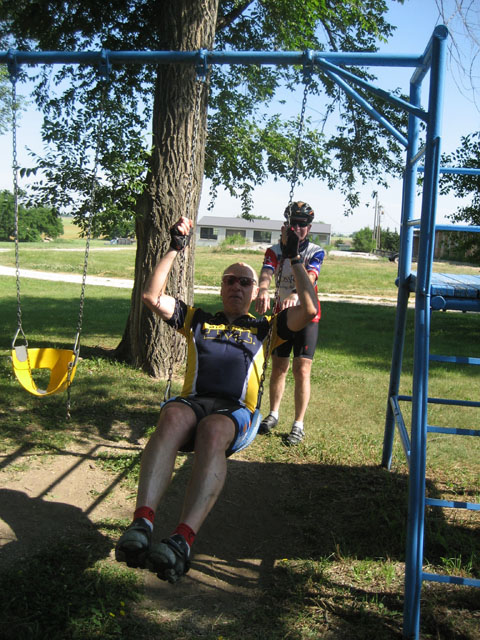 Fun in the park.
Messages
Allan,
Is that Jim giving you a push? Are you too tired to pump or have you forgotten how? Was this just a photo op or did you really go .back and forth more than once?
With that form, I think you should have your helmet on
Love ya
Sent 2009-06-02 from Roddy
Hey Al - I agree with Anna that you're not a very good swing rider - too stiff. relax your legs and arms next time. Several of the Y runners are lacking substantive things to talk about you. It's one or 2 sentences about reading the blog - then what? Try to get a couple pictures of the people who ride in the middle and back of the group. We've heard alot about Jim, Willie, Chris and Peter. Surprise us with some of the others.
Sent 2009-06-02 from Larry
Hi Al. I am a student in your friend Rob Bauman's class. I would think it would be very hard to do what you are doing now. I it pritty cool what you are doing right now.

bestest luck,
Spencer


Sent 2009-06-02 from spencer
P.S. Lance finished 12th overall in the Giro-12 mintues behind. the TOUR starts July 4th!!! You up for another tour? The day before Paris they have a big! mt. climb, this year! Team time trail is back also.!!!! can't wait. go wings!!
Sent 2009-06-02 from peter brown
half way! I learn more every day- your a swinger? In elmo there were T-Shirts? right? Jill and I saw Roddy last nit at the Ken King service, it was very uplifting to see everone and you would be glad to know there was lots of food after!!
Sent 2009-06-02 from peter brown
Hi Dad - I think you may be a better biker than swing set rider? Don't you have a bad back? I was under the impression you needed to refrain from such activities. I guess this means you can get in the water this summer. Enjoy the rest day, you deserve it! Love you and miss you.
Sent 2009-06-01 from Anna
I figure some kids found the Permian fossil insects because there's not a lot to do there and some biker gang has taken over the only playground.

Think part of Armstrong's motivation to wear the maillot jaune was to escape the heat-sucking dark blue of his team jersey. Much as I appreciate a Michigan shirt, think you should abandon it for a lighter color in the oppressive heat.
Sent 2009-06-01 from 60
Glad to hear you're getting some good tail winds! Could you please redirect some of that heat you've been having toward Michigan?
Sent 2009-06-01 from Mark Voit