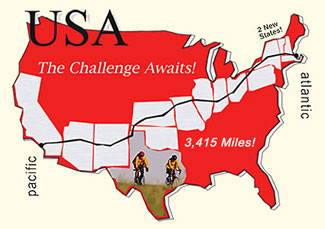 Where is Lance?
Follow Al on his cross country bike tour!
If you want to see the itinerary, click here.
To learn more about the tour, click here.
My Bleeding Ass and Michigan Roads
2014-07-22

119 Miles from Ludington to Mt. Pleasant MI

I have had irritation problems on my rear end this riding season. I finally had decided it was a problem with one of my bike shorts. Early in this ride it occurred again on a ride of 80 miles. I put the suspect shorts aside and decided not to wear them. Well, this morning I was up at 4:30 and my shorts from the previous day were still wet. I grabbed the wrong pair.

About 80 miles into the ride I realize that I am getting open sores on my rear. I am riding with Marshall, tell him to go ahead, and apply Chamois Butt'r (a lubricant bikers use to avoid chaffing). It does not help. I decide that when the SAG comes by I will take a lift to the hotel. However, because of the distance today all riders started together. Normally, those riders who need more time start up to an hour earlier than the faster riders. This means that the support vehicles are spread out over a larger distance. I am riding along thinking how much my bleeding ass hurts when Tom and Daz come hammering by. What a stroke of luck. Soon we are all hammering and I am focused on the ride and into the hotel. But my ass does still hurt.

On this trip I have ridden in Wyoming, South Dakota, Minnesota, Wisconsin and Michigan. All states that have freeze thaw issues. Michigan's roads are by far the worst. And Washtenaw county sets the standard for bad roads. What a disgrace.

I have never been in most parts of the state I rode in today. Leaving Ludington we were in an agricultural part of Michigan. I especially liked the cherry orchards and the asparagus farms. Then into Manistee National Forest with no traffic and pine tree forests. Prime deer hunting terrain. The rest was like biking in Jackson County. Rolling, tree lined roads.

Why does the milage very from the forecast the day before? Detours. Ugh. Today we had two. But there is nothing you can do about it.

Little known fact:
In 1928, large quantities of oil were discovered to exist in the Mt. Pleasant area. A farm owned by the Lilly family was the first to strike, producing hundreds of barrels a day. Although oil resources would eventually diminish, their legacy is apparent in the Mt. Pleasant city seal, which bears an image of an oil drill. Mt. Pleasant High School's mascot, the Oiler, is also a reference to the city's long history with oil.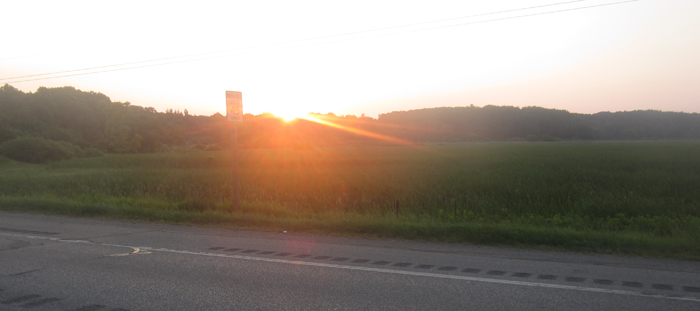 Sunrise on a bike. We were off before dawn today.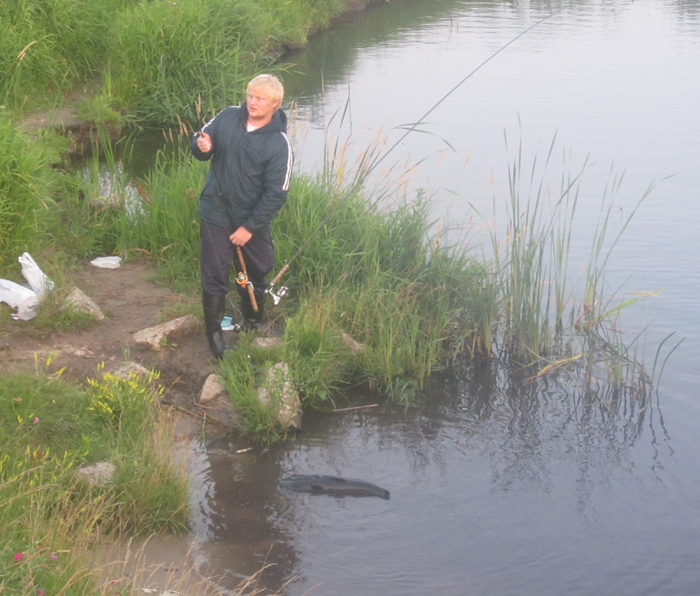 This guy has caught a large carp. It does not appear he has a net. I think he was yelling at me to come down an help him land the thing.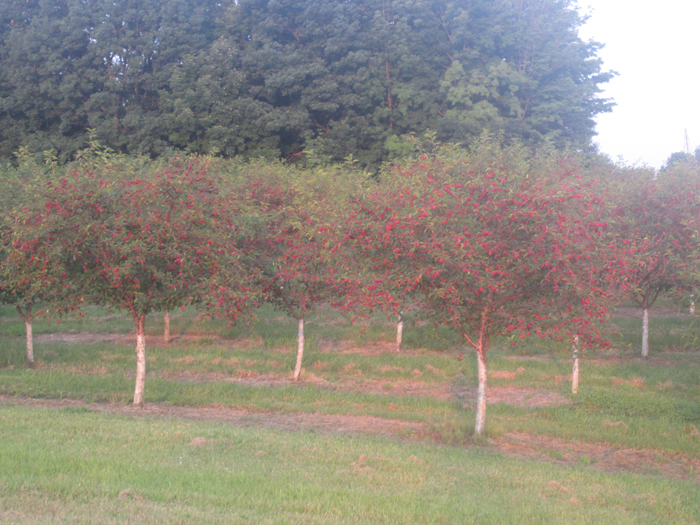 Cherry orchard. It made me think of Ed Hood and the Cherry Hut.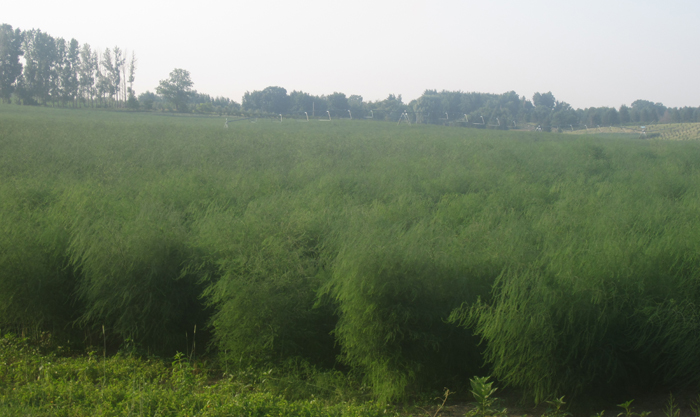 Asparagus. Marshall and I were trying to figure out what part of the plant we eat.
Messages