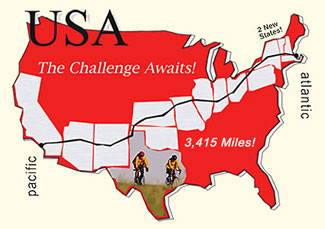 Where is Lance?
Follow Al on his cross country bike tour!
If you want to see the itinerary, click here.
To learn more about the tour, click here.
MISSISSIPPI RIVER RIDE DAY 9
2012-10-06

THE NATCHEZ TRACE - BANANA BOMB

I woke last night to the sound of thunder. Five am a hugh storm rolled through Tupelo. I don't do electrical storms, so we moved down the Natchez Trace. My plan was to do a century on this great biking road. No commercial traffic, cars must give room to cyclists, no stops on any kind, gently rolling terrain, and excellent road surface.

We have a light breakfast since we don't plan to ride for a while. But what is that? Are those cyclists? I felt like my daughter's dog Rufus when the tennis balls are brought out for throwing. We are rushing around to get going. I grab an inch of the sausage Chuck bought in Tennessee, swallow it, and Dave and I rush off to catch the cyclists. After 10 miles they are in the rear view mirror. We are trying to do a five hour century but are hungry at the 57 mile mark and stop in Jackson for lunch.

Waiting for lunch Dave tells me of the conversation he over heard. Two men were comparing their rattlesnake bites. One had been bitten by a copperhead, the other by a water moccasin. They could not agree on which was worst.

Dave decides to ease off a bit and off I go. Completed 89 miles before the SAG caught me.

We go to check in at a dump of a hotel in Natchez. They have fruit, but it is old. I peel a banana, the soft end breaks off, I try to catch it, but I have sent over the counter, over the shoulder of the genius checking us in. He has not noticed the banana and it is lying behind him in his office. If he moves back he is likely to step on it. I feel compelled to tell him but every time approach the counter I lose it. My companions are laughing hysterically. I can't get the words out. Finally, I say, Sir, there is a banana on the floor behind you and have to leave.

We search for fine dinning and end up at the Pig Out In for dinner. Outstanding, our kind of place.

So what kind of weather would you expect in southern MS? Hot? Humid? Nope. Cool and low humidity. What did we do to please the weather gods?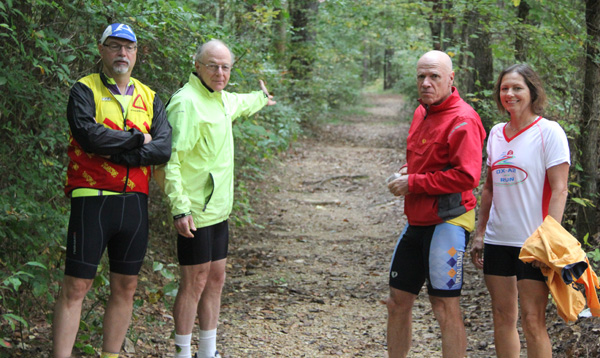 The original Natchez Trace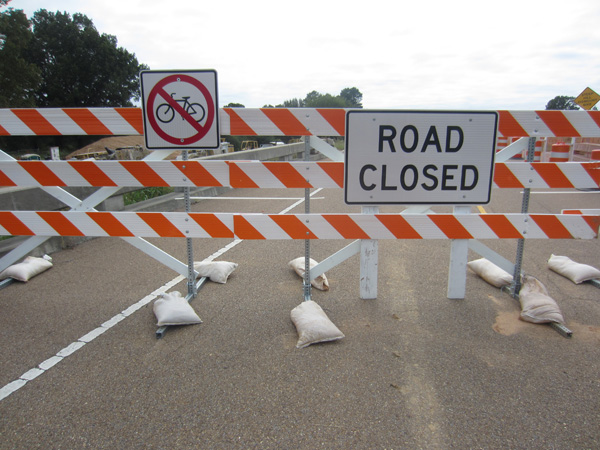 Most cyclists would not have continued.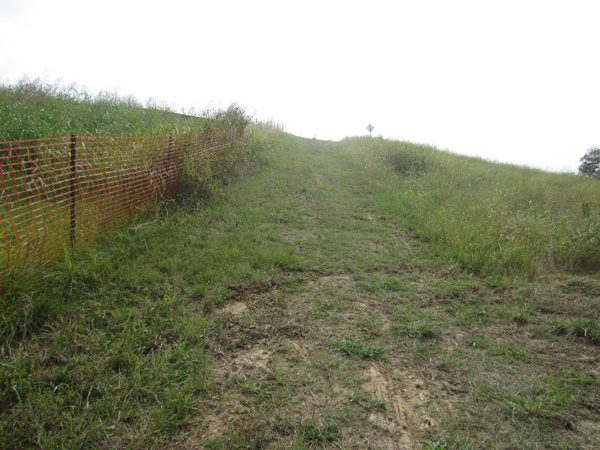 I found a way.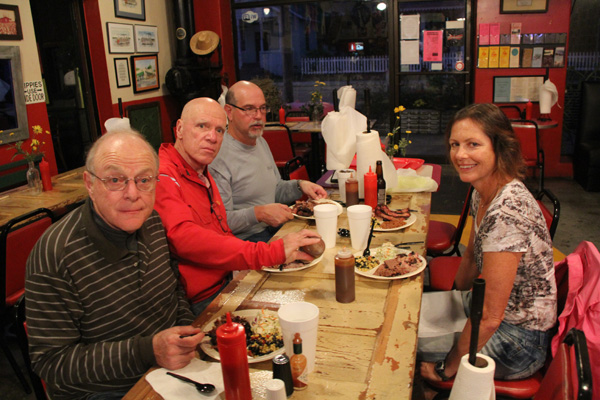 Now that is some good eating. The Pig Out In in Natchez.
Messages
A great place to ride. I'm sorry that I didn't have time to ride more than 65 miles. I did have the most dangerous event of a trip when someone passed the car in the opposite lane and couldn't get past him in time. Consequently there were 2 cars and me on a narrow to lane road with no shoulders. He missed me by inches. That's why bike shorts come in dark colors.
Sent 2012-10-10 from Chuck
Awww... How Sweet!
Sent 2012-10-08 from Jasmine
In the Pig Out picture I see something that looks like vegetables. I also see fancy napkins. Have a safe trip back. It sounds like you all did great. Good for you.

Sent 2012-10-07 from roddy
We're proud of you!

Keep it up.
Sent 2012-10-07 from Carla & Ira
I also enjoyed the Pig Out Inn when I did the Mississippi ride. Glad you enjoyed the Trace. I plan to go back some day and bike the entire distance of it.
Sent 2012-10-07 from Tom Dunn