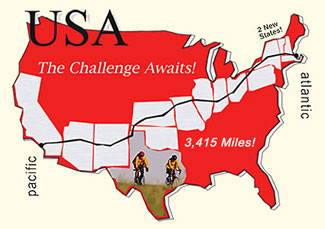 Where is Lance?
Follow Al on his cross country bike tour!
If you want to see the itinerary, click here.
To learn more about the tour, click here.
MISSISSIPPI RIVER TRIP DAY 7
2012-10-04

REINFORCEMENT ARRIVES AS WE HEAD INTO THE DEEP SOUTH
ST. LOUIS TO UNION CITY TN

We now talk a lot about food. We ate at Pennies last night and enormous people were dining there. One guy had to be 400 to 500 lbs, had to go through the door sideways, but was carrying a doggie bag with him. None of us needed a doggie bag.
How can this be?

Chuck has an extra large breakfast because he is riding today. I personally find this curious since he does not ride until after lunch.

Diane's plane arrived at 9:30. Dave and I took the first two legs into hilly country with a stiff wind in our face. Mine was a beautiful ride through the hills until Jackson Mo when I did 20 miles in tough city conditions.

Chuck rides with Diane and they arrive with Chuck carrying a 18" summer sausage he purchased at a tiny general store. It is not easy to carry a sausage of that size on your bike, but chuck is motivated and our hero delivers a tasty sausage indeed.

We just miss the ferry to cross the MR and have to wait an hour for it to return. This turns out to be a blessing as we get to meet the locals who are also waiting to cross.

One guy tells us that one day he was on the Missouri side of the river but his body was in bed in Hickman, KY. The devil was somehow involved.

Another is a honey farmer and has 1000lbs of honey in his trailer. We learn all about honey farming which was quite interesting. In the drought they have had the bees pollinated corn, which contained chemicals that has screwed up the bees.

Another couple from Hickman, she a teacher and he a principal, would have invited us to dinner if we were willing. We follow their car as they give us a tour to the village.
They also tell us about the flood last year when the corp of engineers opened levees that flooded an area 25 miles wide, decimating homes and farm land.

Quite the adventure.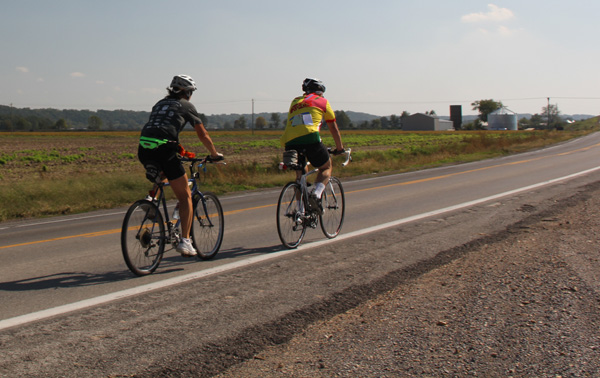 Our new rider Diane with Chuck.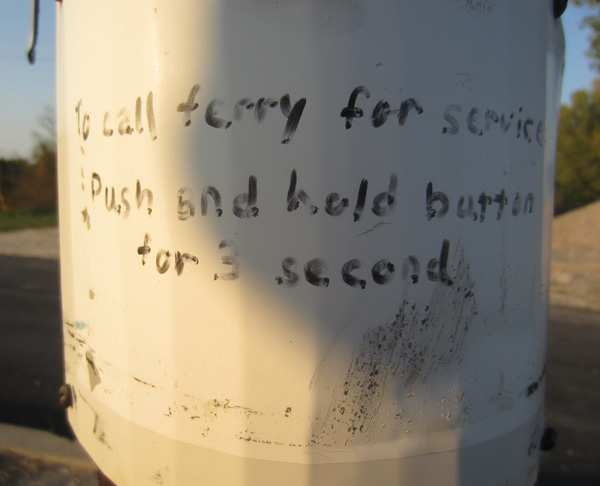 This is the sign that tells you how to summon the ferry across the Mississippi River. I love it.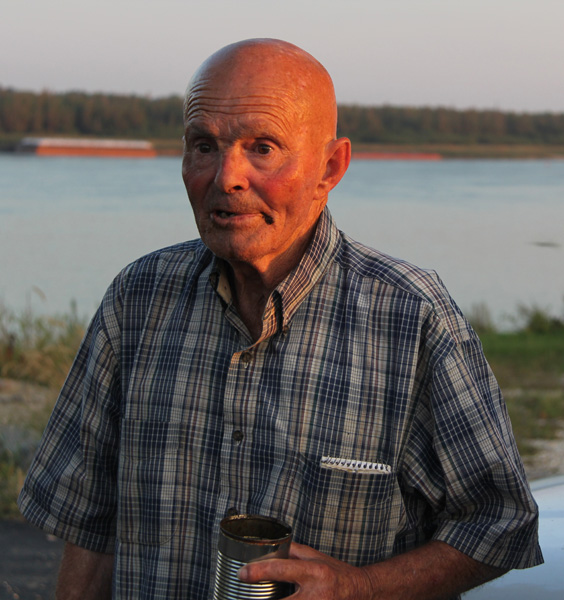 This man woke up one day in Missouri but his body was in bed in Hickman TN. The devil was involved.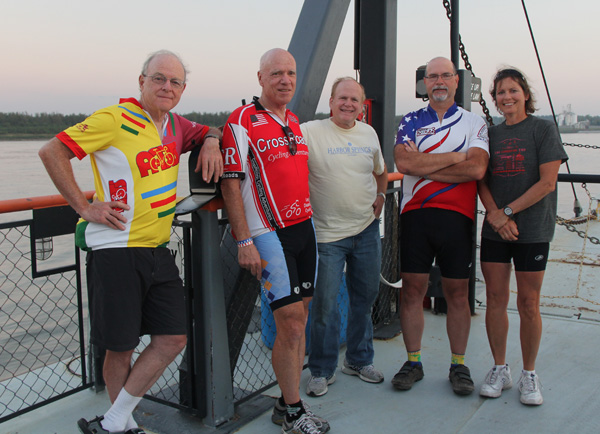 Crossing the river on the ferry.
Messages
Love the pictures, my wife took the last one for you! We are the ones that took you to Hub's, the only restaurant in Hickman!
Enjoy your website........
Sent 2012-10-18 from Steve Coulson
For some reason I imagined you were pulling/pushing the piano with your bikes, but I see no pictures !!!
Sent 2012-10-05 from Ira
Diane;s arrival has improved the group's looks by several hundred percent.
Sent 2012-10-05 from Jim
Years ago I belonged to a walking/running group. One of the members would plainly state that he was in it for the calorie burn. He'd run, calculate the calories he'd burned and promptly "spend" them at the local diner. I'm starting to think this is what motivates these crazy bike adventures. Vicarious eating is real. I'd appreciate it if you would eat a slice of chocolate cake and a cream puff. Don't forget the pictures.
Sent 2012-10-05 from 60