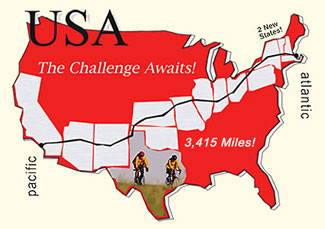 Where is Lance?
Follow Al on his cross country bike tour!
If you want to see the itinerary, click here.
To learn more about the tour, click here.
Mission Accomplished
2019-01-03

Mission Accomplished
I have now ridden on all 7 continents.
What an amazing experience. After a six hour flight we landed on an ice runway that was so slippery it was difficult to stand on. I was picked up by a Skidoo and we sped 5 miles to Glacier Union Camp where I took off many of my required layers of clothing and quickly went cycling with Tony, one of ALE's guides, and an avid cyclist. It was a great day to ride, the sun was out, 5 degrees, a slight wind and we heated up quickly.
I didn't think they would allow me to just head out on my own and I'm thankful they didn't. We were told we had a 3 hour window to ride. At some point Tony calls the plane and they are in a hurry to leave because of incoming weather and we have 30 minutes to get back to the plane. Obviously we hustled and make it. It would not have been fun to trapped on Antartica without the plane
Antartica is special. Pure, pristine, majestic.
I had heard Colin O'Brady (the first person to ever cross Antartica solo, unsupported) being interviewed and knew he would likely be on the plane returning to Chile. He had finished his trek on Nov. 26 but had been unable to leave the continent because of weather. Also there was Louis Rudd, the only other person to ever sole, unsupported who had finished on Nov. 28.
While waiting to board Tony points out Rudd and introduces me. He lost 17% of his body mass on his trip and we are having a chat when here comes O'Brady. If someone has his picture taken with Rudd then I must certainly want a picture taken with him. I'm wearing my M cycling jacket and turns out he is from Portland, Oregon and a football fan. He almost went to UofM, has seen a game at the Big House, been to Zingerman's, and knew Oregon had beaten MSU in their bowl game.
I don't know how to explain this, but these two are wildly impressed that I have ridden on all 7 continents and made a special trip just to cycle on Antartica. We are on the tarmac in Chile, O'Brady is the first to leave the bus and stands up, points to me and says "this man is a legend, he made a special trip to Antartica just to complete ridding on all seven continents".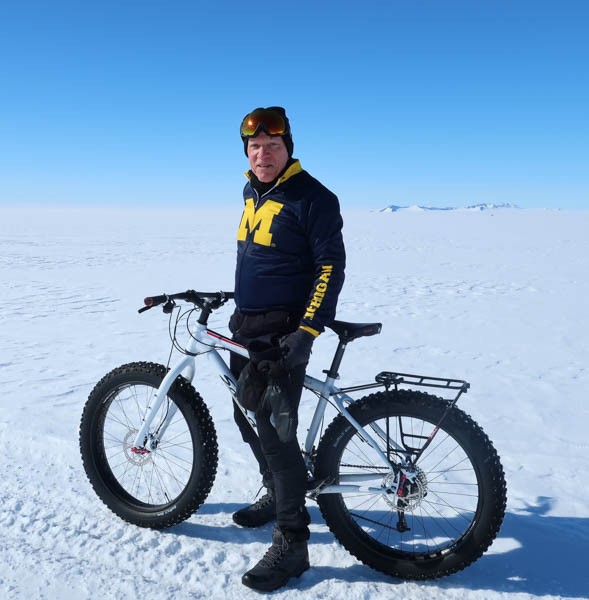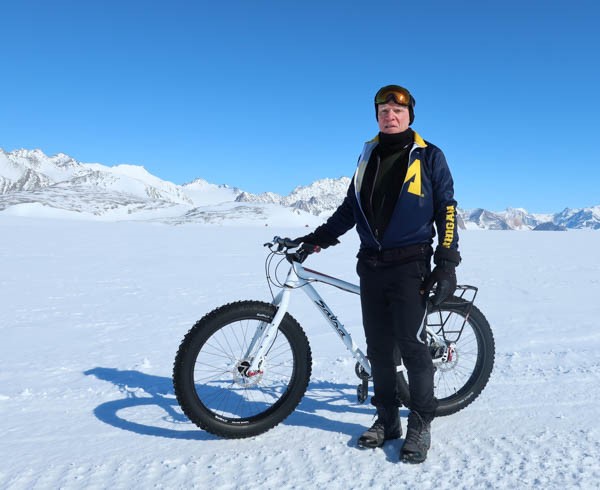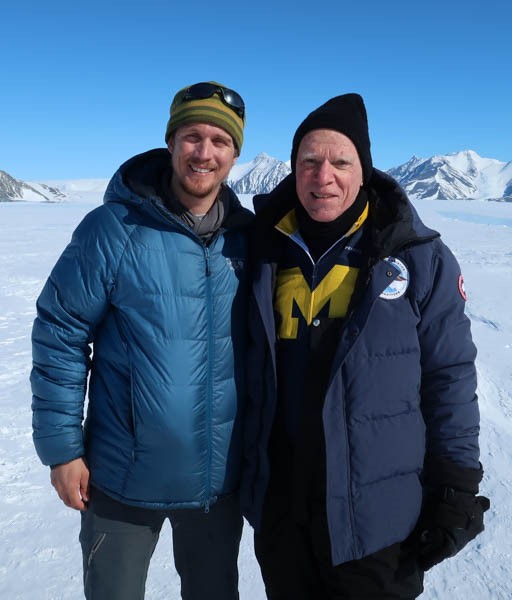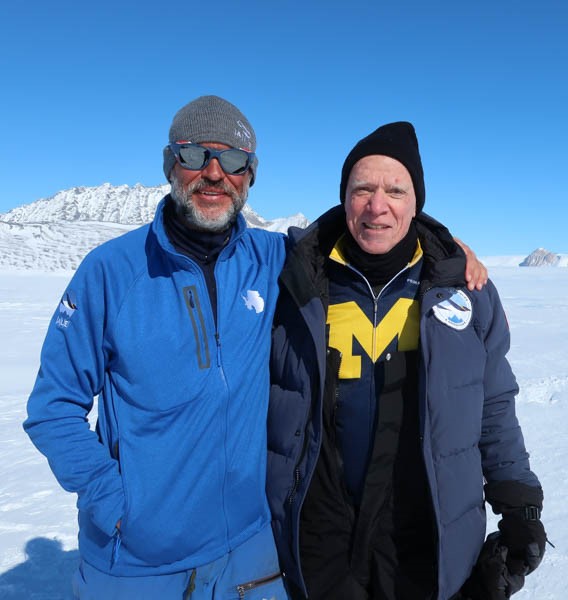 Messages
Al: This looks nothing like the YMCA! I'll try to follow your progress. Tom McMullen
Sent 2019-01-15 from Tom McMullen
Great accomplishment Alan! We'll be heading to Antarctica in a couple of weeks. We have a kayak excursion scheduled, but probably won't get a bike ride in. Maybe we'll see you on the road back in Michigan this Spring.
Sent 2019-01-11 from Dirk Weirauch
Can you please coach our football team? :)
Sent 2019-01-07 from Mark Morton
Are you getting product placement fees for the Block M jacket? Something an entrepreneur might have thought of.
Sent 2019-01-05 from Tom Powell
Thank you so much Al, for including me access to your Blog. No doubt fellow Zebras are astounded of your accomplishments! Ride on Garth!
Sent 2019-01-05 from Joe Kadlec
Great work Al It is a thrill following your adventures!!
Sent 2019-01-05 from Jeff H.
Truly amazing. You are a legend Allan.
Sent 2019-01-04 from Sharon
I betcha can't do all seven twice.
Sent 2019-01-04 from Bruce
Alan, this is one of those moments that, even in the imagination of others, gets to the absolute awesomeness of life, of the earth, and of people like yourself who are willing to see what's beyond the horizon. Thanks.
Sent 2019-01-04 from Diane Fleming
CONGRATULATIONS!! Yes Antartica is so special. And consider that fact that you have most certainly walked and ridden on parts of earth that no other human has touched. As close as you'll get to the feeling of landing on the moon.
Sent 2019-01-04 from Dan Atkins
We're all impressed! and nice and warm indoors too!
Sent 2019-01-04 from rippondes@mac.com
Yep, a legend.
Sent 2019-01-04 from Chuck