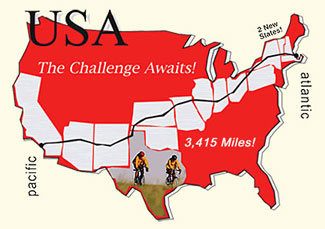 Where is Lance?
Follow Al on his cross country bike tour!
If you want to see the itinerary, click here.
To learn more about the tour, click here.
Day 4 95 Miles from Windsor Locks CT to Fishkill NY
2011-09-25

Weather Gods, Thank you Bicycle Gods Boo

We went to bed with a forecast of rain and thundershowers. The weather Gods are excellent kidders. We even saw the sun for the first time on this ride. A very pleasant day to ride.

On our clue sheets today there were noted four climbs: 2.7, 3.6, 2.0, and a steep 1.6 miles. We knew we had a hilly 95 miler with over 6k of climb.

I started with my usual group and immediately realized I could not shift off of my large front ring. This is a real problem making it impossible for someone of my abilities to ride mountains.

Jim and I were hustling up the road hoping to flag down Mac our mechanic when I have a flat. Great. Mac finally comes along and it takes 50 minutes to think that we have solved the problem.

I am now at least 10 miles behind the last rider and the organizers do not want me that far behind since it makes their job much more difficult. OK, I say take me to the last rider and I'll try to catch some of my group. The last rider is Jack!!

He also has had trouble and in front of him are Jim and Peter who have gone off route and done bonus miles. This is great for me since I can now ride with my normal group, or so I thought.

We have a quick SAG and off we go up the hill. But again I have the same problem. Urg. The process is much quicker, but they cannot tell me why this is happening.

I put the hammer down and eventually catch all but Jim who has gone racing off the front.

It was a beautiful day to ride, excellent roads, past places I have orienteered, fun climbs, great downhills, and of course, excellent companionship. Jack has hit 50mph and Peter 47mph on the down slopes. I always try to slow but did hit 43 today.

I had breakfast with Jack (Yankale). A wonderful guy who owns a cement factory in Israel. His mother's family came to Palestine in 1790. He is 8th generation with a daughter and two sons who are in the Army.

Little known fact; The name Fishkill is derived from two Dutch words: Vis (fish) and Kill (creek or stream).

Extremely little know fact: Fishkill is home to the Pizza brick. Only my wife and brother Chuck know this fact.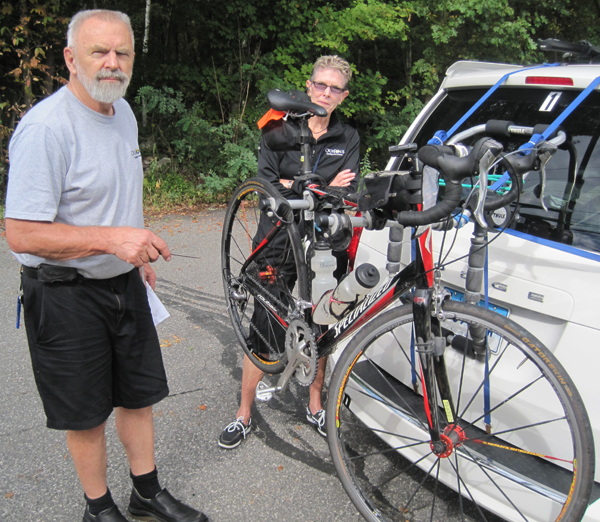 Ugh, Mac about to try to solve my bike problem.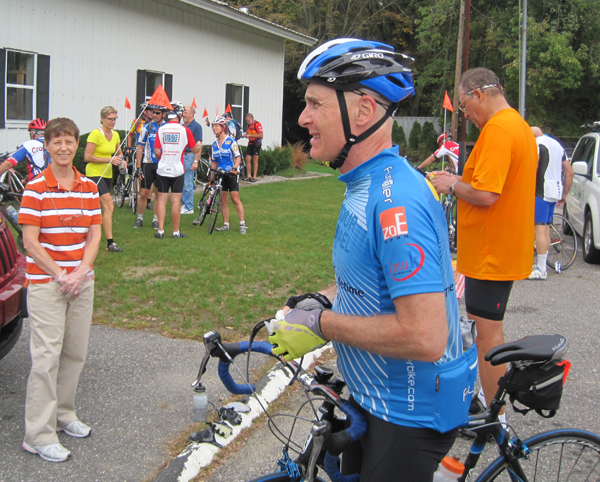 Scene at the first SAG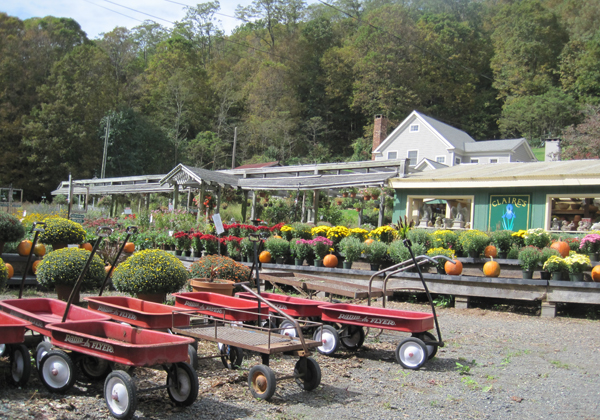 As we bike through the countryside we see these great farm stores.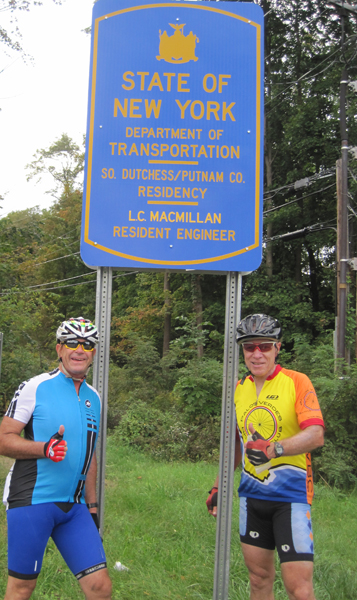 Both CT and NY did not have welcome to the state signs. Is the economy that bad? We made do with this one. Jack and myself.
Messages
Looking very cool and relaxed!
Sent 2011-09-26 from Barbie
glad to see your back at it-you be baby sitting like jill&I-however we were in yosemite over the weekend&climbed to a 7000' moutain,just over 3000' of climbing! no more flats!!
Sent 2011-09-26 from peter b.
Sorry about the bike trouble dad. Hope it is all fixed up for tomorrow. We miss you and love you!
Sent 2011-09-25 from Anna, Darin and Ella