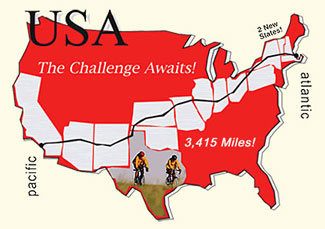 Where is Lance?
Follow Al on his cross country bike tour!
If you want to see the itinerary, click here.
To learn more about the tour, click here.
95 Miles from Portsmoutn NH to Worchester MA
2011-09-23

It's a race:

A half mile out of the hotel I go to put my foot down at a stop sign and my shoe rotates but doesn't release. Crap. I flag down the mechanic on the trip, Mac, at about mile 6. He struggles and after about 20 minutes we have solved the problem. I had dried my shoes last night with a hair dryer and a screw had come off.

Well, by this time all riders have passed me. My options, ride with people going much slower than I hope to ride, or try to make up 20 minutes on Jim, Peter and Jack over the next 30 miles to the SAG stop. I off course go for it. I'm passing a long group of people when Jeff rides up to me. Jeff, as described by Tracey, is the fastest rider ever to do a XC ride. He says to me: "I can't ride 15mph any longer, do you want me to pull you"? Sure, I naively say. I had been riding in the low 20's and all of a sudden I'm 25-30. I pull into the SAG quite tired. Jim is just getting on his bike. He says "I'm going to go ahead and rest my legs". This is code for there is somebody ahead of me.

I head out with Peter. Jack was getting new tires put on his bike and we tell him, we'll ride slow, catch up. Well, we get clue sheets, not maps. Turn at this road, at mile 68, etc. I may be a talented map reader, but following instructions is not my strong suit. We make a wrong turn. By time we back on route, we do not know whether Jack is in front or behind us. We hustle into the 2nd SAG (on rides of over 90 miles there are generally two SAGs) of the day. Jack has been there and left. By the way, this ride is quite hilly, 4200 foot of climb. As it turns out Jeff caught Jack and took him off route. Peter and I see a DQ and decide its only 13 miles to the hotel, let's get a cone. It starts to rain. It starts to pour. I get a flat. We get soaked.

I love Peter, and it is a treat to ride with him. But that man can complain. He is not happy with the rain. We ride into Worcester in terrible traffic, terrible roads, terrible rain and cause an accident (a minor one I think, we didn't stick around).

I go over to a nearby restaurant for lunch and meet the guy who rode with Jim. He says "Jim is a really strong rider, we were flying". Yes, I know.

Little know fact:
Worchester is the the second largest city in New England after
Boston.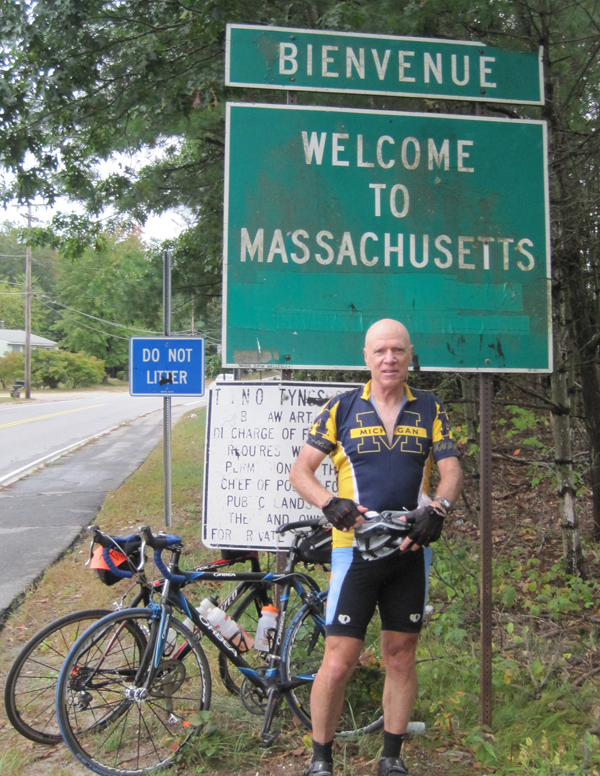 Our third state in two days of riding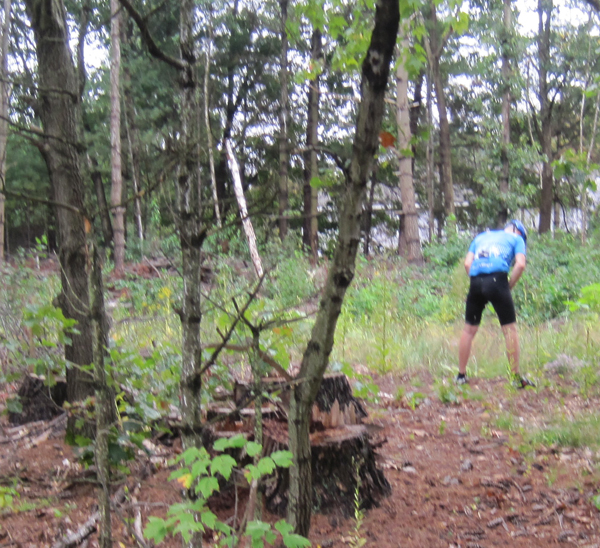 Peter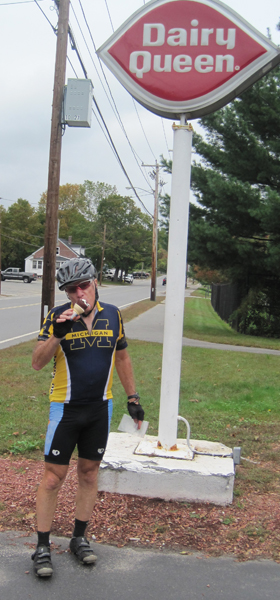 One of the perks of so much exercise.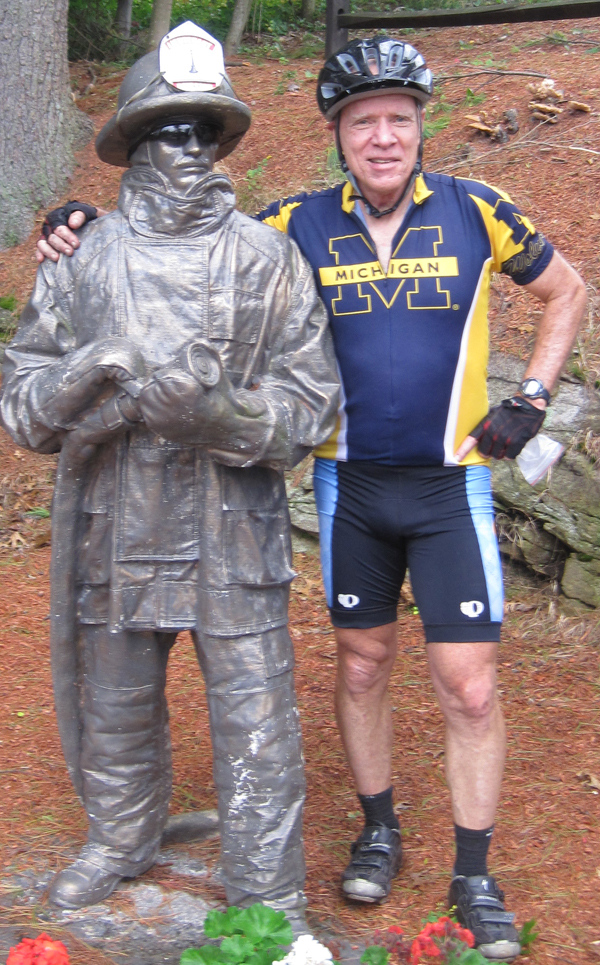 This guy looked over me when I changed my tire.
Messages
Did you really write that you caused an accident ( a minor one you think!!) but that you did not stick around to find out?
Could you please explain?
Sent 2011-09-24 from roddy
big blue
like the shirt...enjoy your buddy..be safe and say to all the firemen you see...
Sent 2011-09-23 from willie
Willie would appreciate that picture of you with the fireman.
As Peter's roomie in 2009, he never said a cross word at any time. I have no idea what you are talking about.
Your blog is enjoyalbe as ever.
Sent 2011-09-23 from Ira
I WAS resting my legs! Jeff passed me like I was standing still...I didn't follow. The DQ was a real treat before riding the last, few miles into Worcester.
Sent 2011-09-23 from Jim
You still seem pretty coherent, but the race seems to be picking up steam which is a little worrying. I think the people you are riding with might be even crazier then you are.

Stay alive. Also I love the scenic pics, keep em comin.

Love Dave
Sent 2011-09-23 from Dave N.