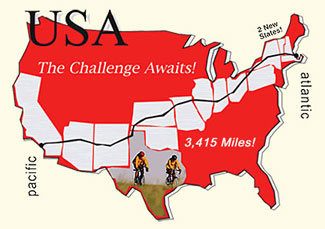 Where is Lance?
Follow Al on his cross country bike tour!
If you want to see the itinerary, click here.
To learn more about the tour, click here.
Day 48 Safe and Sound in Buirlington MA 94 Mountain Miles from Brattleboro VT to Burlington MA
2009-06-25

Scores from the: I'm in one piece and only 18 miles to go: bike tour.

Thankful its over: It was great but we are very tired puppies.
Thankful I made it safely: Jim, Peter, Chris and Willie, thank you for your advice, training, protection and friendship.
Thankful I could do it: You need the family situation, financial resources, job situation, and physical and mental ability.
When is the time to rest? Now. This is not only a physical test but a mental one. You need to be very, very focused to do this trip safely. It is mentally exhausting.
Having the world's best poster on my hotel door upon arrival: Thank you Anna, Jessie, Katie, and David. I loved it. I love you all more than you can ever understand. Dad.


Jim, Peter and I had decided to take it easy today since it was a big climbing day and we have been hitting it hard. This lasted about 14 miles when the second group caught us. This of course was unacceptable to us and we were at the bottom of the first large mountain of the day and we powered up a long 12% mountain. We kept a steady pace the rest of the day on scenic mountain roads. The route into Boston was remarkably rural.
Tomorrow: 18 ceremonial miles to the water, a banquet, and early flight on Saturday. It will be great to be home.






WE LOVE YOU!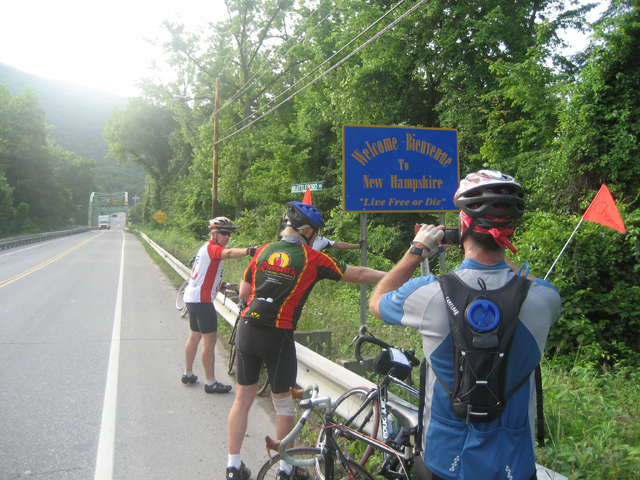 State 14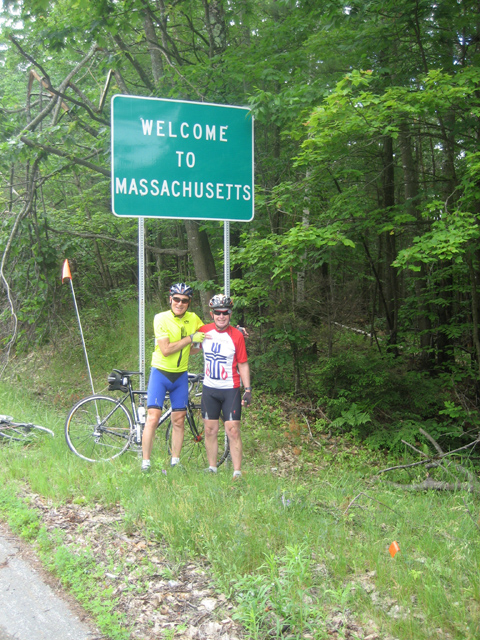 State 15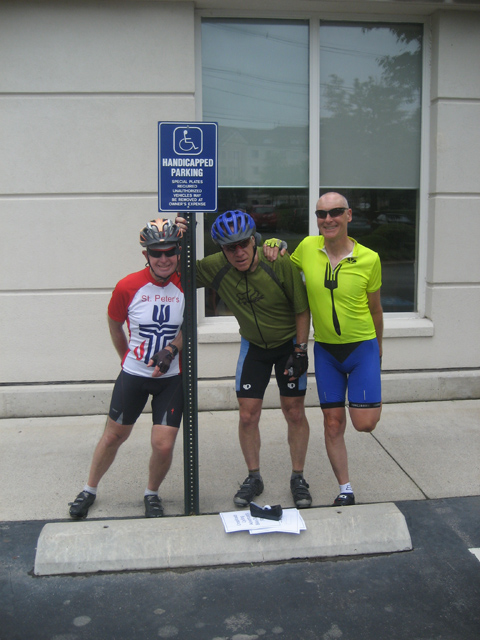 We made it.
Messages
WOW AL! What a Fantastic Journey..... Congrats From All Of Us AT Peace! We Knew You Were Exceptional But.........WOW!
Sent 2009-06-29 from Bonnie
this has been a thrill for me just to follow along!!!!!!! I will buy you a water when I see you at home!!!
Sent 2009-06-26 from peter brown
Way to go Al. Thank You for taking us along for the ride.
Congratulations!

Sent 2009-06-25 from Aberdeen Bike Mike and the staff
Just get home safe. Few individuals have the fortitude and desire to accomplish what you have done.

Congratulations
Sent 2009-06-25 from Uncle Mart
Great to have the chance to ride with you today. Congratulations, take your time, relax and reflect.
Sent 2009-06-25 from
You da man!
Sent 2009-06-25 from Denny
Welcome to the Boston area! Hope our crazy drivers didn't give you too much trouble.
Sent 2009-06-25 from Kim Young
Well done, Al - making it the whole way safely, managing the
physical and mental challenges, and generously bringing us
all along with your blog. Congratulations on a life changing
achievement ... we'll never think of biking in the same way.
Huh, we'll probably never think of you the same way either.

NDJ4TB: Transcontinental Bravo!
Sent 2009-06-25 from Chip and Carol
Congratulations Al!
Sent 2009-06-25 from Mark Morton
Fantastic!
Sent 2009-06-25 from Steve Taylor