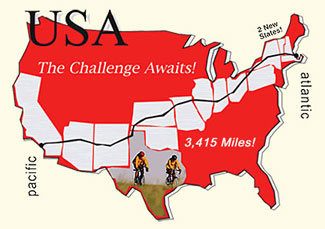 Where is Lance?
Follow Al on his cross country bike tour!
If you want to see the itinerary, click here.
To learn more about the tour, click here.
Day 46---All days should be like this, 70 miles from Little Falls to Albany NY
2009-06-23

Scores from the: This is what I expected the rides to be like when I signed up, bike tour.

Sunny days: Nice
Relaxed easy ride: No one was in any kind of a hurry today.
Beautiful scenery: Through the Adirondracks along the Mohawk river.
Talking to Bob (the rider who collided with a motorcycle): What a wonderful spirit, upbeat although still having considerable challenges: His question to me was whether I was wearing my Michigan jersey.
Realizing that I have to return to the real world soon: What is the real world like? I seem to have forgotten.
Having only two more real rides: Imposing, we have big climbs, long distances, and steep declines.
Fatigue level: Harder to judge since I'm stronger, but still very high.
The winds: Still not out of the west. Tomorrow out of the North. It is not possible that the wind can never come from the west is it?

Little known fact: Albany was named after the Duke of Albany, who became James II.

It was a cool sunny day, the roads were wide and smooth and we moseyed along at 17-20mph. Riding with Jim, Peter, and Willie we stopped often for pictures, explored Fort Klock, and stopped at an old railroad station. Peter looked at the schedule, realized he could take the next train to 122 st, catch the subway and be in his co-op in just a few hours. We continued on and ran into aggressive traffic in Albany but got in safely. The next two days are big climbing rides and then its over. Wow that went fast.

If you want to post a message, don't forget to also enter the number in red.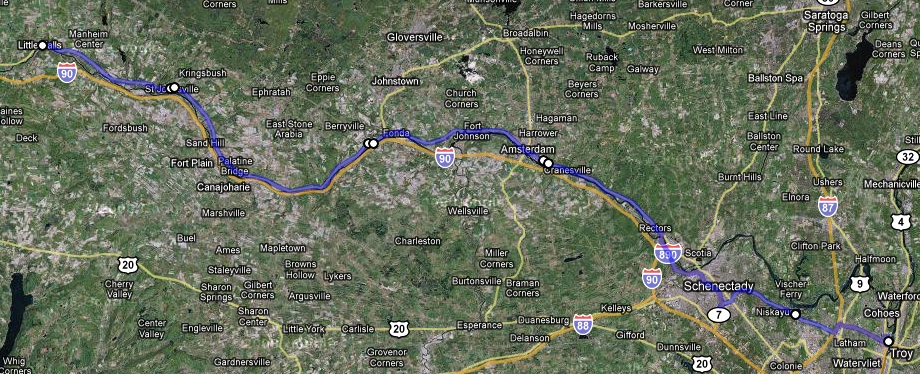 Little Falls NY to Albany NY 69 miles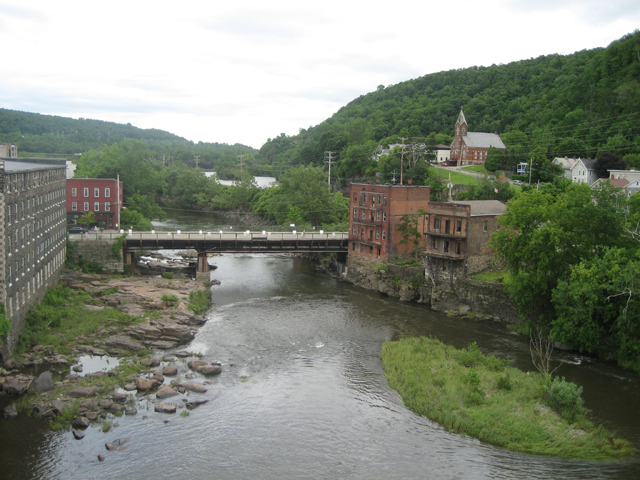 Little Falls NY. Nice town.



Beautiful ride today along the Mohawk river. Sunny, cool, relaxed ride.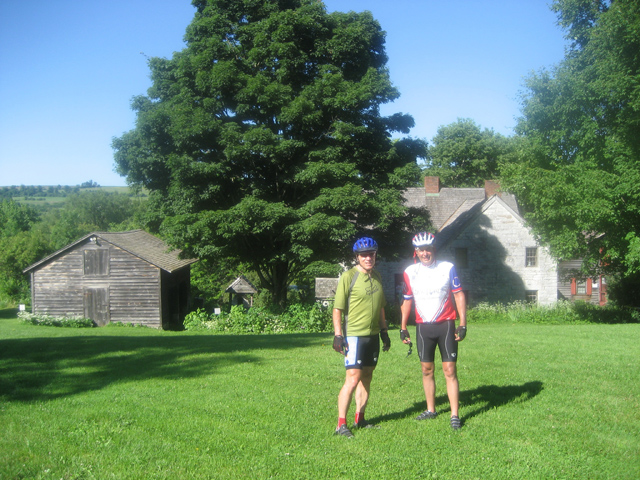 Willie and me at Fort Klock. Built in 1750 to defend against the British. They defeated a British force here in 1780.
Messages
Your ARE in the real world, my friend. All else is illusion! Ride on.
Sent 2009-06-24 from bill&sally
Can't wait to see what you think about riding thru VT.!! You don't want to come back to the real world~! You could just ride home!!
Sent 2009-06-24 from peter brown
The real world will seem like a piece of cake after your weeks of riding. Congrats on your accomplishment.
Sent 2009-06-23 from Phillis
I thought PGA golfers had it tough with rain delays at The US Open. They just have flat shots not flat tires. Get home safe.
Sent 2009-06-23 from Uncle Mart
You should commute by bike when you return to the
real world. After this trip, a ride to Dexter will be nothing.
Sent 2009-06-23 from Ellen
I was talking to Allan today and said that this journey has been a lot more difficult than I thought it was going to be (not just for Allan but for almost everyone.)
I asked him if it was more difficult than he thought it would be too.
He said it definitely had been. He said that before he started, he thought they would be biking at about a 13 mph pace because he did not think it was possible to go much faster. Today, Allan said they probably averaged 17 MPH through the Adirondacks.
Sent 2009-06-23 from Roddy
On good authority (Mel Brooks) I have the correct spelling of TOOCHIS. I feel so relieved to have discovered this before the end of your trip. By the way, how is your toochis?
Sent 2009-06-23 from Sharon
hey man!3 day's to go,do you belive?oh you are great and make a good job.

miss you!!!!
Sent 2009-06-23 from jack W