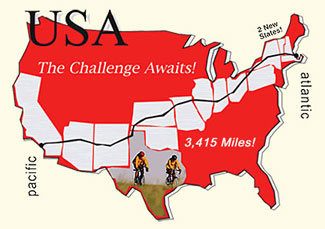 Where is Lance?
Follow Al on his cross country bike tour!
If you want to see the itinerary, click here.
To learn more about the tour, click here.
Day 43 Monsoons, flats, tires bulging, running out of co2
2009-06-20

Scores from the now really, bike tour.

Rick our mechanic deciding not to ride: Should I be learning something here?
Monsoons: Apparently you had them in MI also
Riding all day in flood conditions: You can't be just any idiot.
Flat number one: Hey, these things happen.
Flat number two: Wow look at that, I didn't know tires could bulge like that. I wonder if I should ride?
Flat number three: Wow look at the front tire. That's a pretty big bulge too.
Having three flats: That's three co2 cartridges, three spares, and what about those bulges.
Getting great advice form Chip re my numbness in my foot: Thanks. The stretching is working.

Question: Who is in the catbird seat?

Jim Willie,Chris and I lead the pack out of the hotel in a downpour which never really abated. After the first SAG Jim dropped back and was never seen again. Apparently he had a flat. Chris was getting cold and decided that he was going to let it rip and warm up so he took off down the road. Willie stopped at a store and I continued on. Willie shows up and I immediately have a flat. The Dalton gang comes up and asks if I'm alright and I wave them on. At the second SAG at 68 miles I get two more tubes and I have two more co2 cartridges in my bike bag. About the 77 mile mark I have another flat in my rear tire and notice a big bulge. This can't be good especially in the hills in flooding conditions. Half a mile up another flat, this time the front tire and it also has a big bulge. Now I'm out of everything, no tubes, co2, tires. Well isn't this interesting. I'm freezing, its raining like Doubtful Sound and the tires are bulging. I make an impressive decision for me. Since none of the vans have passed I assume they are coming. I did not know that they already taken bikers to the hotel on a different route. I ride backwards assuming help is on the way but end up going the 9 miles back to the SAG. Mack who is handling the SAG informs me that he does not have the type of co2 cartridges I need. When able he would drop me off where I turned around. I had already ridden 88 miles. The ride was 93. No co2, no good tires, I called it a day. Not easy for an idiot like myself, but clearly the sane thing to do.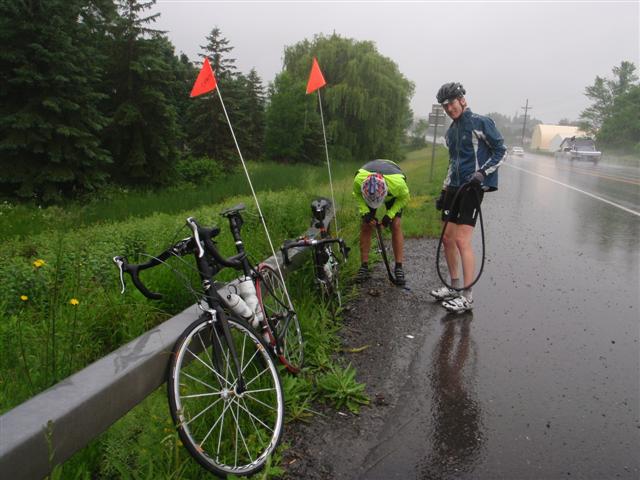 We riders had about 15 flats today.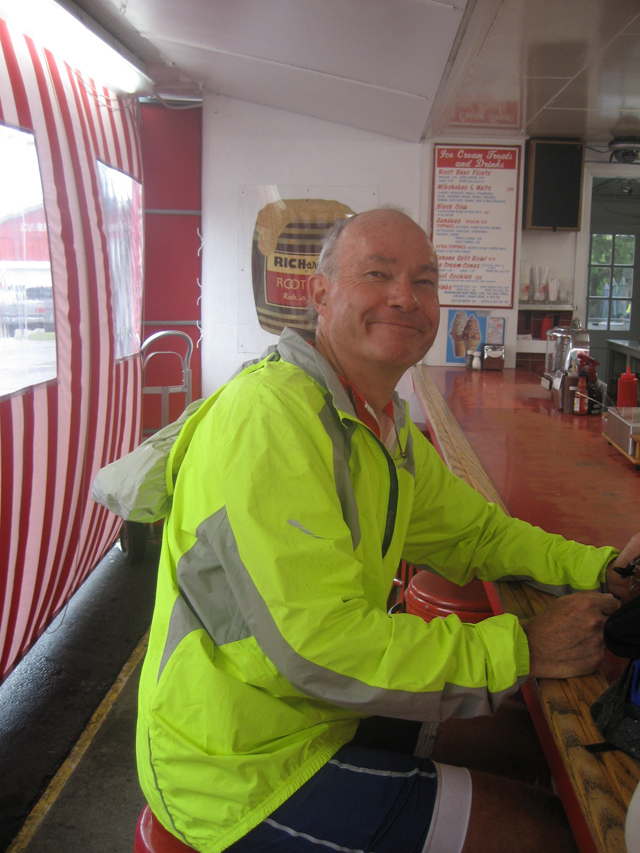 George, better known as Braveheart. He makes it even if it takes 12 hours. Always smiling, always finishes, generally the last one in. Retired Physician and sleep researcher.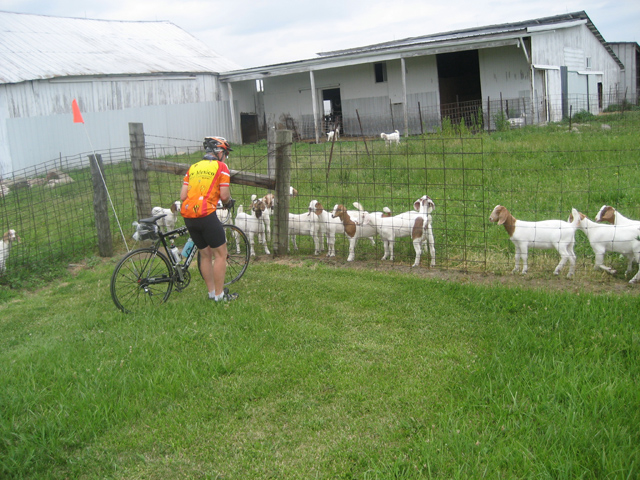 From a previous day. Jim and the kids.




Hamburg NY to Canandaigua NY 94 Miles
Messages
co2 cartridges? What about a good old air pump? Too low tech?
Sent 2009-06-22 from Bruce
I have Tx and LSU. So, there is no Catbird's seat! We have lots of stories to share. Hope the tweeks sort themselves out over these last few days. Be safe. We look forward to your return to A2.
Sent 2009-06-21 from Ed
not what you had in mind when you hoped the ride would 'flatten out' hope today is better.
Sent 2009-06-21 from peter brown