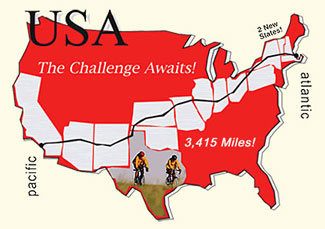 Where is Lance?
Follow Al on his cross country bike tour!
If you want to see the itinerary, click here.
To learn more about the tour, click here.
Day 42-12th state. 80 miles from Erie PA to Hamburg NY
2009-06-19

Scores from the: Racing to be beat the rain, which didn't come, bike tour.

Weather forecasting: an inexact science.
Checking the weather at 6:30 AM and deciding it's coming, lets hit it.
What happened to the storm? I don't know, it went away.
Tomorrow's forecast: 100% chance of rain, thunderstorms, 12mph winds out of the east. Ugly.
Sciatic nerve: Starting getting numbness in my right leg. This can't be good. If it gets worse I will rest it.

Little known fact: The Erie county fair, held in Hamburg is the second largest county fair in this country.

Jim and I have become addicted to weatherunderground.com. Checking the weather this morning we could see the storm coming and coming soon. Jim, Willie, Chris, Peter and I hustled out of town. Jim and I were first into the SAG. We stopped for a few pictures, talked to some bikers riding to Maine, but generally rode quickly into Hamburg. We were in town by 12:30. I am concerned about numbness in my right leg. The bumping on bad roads has effected it. Changing my riding style may keep it from getting worse. If not rest is on my agenda. Tomorrow: 93 miles to Cananadagua in a projected storm with head winds.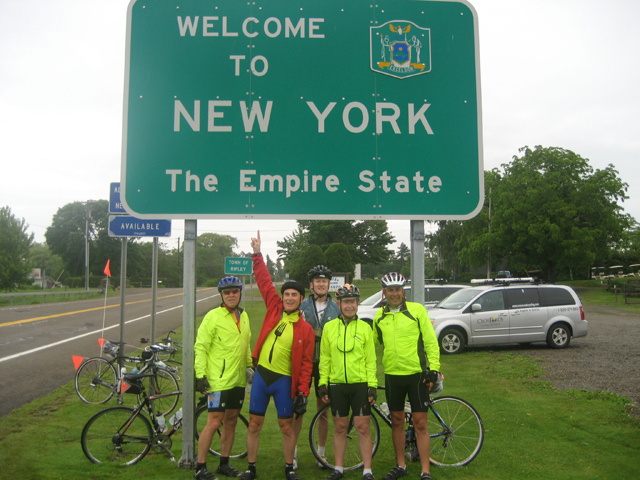 Welcome to our 12th state.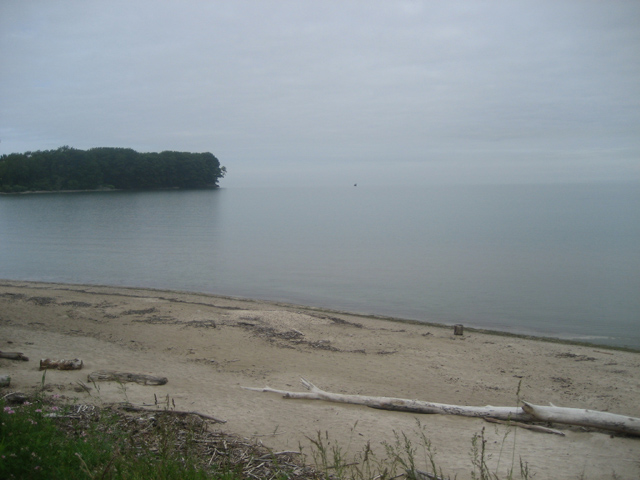 Lake Erie scene. If you look closely you can see a boat fishing.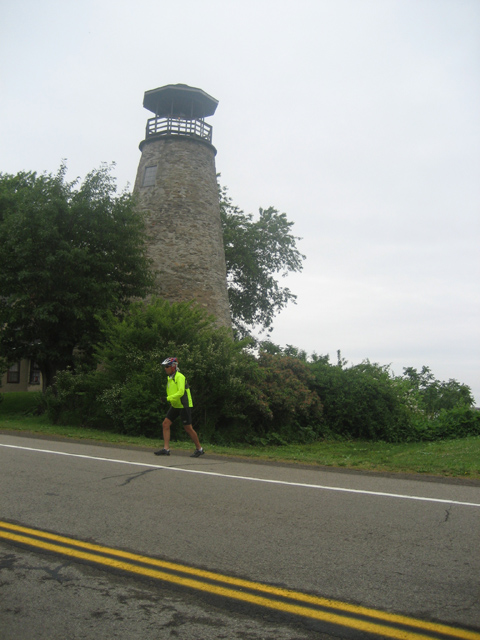 Willie at an old lighthouse.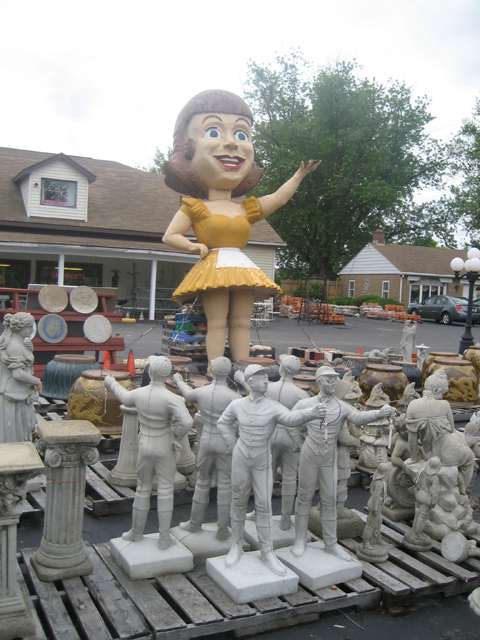 Who could possible want to buy this?
Messages
Al, I would LOVE to have that statue in my front yard! I hope you wrote down the address of that place.

Just rode down Newport to look at the 10' wide x 10' deep washout over by your house. Crazy!

Good luck with the final days of your tour!!
Sent 2009-06-21 from Dave M.
Sciatic nerve, rain, headwinds. By your definition the trip is getting to be even more fun! You've done well, old friend, hang in and ride on.
Sent 2009-06-20 from bill&sally
Al - glad you got rid of those porn friends - or else no more 4th graders reading the blog. Rob left today for the PALM ride - we'll see how much wind he had all week in his face. The princess Diana waterway may be flooded with all the rain we got last night.
Sent 2009-06-20 from Larry
we got a ton of rain last nit, you are getting it today-most likly, but then it looks sunny till thursday or friday. don't lose your'nerve' now.
Sent 2009-06-20 from peter brown
I hope you didn't eat any Lake Erie fish. The statute is of a poor girl with a glandular condition who did.
Sent 2009-06-20 from chuck
Uncle Allan,

I did notice that you're near Niagara Falls.

If you visit the Falls, and fall into the water, and get swept over the Falls, you'll have a half-way decent excuse to get bumped all the way to Canandaigua tomorrow.

Just something to consider.
Sent 2009-06-19 from Old Uncle John
I think the lawn babe would look good on Newport Road. All your neighbors would come to admire it.
Sent 2009-06-19 from Denny
A numb leg is never good... can imagine that could get you into some trouble. Wanted to give you a shout out for Mom who is at a silent yoga retreat... I assume that means no typing? Love you, be safe.
Sent 2009-06-19 from Anna
Dave would want to buy that. Have you SEEN his front yard and its garden ornaments?
Sent 2009-06-19 from TN