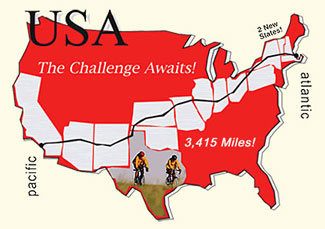 Where is Lance?
Follow Al on his cross country bike tour!
If you want to see the itinerary, click here.
To learn more about the tour, click here.
Day 41 Rest day in Erie PA
2009-06-18

I am using our last rest day by resting. Nap, took in a movie and another nap. We have six more days of riding before Burlington MA. I have learned a great deal about this country, ridden to exhaustion, had a great time, and learned the wind will only come out of the west on a rest day.
The forecast for Friday: 80% chance of thunderstorms. Wind SSE
For Saturday: 60% Chance of thunderstorms. Wind S.
For Sunday: 60% Chance of rain. Wind from the NNE
For Monday: 305 Chance of thunderstorms. Wind NNE

Tomorrow: 79 miles to Hamburg NY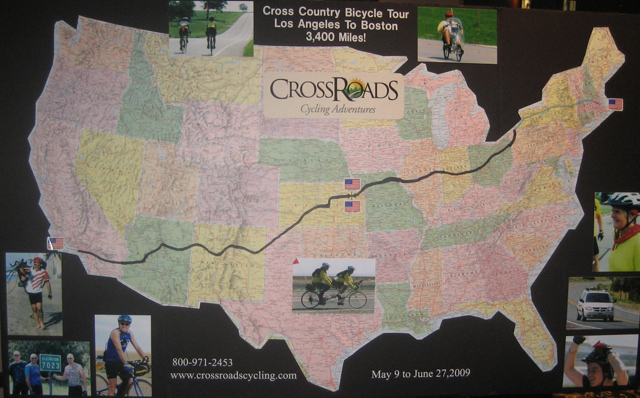 573 miles to go.



Jim took this picture of the storm in Ohio. It is too good not to show.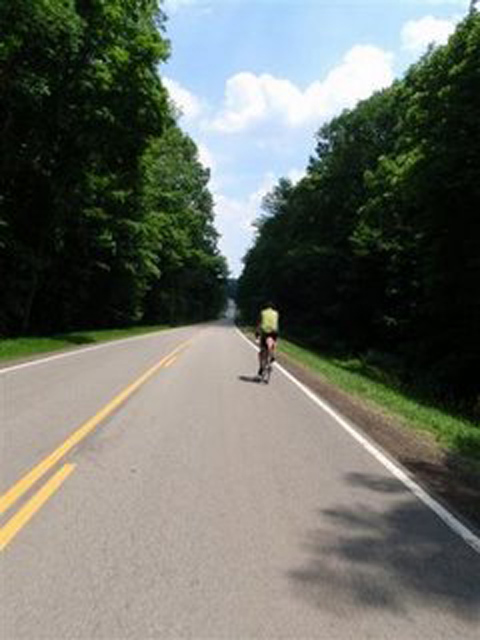 That is me ridding to Boston.



Stopping for a sandwich in a small Midwestern town.
Messages
Hey Dad,

Good luck on the home stretch. Finish Strong and safe.
Sent 2009-06-19 from Dave
Yesterday I had to go to a meeting in a different building -- about 1/3 of a mile. Hopped onto one of the bikes that are left around for that purpose. Near the end a stiff headwind came up and I actually had to pedal hard for the last 10 seconds or so. It was rough. Thought of you.

Earlier you commented that you had not known it was possible to drop to 5 MPH and stay upright on the bike. About 15 years ago dad, Mike, and I did a bike tour in Glacier National Park. I was not quite at your level of fitness, and near the end of the climb up to the continental divide (Going To The Sun Road, gorgeous but a bit scary if you're not fond of heights), I was going so slowly I was actually being passed by pedestrians. Mind you, these pedestrians were also going uphill (they had hiked down a ways from the visitor's center at the top and were returning) and they were not exactly burning up the road. I imagine I was going about 2 MPH. It is amazing what one can accomplish when sufficiently motivated by exhaustion.

I've been having a great time reading your blog. Almost inspires me to get back in shape for biking (almost). Good luck with the weather for the next few days. Just remember, you can ride through the wet so long as it's only rain, but when you get to the ocean you should stop.
Sent 2009-06-19 from Steve
Geez, it's tough getting a word in edgewise between all the porn spam! Here's hoping the wind and rain gods are on your side. Looking forward to having you back in A2.
Sent 2009-06-19 from Phillis
Al, are you over tried? There's a brunch of porn on your site?? I hope get some days in the finger lakes and vermont. You willbe going thru my father's part of ny.Our part of Vt. !!
Sent 2009-06-19 from peter brown
Just had an absolutely delicious meal at Twin Anchors. We discussed your adventure and decided you spent an inordinate amount of time in Arizona and all of a sudden you are in NY? Keep on truckin! You're almost there!
Sent 2009-06-18 from Anna, Darin & Mary
Dad,
Enjoy your last day of rest. Can't wait to see you when you are done. I have one more day of my own exhausting journey...my third year of medical school. Love ya and miss you.
Sent 2009-06-18 from Jessie
Al, it's been fun following along . . . a remarkable trip!
Sent 2009-06-18 from Mark Morton