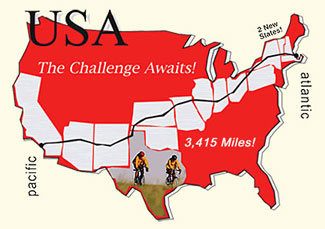 Where is Lance?
Follow Al on his cross country bike tour!
If you want to see the itinerary, click here.
To learn more about the tour, click here.
Day 38---98 tough miles from Marysville to Wooster OH
2009-06-15

Scores from the: SAA, bike tour.

Dan, Ron and Mary Joan saving my ass: I can't thank you enough.
Home made chocolate cookies: The best, only one bag left.
Hills that reach a 13% grade: Tough, very tough.
Hills that reach a 13% grade and go on for ever: Tough, very tough.
Riding with Jim and trying to keep up: Tough, very tough and impossible.
Peter passing an Amish horse carriage and then being overtaken by the same carriage: Nice.
Maid level: Off the charts.
Amish country: Nice, but many not nearly as tidy as you might think.
Bob from VA colliding with a motorcycle: Terrible and two broken bones and obviously the end of the tour for him.

Little known fact: Wooster has the highest per capital concentration of PHD's in Ohio.

It was long tough day in the saddle. I was riding with Bob from VA, as we were turning left he did not see a motorcycle, collided, and was airlifted to the ER. Two broken bones, helmet saved him from considerable damage.
I rode to the second SAG with Jim and Tom from VA. Then we encountered very steep hills and Jim took off. I can't imagine why but I tried to catch him, which I can't. Not only is he a stronger, more experienced biker with better technique, he is also 50lbs lighter.
I had not been able to wash my bike shorts in a washing machine for the last few days, and therefore washing in the bath. My biking shorts were not completely dry this morning and I was sprouting sores. The Papajciks met me in Wooster, delivered freshly baked cookies. My response? How would you like to take me to a laundromat? We had a great visit and I got clean, dry clothes. Thank you very much.
Tomorrow: 91 hilly miles to Niles.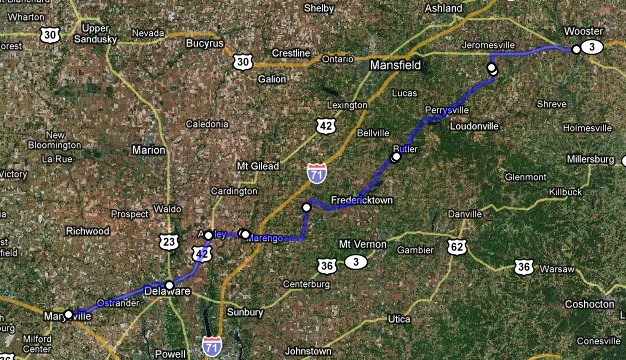 Marysville OH to Wooster OH 98 Miles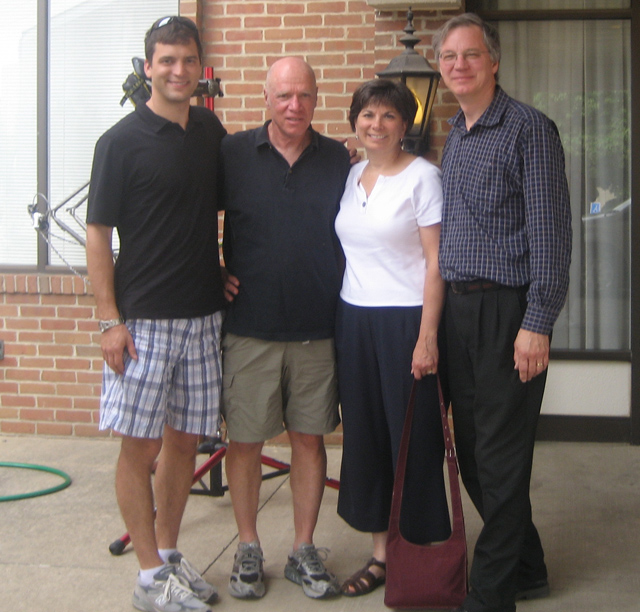 Saved my ass and also brought cookies. Nice.
Dan, Mary Joan, and Ron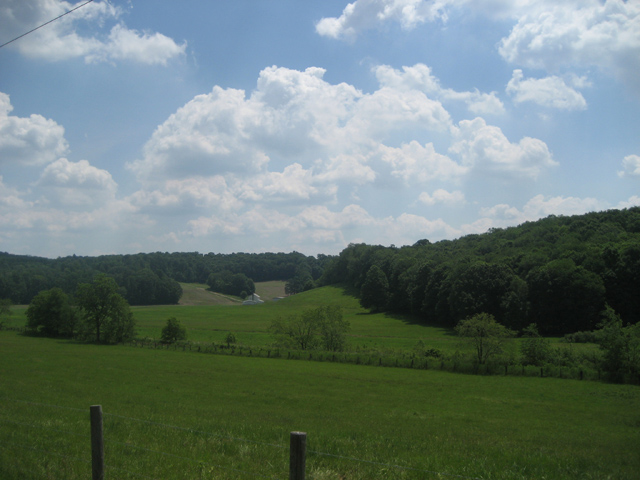 A lovely Ohio valley.



They can't seem to figure us out.
Messages
What an adventure/challenge!! We are looking forward to greeting you at Revere Beach.
Sent 2009-06-17 from Linda & Gerry
Great to see you. Your enthusiasm was incredibly high and it's clear you're having a blast.
Sent 2009-06-16 from Dan
Interesting fact about Wooster. So they have 2 PhD's?
Sent 2009-06-16 from chuck
Good Point. It looks like a three legged horse to me. I am still enjoying the blog and cheering you on daily! Way to Go!!


Sent 2009-06-16 from Mary in AZ
Ever considered trading in your bike for a horse?
Sent 2009-06-16 from Phillis
you look normal in the picture???? You are in the last time zone!!!
Sent 2009-06-16 from peter brown
I thought Ohio was flat? Great photo with the Papajciks. Hope you are wearing the M jersey proudly through buckeye country. Stay safe. Love you and miss you!
Sent 2009-06-16 from Katie
Very sorry to hear about Bob - and easy to believe it's hard to stay sharp with so many exhausting days. Hope you're able to compensate and stay safe.
From the spam post below, somebody must believe your blog is getting a lot a traffic ... and have a low opinion of at least some of your readers. The price of being a celebrity, or fan thereof.
NDJ4TB: Tattered Bob
Sent 2009-06-15 from Chip and Carol
Dad,
Dan said it seemed like you were having an awesome time torturing yourself. Wish I could have been there to see you. Love and miss ya!
Sent 2009-06-15 from Jessie
Is that a 3 legged horse? Am sorry about Bob, hope he recovers quickly... please be careful. Love you!
Sent 2009-06-15 from Anna
Do you think that anyone else can figure you out???
Sent 2009-06-15 from roddy