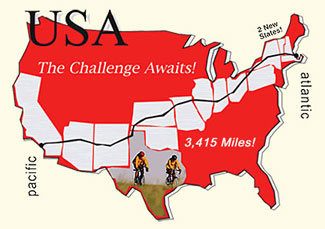 Where is Lance?
Follow Al on his cross country bike tour!
If you want to see the itinerary, click here.
To learn more about the tour, click here.
Day 33 Rest day in Champaign IL, 9 more days until next rest day in Erie PA
2009-06-10

Reflections on the 33rd day of the bike tour across America.

IT IS A REALLY BIG COUNTRY, and at least for the route we have traveled it is almost entirely agricultural. The sum total of the population of the cities and towns we have been through I would estimate at less than a million. For the first 2000 miles there was almost no forest, the exception being some of the mountainous areas.

THIS IS A PHYSICAL TEST, but I keep wondering what it must of been like to be a pioneer. We rode 109 miles one day on the Santa Fe trail from Las Vegas NM to Tucomcari. There were no stores for 80 miles and it was the high desert. Did the pioneers have SAG support? They had their families and belongings with them on covered wagons? I hope none of them complained like Peter does about his touches. No roads? How did they get over the rivers? This doesn't seem easy to me.

THE WINDS. It is a complete and total myth that there are prevailing westerly winds. I have looked ahead for the next 5 days and the wind is predicted to be out of the NE every one of them, the direction we are biking. This is our 33rd day and the wind has blown against us constantly.
If you came to breakfast with us you would think we were farmers. We talk about the weather.

ALL WE DO IS PEDAL. We all had expectations about all the things we were going to do. None. Nada. I can't even read my email most days. Too damn tired. We get in, clean our bikes, bottles, bodies, clothes and eat, eat, and then sleep. Nothing else seems to matter.

IT'S A BLAST.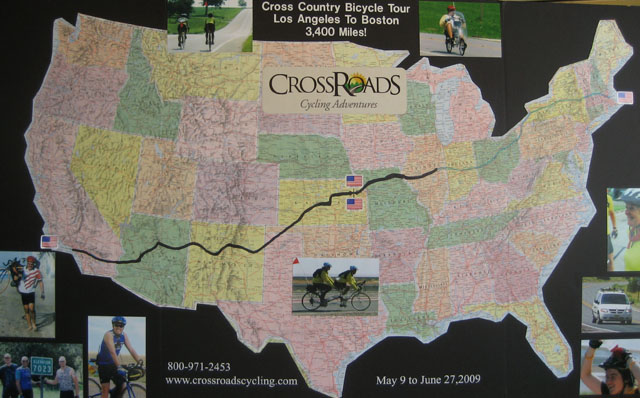 We are getting there.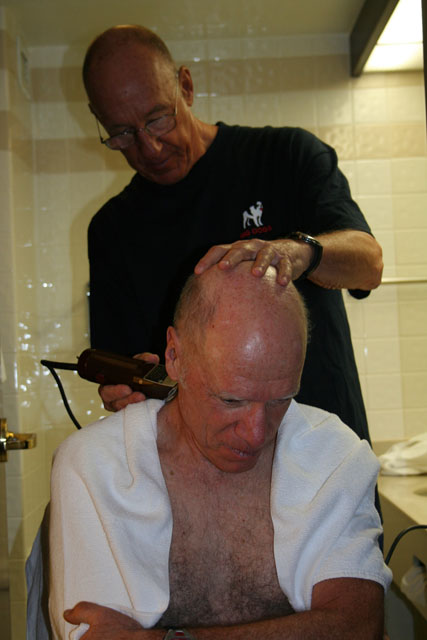 What do you do when you need a haircut on a bike trip. l900CallHank.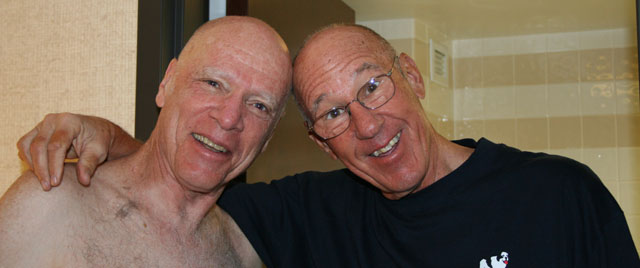 The man has talent.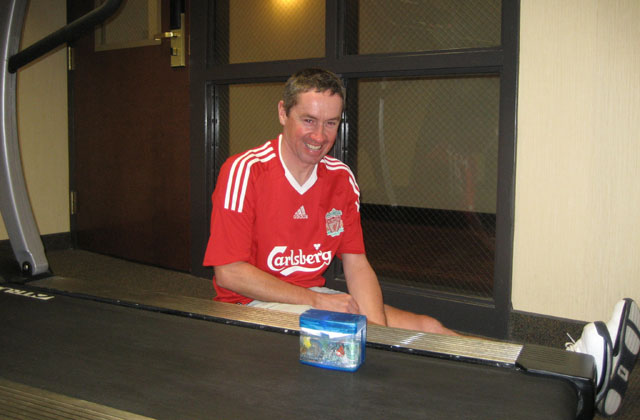 Harry thought his goldfish needed a walk so he put them on the treadmill. Long bike trips can effect you in unusual ways.
Messages
Hey Dad, I hear Armstrong is making a feature film biopic. Maybe you could portray him?
Sent 2009-06-11 from Dave
thanks for the heads up!!!! It has finally come to a head!
Sent 2009-06-11 from peter brown
Al - I rode by your office and house yesterday. Someone is painting a map of the US on the side of the Newman Group building. Will they be tracing your route on it? Also, I notice a lawn mowing at your house - so I guess that Roddy doesn't mow the lawn - like your kept telling us.
Sent 2009-06-11 from Larry
You are actually starting to look like Lance. Am back in Ann Arbor... Maddie misses you and I do too!
Sent 2009-06-10 from Dad
Oren is not using training wheels on his bike anymore. Maybe he can meet up with you at some point.
Sent 2009-06-10 from Sharon
It has been enjoyable reading your posts Uncle Al. Great to know that Aunt Rod is with you right now.
A Hoy!
Sailors are not the only ones who check wind direction on weather reports.
GO BLUE!
Sent 2009-06-10 from Brennan
Your Omaha Pals will miss you. This year, we are behind home plate which signals an end to our Life of Crime but, then again, we have Zippo as our designated driver. And, if UVA is two and out there may be some violence. We are thinking of you and send our best.
Sent 2009-06-10 from Ed
Al, I am enjoying your posts. Proof that the pioneers had no SAG support: the fact that you are not seeing biker bones on the roads like the pioneer bones that remained in their day. Have a great day of rest!!!!!
Sent 2009-06-10 from Kathy S