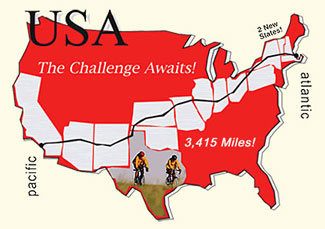 Where is Lance?
Follow Al on his cross country bike tour!
If you want to see the itinerary, click here.
To learn more about the tour, click here.
Day 30 Over the Mississippi, past the 2000 mile mark, 75 miles from Kirksville MO to Quincy, IL
2009-06-07

Scores from the: Why do we always have headwinds, bike tour.

Trees: You don't appreciate trees like you do on a bike when they are protecting you from the wind.
Small town America: populations of 203, 269, and 263 today.
The most aggressive drivers: Those on the way to Church in rural America.
Horses galloping along side me: Wow.
Stampeding cattle: When they are with their calfs they stampede easily.
What we talk about as we ride: First the riders: Willie (ex cfo of Sprint), Jim (retired Chemistry prof), Peter (business's on two continents, accomplished artist), Chris (Booz Allen Hamilton). Jim took off early so he missed these weighty disucssions.
Today we first worked out the lyrics of Stephen F. Foster's Camptown Ladies. We had difficulty with bob tail nag, but we eventually got it. We then discussed the prostate study I am involved with and the semi annual examinations. We then went to movies and Chris decided that we had to get a copy of Blazing Saddles and watch it tonight. He went into a small gas station that rented movies and tried to buy it. Two problems, they only rent and they didn't have it. After 2000 miles our brains are mush.
Peter: He declared at the 40 mile mark that he was taking the SAG. It was no fun riding into a strong wind and we have a 107 mile ride tomorrow. After he took the ride we had the discussion of why someone would make the perfectly rational decision not to finish the ride today. Is his ego really that intact that he as some common sense? Come on, where is the male macho stupidity?
My toches: It remains a significant issue. Plenty of Chamois Butt'r applied twice a day. Actually that reminds me, we also discussed today the reaction we would get if we were all standing at the side of the road applying cream at the same time.

Little know fact: Quincy was a major port on the Mississippi and once was the second largest city in Illinois. After the Mormons were driven from their homes in Missouri they were sheltered by the citizens of Quincy. It has miles of impressive mansions that we rode along today.

Another day of riding into stiff headwinds. We left Kirksville with storms we could see to the North, South, and East. For the entire ride we stayed in this semi dry pocket. Jim took off early. I rode with Willie, Chris, and Peter until Peter had an attack of sanity. I am not as fatigued as yesterday but we have 107 miles to Springfield tomorrow. As I write this I can hear thunder.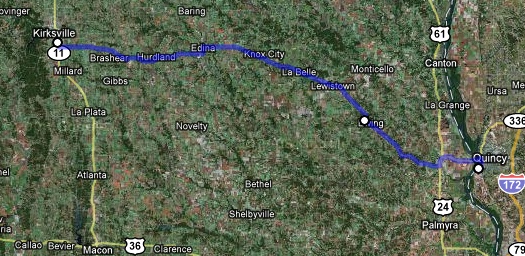 KIrksville MO to Quincy IL 74 MIles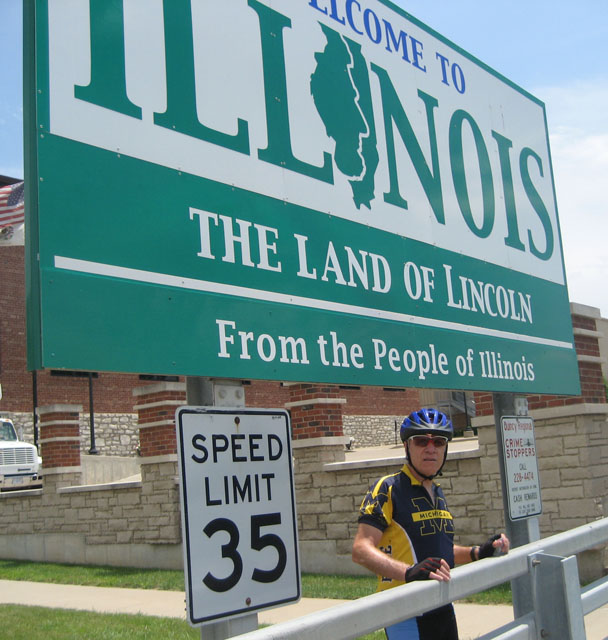 Seventh state line. Just past the 2000 mile mark.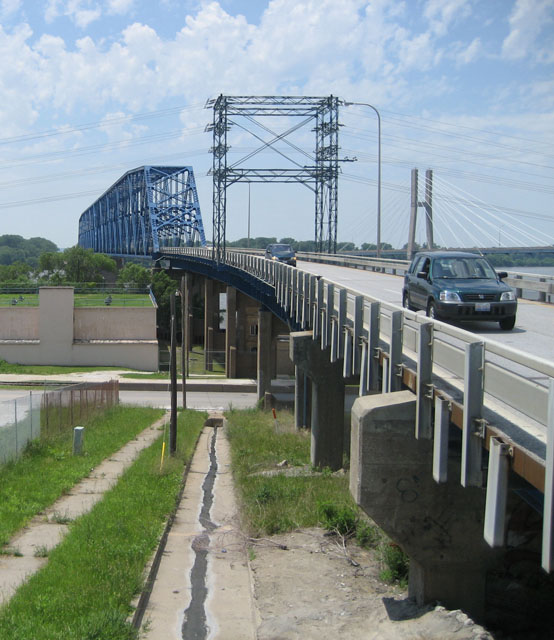 We rode over the Mississippi on this bridge with no shoulder at all. It was part of a two lane divided highway that was even more dangerous for the previous 5 miles. As we entered I saw a farm harvester that was going down the road at about 30mph and I used it as protection from traffic. Thankfully I was riding with Willie and Chris who are very safe, experienced cyclists that know how to deal with these situations.




The big Muddy. This was as close as we could get to take a reasonable picture.
Messages
Seems like you should ride from Boston to LA next summer. Then all the head winds you fuss about would be tail winds and all these arduous hill climbs would be down hill coasts. At least it would be something to look forward to for next summer. I've been vicariously enjoying your blog.
Sent 2009-06-07 from Bill P. in SMOC
Dad-
I'm glad you were thinking of my tour de burger while riding. We had our second stop today and have based our rating system on how you did zingermanns. I have heard that ice cream story before- fortunately my friends and I are sane enough to only go to one burger place in a day (although, sometimes having more than one burger). However, I think you have passed on your ability to gain weight while exercising excessively- I swear it happened to me every field hockey/skating double season. Congrats on 2000 miles, I'm very proud of your insanity! Love you and miss you.
Sent 2009-06-07 from Katie
Hey Dad - Welcome to our lovely state... the weather doesn't look promising, but hopefully it will be kind to you. Sorry we are going to miss you in Champaign! You are going to have to get another jersey before you hit Ohio. Love you!
Sent 2009-06-07 from Anna
Headwinds: Think about it. If you're riding, say 15 mph, you need a tailwind greater than that to make it feel like a tailwind. If the wind is coming from in front of you, it's of course a headwind. But if it's coming from the side, or even slightly behind, and not blowing particularly hard, and you're going 15 mph, it still feels like a headwind. So there's only about 90 degrees behind you (45 on each side of your tuckus (how do you spell that?), and blowing faster than you're going, that actually feels like a tailwind. Everything else is going to feel like a headwind. Probably more analysis than you wanted. Good luck tomorrow.
Sent 2009-06-07 from Denny