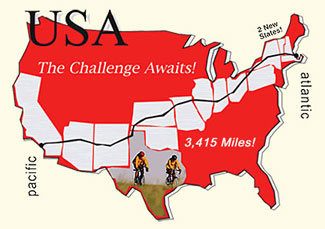 Where is Lance?
Follow Al on his cross country bike tour!
If you want to see the itinerary, click here.
To learn more about the tour, click here.
Day 29 Thunderstorm delay, rain, parade, and the hills that went on and on and on. 75 Miles from Chillicothe to Kirksville MO
2009-06-06

Scores from the: I set a new MAID index level today, bike tour.

Three hour delay to due thunderstorms: Appropriate.
Riding in the rain into the wind: Slow and tiring.
"Summer Days" Parade in Brookfield: I love this stuff.
The Hill count of 148 in the last 48 miles: They went on forever.
These hills: They make Camp Daggaett seem like a kiddie slide.
Riding up a .6 mile hill and checking my speed: Varied from 4.3mph to 5.0mph. I didn't think you could ride that slowly and remain upright. One hill I climbed was so steep my front wheel was leaving the pavement.
Fatigue level: Hit new record on the MAID (my ass is dragging) of 68.4. Broke the previous record by 22%.
Mostly rode alone and was thinking of Katie's tour de burger in Seattle. Katie, one evening John Stark and I did tour de ice cream stores in AA. We went to every ice cream store in town and had a double dip. We ended at Baskins Robbins. As we were finishing we noticed they had their ice cream cake rolls on sale. We cut off a sliver for your mother and told the clerk to cut it in half. We, of course, finished it. Is there any doubt as to whether I can gain weight on this trip?


Little know fact: A.T. Still University in Kirksville was the first osteopathic school founded in 1892. It is the largest school of its kind in the country.



We awoke to thunderstorms and ended up waiting three hours to start. We then rode in the rain with a nasty wind for a couple of hours. We all stopped at a store to refuel at the 26 mile mark. There was a parade in town which was great. Jim took off into the hills and I rode the next 50 miles alone. I was very surprised nobody came up to ride with me as I was very tired and moving slowly.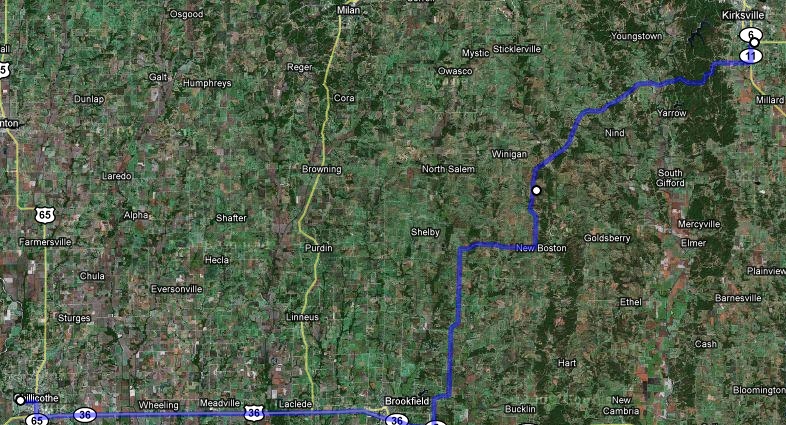 Chillicothe MO to Kirksvillle MO 75 miles



Summer Fun Days parade in Brookfield MO. Nice.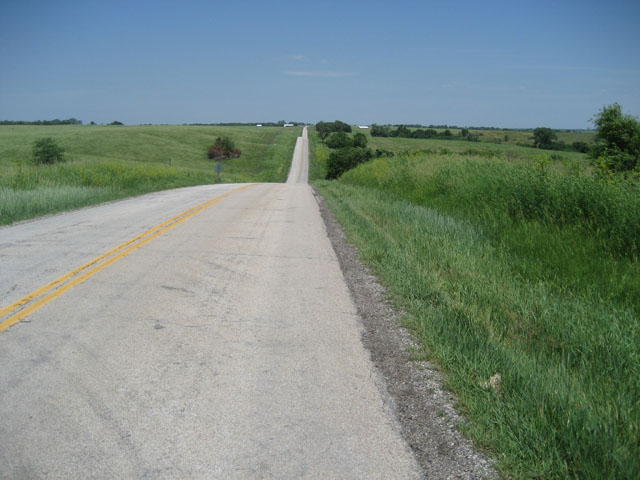 There are about 6 big hills and valleys in this picture. The picture does not do it justice. They went on forever.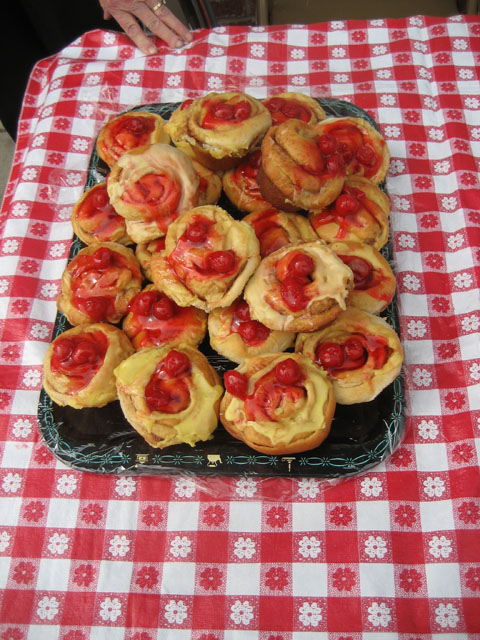 Home made cinnamon buns in Maysville. Nice.
Messages
I've read with interest about the sights you have seen, the food you have eaten, and the masochistic agonies you have enjoyed. Now that you have reported on the state of your toches I think it's time for a report on your chafing. How is it? Are you using a powder or a gel?
Sent 2009-06-07 from chuck
So far those 'buns' could be the high lt of the trip! They look good from here!! Its raining here too, I don't think there is any more desert (sp?) or just a slip? I saw Roddy yesterday and she excited to see you!-
Sent 2009-06-07 from peter brown
I encourage anyone who reads this site to check out Pam G's photos from Morocco. They are absolutely stunning
Sent 2009-06-06 from Roddy
I can tell you're loving this trip. I just wonder what you're going to do next that can compare. Maybe you could get your entire body tatooed. The pain level might be comparable.
Here's the url for some of my photos from Morocco. I told Bob Randolph I'd get him the info this way.--Pam

http://stu.wccnet.edu/~pguenzel/index.html
Sent 2009-06-06 from Pam G.