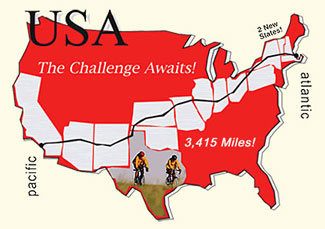 Where is Lance?
Follow Al on his cross country bike tour!
If you want to see the itinerary, click here.
To learn more about the tour, click here.
Day 28 Maysville MO celebration, 86 miles from St. Joseph to Chillicothe MO
2009-06-05

Scores from the: It was a grand ride today, bike tour.

Maysville: There can't be a lot happening in Maysville because we were cause for celebration. They closed the schools, lined the streets, made us special foods including home made cinnamon buns, and feted us like we were the Queen of England. It was special and appreciated. Small town America at its best.
Small towns: Populations today of 69, 123,and 228. For whatever reason small towns have lots of dogs that like to chase bikers. None got their pound of flesh today however.
Omaha: I was riding along today and it reminded me of the land south of the hotel we stay at in Council Bluffs. Then it struck me. That's because I am along the river south of Council Bluffs.
Golf Courses: Up to 12.
Champ "Face Plant" Walker: After riding 85 miles yesterday Face Plant decided to go for a chocolate milk at the convenience store 50 yards from our hotel. Instead of taking the driveway, Champ decides to ride a concrete runoff gully through the water. Oops, there was a submerged ridge and over the handlebars he goes. Broke his helmet, bruised his face, banged his leg, got a trip in an ambulance, and suffered a severely damaged ego. Now if he had successfully executed this daring maneuver he would have saved himself at least 40 feet of bike riding and 2 or 3 seconds. When you are as tired as we are decision making is impaired.
Eating: I have decided to back off a little on the eating because I have begun to gain weight. Its not easy to overeat on a trip like this, but yes, I can do it.
Route today: Following breeze, rolling hills, nice pavement, little traffic, bucolic countryside. The last 20 miles reminded me of Camp Daggett road. Tomorrow: 72 miles with 148 hills.

Little know facts: Chillicothe is the home of sliced bread. On July 7, 1928 the Chillicothe Baking Company began selling pre-sliced bread, marking the first time sliced bread was commercially available anywhere in the world.

Chillicothe means "Our big town" in Shanee.

I was the last one to leave the hotel this morning due to difficulty in replacing a mirror on my bike. No worries since we were all gathering at the 30 mile mark for a ride into Maysville. We rode two by two into town, school kids lined the streets, Main Street had a section streamer off for us. Photos taken, cinnamon buns, sandwiches; It was terrific. Rode the last 55 miles with Chris, Willie, and Peter. Jim had slipped off early and was first into the hotel.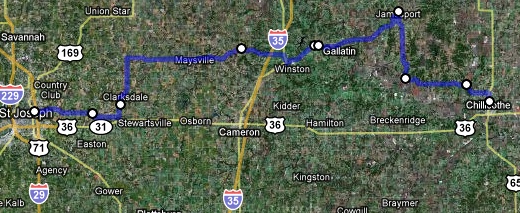 St. Joseph MO to Chillicothe MO 86 miles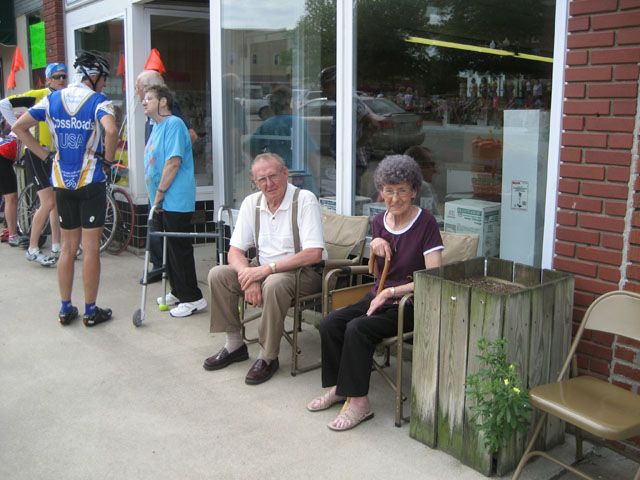 Welcoming us to Maysville. You've got to love it.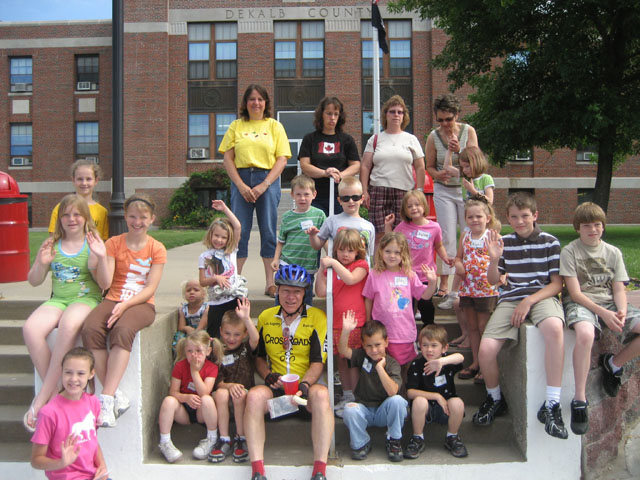 The schools emptied.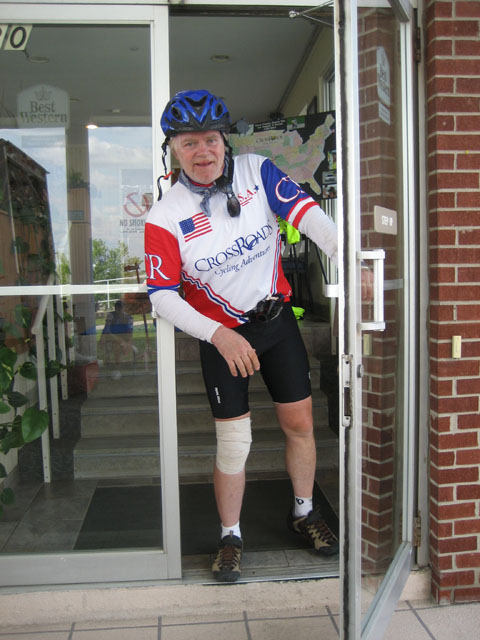 Champ "Face Plant" Walker.
Messages
YOUR A HERO!! Yes, at camp one summer I ran over 100 miles in a week and gained weight, its alot of work!!! You have really settled in! See you tomarrow.
Sent 2009-06-06 from peter brown
Don and Al R. send their best. Exciting news about the towns. Pictures remind me of Fork Mt. and all of its great folks. Knowing your views about Lady Diana, what does all of this mean re the Queen???
Sent 2009-06-06 from Ed
20 Miles of road like Camp Daggett without a complaint of how hard it was. You must be getting strong. My legs get sore just thinking about Camp Daggett Rd.
Sent 2009-06-06 from Cousin Dave
The Queen of England bikes???
Sent 2009-06-05 from Chuck
Hi Al--Sorry to be out of it for a while. I've been in Morocco. I sent you a web site where you can see some of my photos. I've enjoyed yours. I loved this part about Chilicothe MO.
Sent 2009-06-05 from Pam G.
What a marvelous journey through Amricana. I missed some of your adventures because I was having my own adventure in Alaska. We had a bike adventure of our own while there. We were in an isolated place called Gustavis, and my 46 year old son decided to take photos of the kids while riding, and he mistakenly activated the front brake which sent him over the handlebars. He fractured the radius in the arm where he already has a metal plate. All of this happened while he is busily getting ready for salmon season on his seiner. It helped him to forget his pain when we flew in a SMALL plane over the glaciers around Glacier Bay - that was incredible. I am really impressed that you are still in the ride - that must make you feel so great. I can now keep track of the remainder of your adventure. Keep on keeping on.
Sent 2009-06-05 from Lil