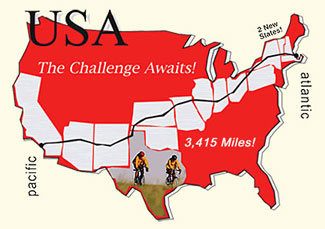 Where is Lance?
Follow Al on his cross country bike tour!
If you want to see the itinerary, click here.
To learn more about the tour, click here.
Day 25 Rest day in stormy Abilene KS
2009-06-02

I've actually not slept the entire day which means I may be getting less fatigued. Ate breakfast, napped, went for a massage, toured a mansion and toured the Eisenhower museum. Now its time for another nap.
Thoughts on crossing the country on a bike. Its a big country.
We've ridden across the desert, up and over the mountains, and across the plains. And we are not yet half way.
Since we have been off the interstate you can see the devastating effect that franchising has had on small town America. From my hotel in McPherson KS I could see:
Pizza Hut
Holiday Inn
Applebees
Best Western
Arbys
Long John Silver
Dollar General
KFC
Taco Tico
Walmart
America's Best Value Inn
Perkins
Econo Lodge
McDonalds
Walgreens
Braums
Subway
Chinese Diner
Taco Bell
Auto Zone
Alco

The downtowns are filled with empty buildings and there is a mess on the outskirts of town.

The interstates destroyed Route 66 and the Santa Fe trail towns. Mile after mile of crumbling buildings.

Roads: The roads we have been riding on are built to accommodate large trucks. In farming and oil and gas country they need to get their products to markets. In Michigan we never see any trucks of this size when we bike. About 20% of the traffic we have seen are large commercial trucks.



Abilene is a neat little town of 6700. It was the end of the Chisholm Trail and became a RR cattle town. Many fortunes were made and the mansions remain well kept today. It is also the home of Dwight Eisenhower and they have the Presidential Library and Museum here.

I've been asked about the hotels we stay at and the amount of food I eat. Well I eat constantly and foods I would never otherwise eat. Typical breakfast if in a restaurant is eggs, bacon, more bacon, hash browns, pancakes, oatmeal and juice. Lunch is generally a foot long sub after I ride. We eat constantly while we ride, but it is Gels, Gu, bananas, gatorade, and energy bars. When I'm done I am constantly snacking, trail mix, energy bars, fruit. Dinner is often arranged and I eat everything.
Hotels we have stayed at:
Best Western 5 times
Comfort Inn 4
Holiday Inn Express 3
Days Inn 3
Courtyard Marriott 3
Super 8 2
Fairfield Inn 1
Microtel Inn 1

Tomorrow looks to be a very tough day. 107 miles to Topeka into the wind with 6000 feet of climb. Ugh. Time for a nap.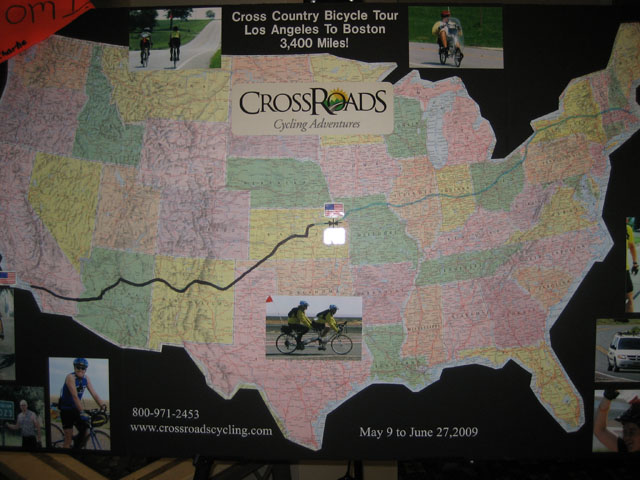 This map is always in our hotel lobby. The dark black line follows our progress. We are not yet halfway.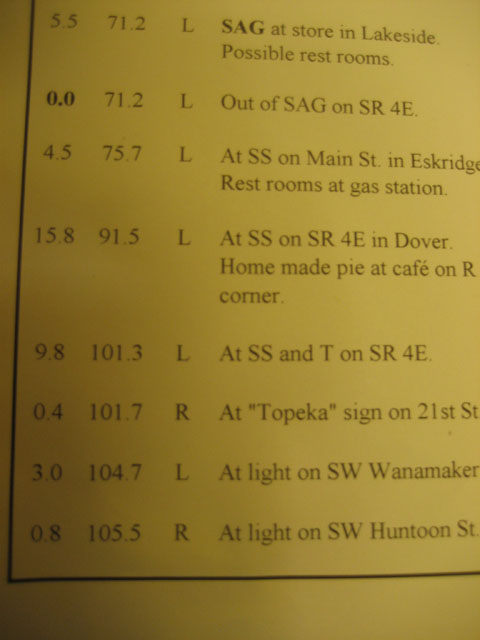 Clue sheet with directions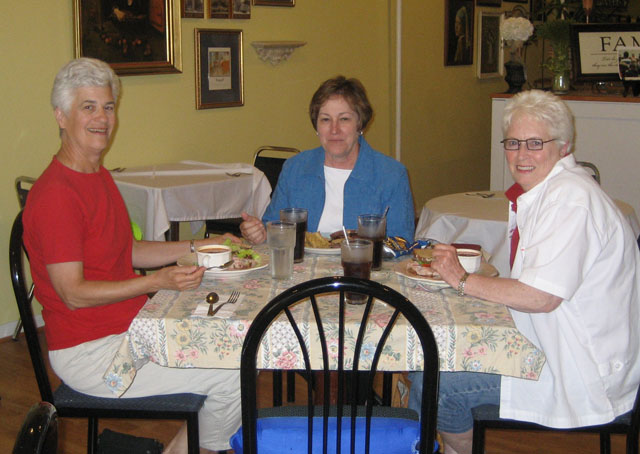 My luncheon companions in Abilene. I stopped at The Dish for lunch and Jean, Jane and Judy invited me to join them. Kind and friendly folks here in Abilene.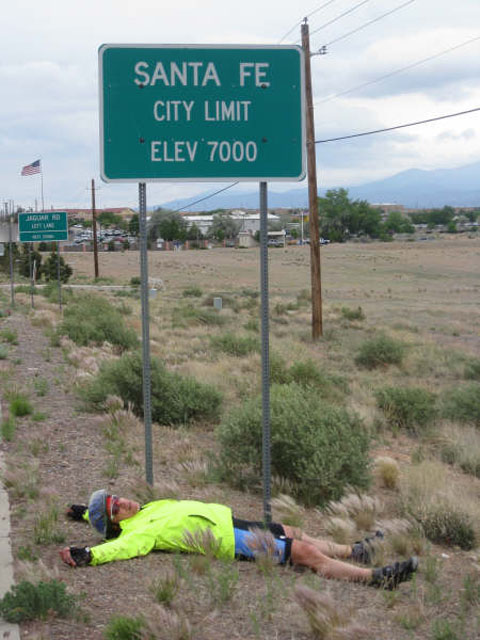 Pic taken entering Santa Fe after tough day through the rain, cold and mountains.
Messages
All roads lead to Abilene! Everyone needs to visit the Eisenhower Presidential Library & Museum and his future memorial being built in Washington DC! Today's trivia - Pizza Hut started in Kansas! Al,it was nice meeting you and hearing about your trip!
Sent 2009-06-03 from Judy in Abilene
You say you haven't slept the entire day and that you napped after breakfast?? From the pics, looks like you aren't missing Roddy that much.
Sent 2009-06-03 from Barry
big is good in nature, not so much in business- and what you see is the result.In fact its intesting you should bring this up as I Dwright said 'beware the miltary/industrial complex'!!!!and should added marketing and merger's!!!
Sent 2009-06-03 from peter brown
hey freind!
i'm at home,back to rutine and offcourse follow you.i understand you need me for tomorow(head wind)
be strong and keep going.i'm with you in my mind all the way!!
Sent 2009-06-03 from jack W
Great post dad. I love the map and details about the places you go through. I'd love to hear more about the presidential library and museum. Remind me to tell you about how i (easily) convinced my friends to do a tour de burger- not quite eating every zingermann's sandwichs, but trying to find the best burger's in seattle.
Can't wait to see you soon- maybe you'll take me biking with you and give me some tips!
Sent 2009-06-02 from Katie
Dad, glad to hear you are eating like Michael Phelps.
Sent 2009-06-02 from Jessie
Dazzling the damsels with your hard-won calves, quads, and glutes. You crack me up!

Happy birthday, Mark!
Sent 2009-06-02 from 60
So, Al, where do the vegans in Kansas eat??? I suppose they can be found wandering the fields of corn and wheat. If someone opened up a Vegan Hut or Long John Vegan, maybe they would strike it rich.
Sent 2009-06-02 from Phillis
Sounds like a tough day tomorrow. I hate the days that look relatively flat but are constant rollers and you climb thousands of feet. Good luck. Hope you're wrong about the wind.
Sent 2009-06-02 from Denny
Oh, and happy birthday to me!!!!
Sent 2009-06-02 from Mark Morton
Al, you are a chick magnet!!!
Sent 2009-06-02 from Mark Morton