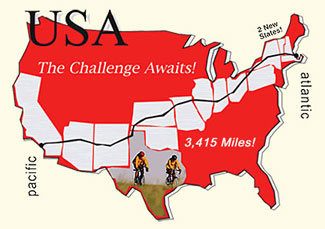 Where is Lance?
Follow Al on his cross country bike tour!
If you want to see the itinerary, click here.
To learn more about the tour, click here.
Day 23 The wheels on the bike go round and round. Great Bend to McPherson KS
2009-05-31

Scores from the: you cannot imagine how much wheat there is, bike tour.

Central Kansas: Wheat, wind and heat.
Having the discussion as we ride about what we could possibly take a picture of that we had not already taken: Frequent.
Wheat, wind and heat: You cannot imagine. It goes on forever.
Wheat fields in the middle of small Kansas towns: Yep.
Stopping at the SAG in a small county park and entering the restroom and having Chris tell me that its amazing that they are pipping in jazz into the men's room: I believed him. My brain has turned to mush. He of course had an ipod that broadcast music.
Seeing the next town from 12 miles away: The world is flat.
Stopping for lunch at Subway and asking a teacher if she knew anyone named Berry: DB you are correct. There are lots of them around here. Boulder does seem to have its advantages over McPherson however.

Little know fact. In 1936 there were six men from McPherson on the gold medal winning basketball team that defeated Canada 13-9 for the title. They must have played great defense.

We left Great Bend with a strong wind, mostly on our right but somewhat on our nose. I rode with Jim, Willie, Chris and Peter and we were in no mood to deal with the wind and heat any longer than we needed. We hustled into the SAG at 31 miles. took a quick stop and continued into McPherson. It was only 64 miles but not a particularly easy ride. More of the same: wind, wheat and heat.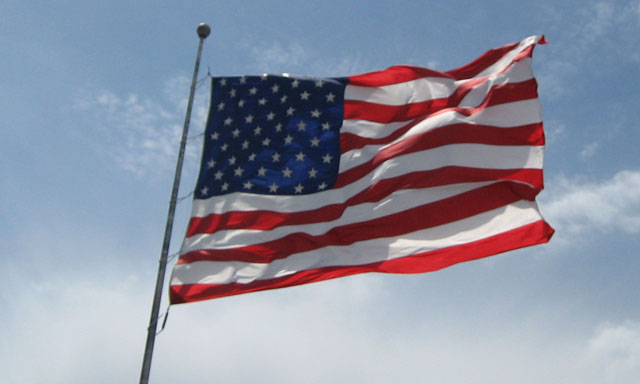 The wind has blown like this for days.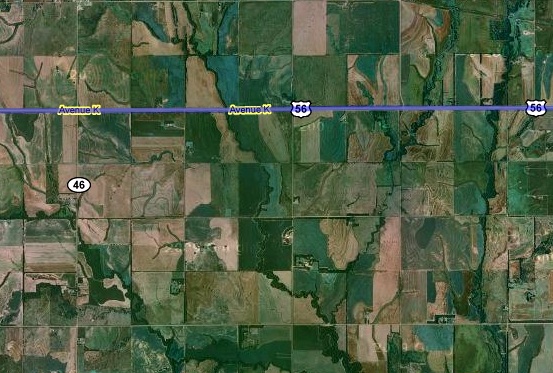 Beautiful country if you are a bird.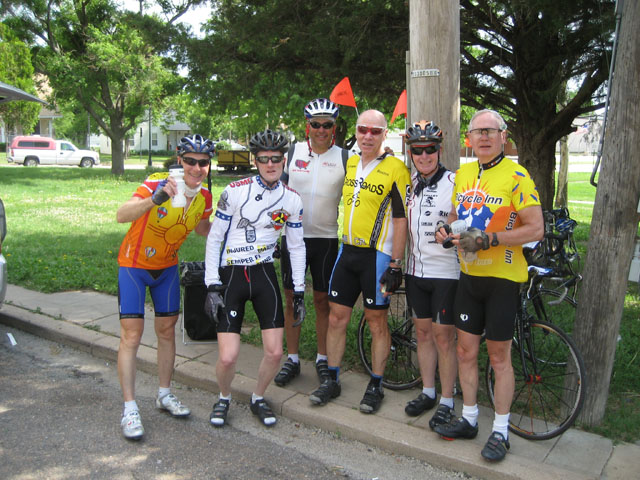 At the SAG: Left to right: Peter, Chris, Willie, Lance, Jim, Fred.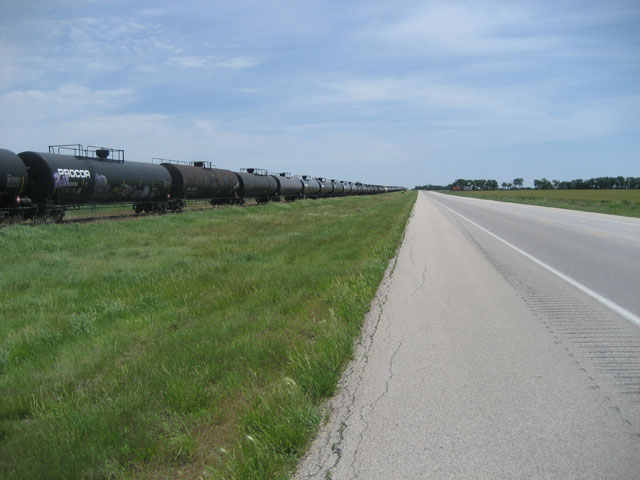 The economy has effected the train business. We see miles and miles of idled cars.
Messages
feeling your wheaties, I guess. Mountains are something to look forword to! Sorry about all the 'flats'.
Sent 2009-06-01 from peter brown
Who is 60?
Sent 2009-05-31 from Roddy
Had to look up that basketball game for an explanation of the score. Apparently they played outdoors on a dirt court in driving rain that made dribbling impossible and held the score to a minimum. Joe FortenBERRY of U.S. was high scorer with 7 points. 1936 was also the first time that basketball was an official medal event.

Glad to read Roddy's endorsement of making fun because English is my 2nd language, Sarcasm is my 1st.
Sent 2009-05-31 from 60
Al - weather was perfect for Dexter - cool, sunny. Most people only did the race. I rode to your house, ran the 10k in 53:23, about 8:30s, went home, then to the pool for 25 minutes, 1200 yds - home for eats, than on the bike for 28 miles - 1 hr and 50 mi. I thought of you the whole time. I saw Roddy at your house and we talked the blog. It seems she thinks that its ok to make fun of you because it has been going on all your life - so far. - so we'll continue.
Sent 2009-05-31 from Larry
Denny, that's priceless. I thought I was the trivia king. I'm abdicating.
Sent 2009-05-31 from