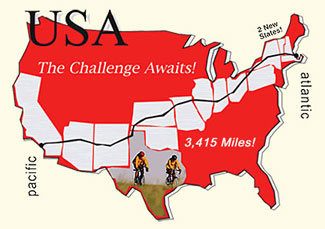 Where is Lance?
Follow Al on his cross country bike tour!
If you want to see the itinerary, click here.
To learn more about the tour, click here.
Day 22 -- Gettin out of Dodge, 87 of the sweetest miles ever pedaled from Dodge City to Great Bend KS
2009-05-30

Scores from the: Now that's what I'm talking about, bike tour.

Strong tale winds: Yea baby, now we're dealing.
The Plains: Who cares, we have a tail wild.
Cruising at 25mph: I could get use to this.
Omaha sun: No clouds, hot, penetrating sun: Who cares we had a tail wind.
Missing the Dexter-Ann Arbor run: must be the first time in at least 25 years.
Dan making the front page of the AA News: 35 straight Dan?
Small town Kansas: You expect to see Bob Dole rocking on the front porch.
Going to a movie when you have to walk 1 mile in 90+ temps: Bad idea, especially when you immediately fall asleep and don't have a clue when you wake up what the movie was about.

We were greeted today by strong tail winds. Oh my, does the world look rosey when you are easily doing 25mph. We did the 87 miles in almost 4 hours including stops. All riders were smiling today. I rode with Chris most of the way to the first SAG. Then rode alone to the second SAG where Jim and Peter caught me. Peter and I rode in from there. Jim took off and then caught us from behind. He must of stopped somewhere. We easily could have continued on to the next stop, McPherson KS a ride of 64 miles.
Tomorrow is the Dx-AA ride. Let me know the results.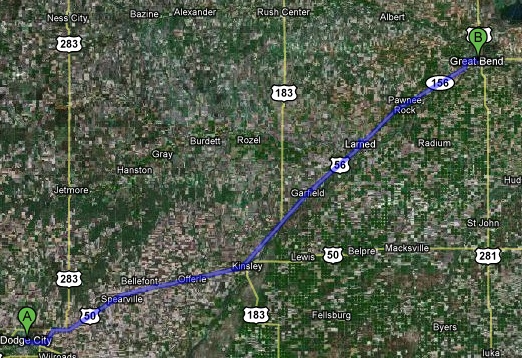 Dodge City KS to Great Bend KS 87 miles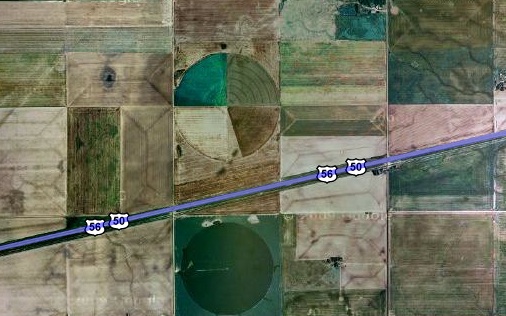 Bird's eye view of today's ride.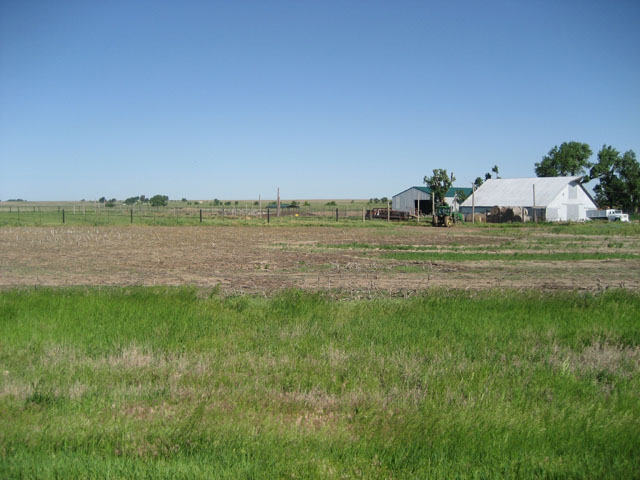 It's still flat, but there are trees, some houses, activity. But who cares, there was a strong tail wind today.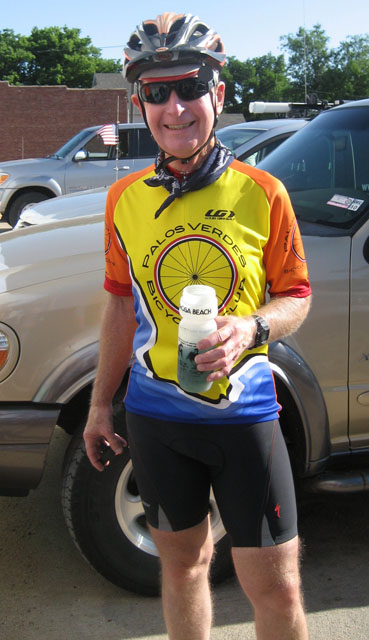 Jim, A fabulous rider, fast, consistent, aware, helpful. He attended Texas A&M and was a chemistry Prof. He knows what we are seeing and is able to explain it. He also googles ahead and lets us know the history of the area we are traveling. Never, ever, say pick up the pace to him. Yesterday Willie considered the pace a bit fast and yelled up "Lets pick up the pace a little". All I saw was the rockets red glare as Jim disappeared over the horizon.
Messages
Too many Hookers and Tail on this trip.......:-)
Sent 2009-06-01 from Bonnie
P.S. dodge is being renamed--Fiat
Sent 2009-06-01 from peter brown
It was a perfect race day in A2 fo6,600 runners. half was won in 1:04ish and todd synder won the 5k. jill ran the 5k and more then i don't remember-o yea saw Larry too!
Sent 2009-05-31 from peter brown
I'm glad that you finally had a tail wind so soon you won't be
in Kansas anymore. You missed Washtenaw Dairy's 75th
anniversary party. 25 cent shakes and 75 cent pints of ice
cream. Bike parking was almost as difficult as car parking.
Sent 2009-05-30 from Ellen