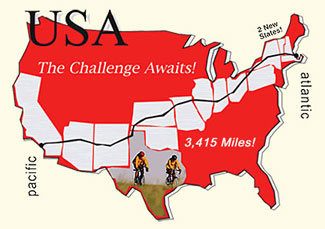 Where is Lance?
Follow Al on his cross country bike tour!
If you want to see the itinerary, click here.
To learn more about the tour, click here.
Day 20 Follow the Yellow Brick Road: Guymon OK to Liberal KS
2009-05-28

Sorry, But I managed to delete this posting along with the messages. I do have the photos however.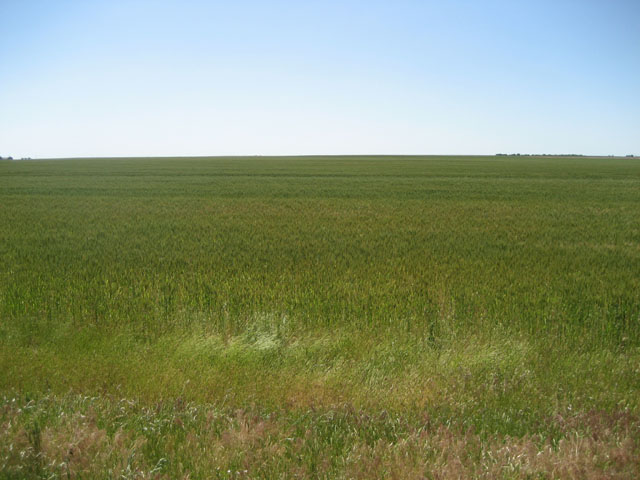 Galileo was wrong. The world is flat, at least out here. Wheat and wind is what we have all day.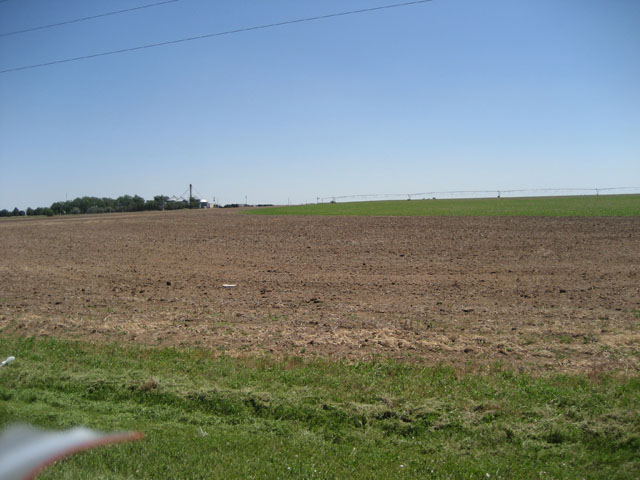 I've seen these from the air and not understood what they were. Circular irrigation. You must need cheap land to do this since part of the square is not irrigated. The gizmo pivots and supplies water in a circular motion. It is driven my water pressure.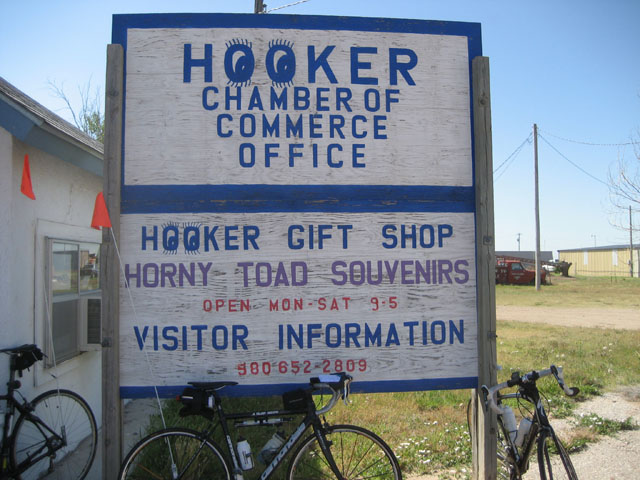 Hooker OK. Their baseball team is named the horny toads.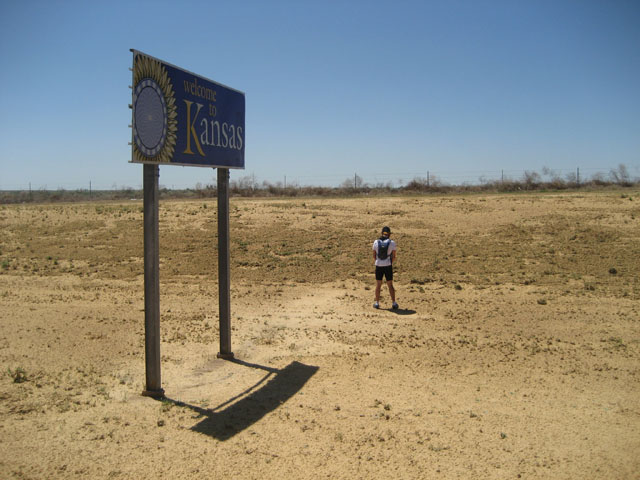 Hank watering either Oklahoma or Kansas. It is unclear which from this photo.
Messages
I am not so easy to delete! I always wondered where 'Hookers' came from. Thanks Al, now I know.
Sent 2009-05-31 from peter brown
33 golf courses, and I think Roddy is getting tired of your ride.
Sent 2009-05-29 from Barry
Al - I say zero golf course so far because you would have mentioned them, for all your golfing buddies following your every word.Brian is the new Al in the league, since he arrives when the sun comes up! You would have bolted the course last night as it looked ominous but it turned into a good night. Randy M's birthday - so he took your spot in the first flight. Good luck in Kansas. I don't think you've ever picked anyone from there.
Sent 2009-05-29 from Larry
0- golf course's? don't 'miss' Dodge City! Sunday is the big Dex-A2 run. Has Hank 'hit' every state line?
Sent 2009-05-29 from peter brown
How many you've seen so far? I'll say 24, and I'll take an ice cold Oberon please!
Sent 2009-05-28 from Katie
I love Bubbie's commentary! Wish she knew how to blog!
Sent 2009-05-28 from Anna
Great pics and post Al - our thoughts are with you. Thank God our bodies are not.
NDJ4TB: Tinkling Border (or Toad Bawdy)
Sent 2009-05-28 from Chip and Carol
While in Liberal if you come to a T intersection and don't know which way to turn I would venture you should go left
Sent 2009-05-28 from Cousin Dave
Good luck Al. Our thoughts are with you and wish you the best of trips and the strength to complete your journey. Dexter Ann Arbor is this weekend and it won't be the same without your taunts and the occasional hot dog offering. It will be interesting to see who an still show up and I'll let you know what happens. I looks to be muggy here like it is today. Sisu
Sent 2009-05-28 from Wally And Kary Herrala
Say hi to Dorothy and Toto. Look out for the wicked witch. How liberal is Liberal?
Sent 2009-05-28 from Phillis