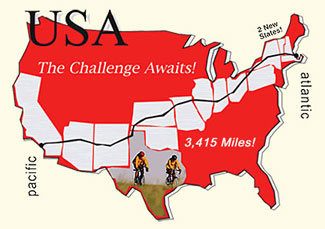 Where is Lance?
Follow Al on his cross country bike tour!
If you want to see the itinerary, click here.
To learn more about the tour, click here.
Day 19 Oklahoma where the wind comes sweeping down the plain. 72 Miles from Dalhardt TX to Guymon OK
2009-05-27

Scores from the: Oh yes, oh yes, the forecasted 15mph headwinds were only crosswinds, bike tour.

The Great Plains: There these, well, really big plains.
George who yesterday biked for 12 hours and made it to Dalhardt: Now that is fortitude.
Whack-A-Mole when your the mole: Painful. The flags on the back of the bikes are getting whipped into our faces.
Chris taking charge: "We are going to make the wind our bitch today."
Not having forecasted 15mph headwinds: I can't believe it. It is one of the best things to every happen to me.
The Great Plains: There ain't much happening.
Eating lunch in Guymon OK and the TV in the corner is set to a soap opera and it is in Spanish: Nice, very nice.
Our fifth state: Not bad. It seems like we just crossed one yesterday.
Tomorrow being only a 41 mile ride: I'm very suspicious. Are we going to be shot at? It doesn't seem to be in the character of this tour.

I left the hotel with Willie, Chris, and Peter. Chris has a flat and Jim who had a flat at the hotel catches us. These men are safe, strong, efficient, and have a sense of humor, a treat to ride with. They are stronger than I am but I stay with them by enduring more pain. The first SAG is 30 miles out and at a DQ. They order grilled cheese sandwiches so I leave early and stop 50 miles out at the Oklahoma border. They catch me and we continue onto the hotel in Guymon OK. Not much out there but wheat and wind.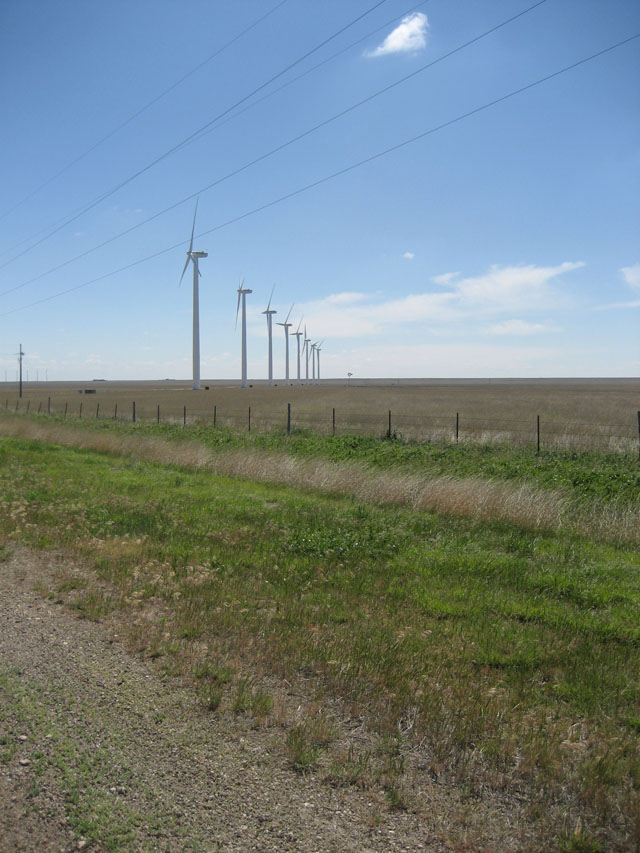 These things are massive. Notice the normal sized windmill just to the right of these monsters.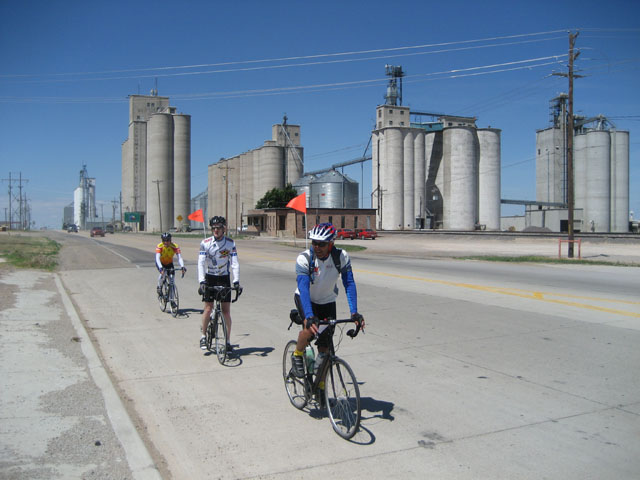 Left to right: Peter, Chris, and Willie coming into Texhoma.



Jim coming into Texoma.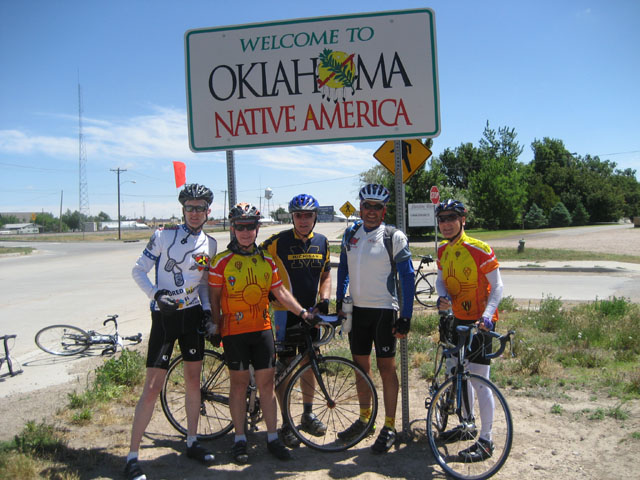 Left to Right: Chris, Jim, Lance, Willie and Peter. Welcome to state sign voted poorest of tour.
Messages
I think the Sooners took the original welcome sign along with them in the early land grab.

Enjoy the pancakes and Oz displays in Liberal.
Sent 2009-05-28 from Jim K
with all that wheat, hope you are not chafing! 41 miles?? sounds like a warm up!
Sent 2009-05-28 from peter brown
Hey Al, haven't you heard of state budget constraints? If you want the deluxe welcome sign, try the interstate. Besides, only 57 miles of Route 54 are in the state - they know you're just passing through.
The reason for only 41 miles tomorrow is because you're staying in Liberal, KS. Not a ride by for an A2 citizen - safe bet Rush Limbaugh won't be greeting you. Please get pics, and let us know the political views of the residents.
NDJ4TB: Thwacked Beanie
Sent 2009-05-27 from Chip and Carol
Why are Chris, Willie, and Peter wearing long sleeves? Sun or cold? How are the hotels and the food? Do you have enough calories to sustain your energy levels? Looking forward to riding with you in Ohio and keep up the good work. At some point you'll find you're in great shape and have some real fun.
Sent 2009-05-27 from rob