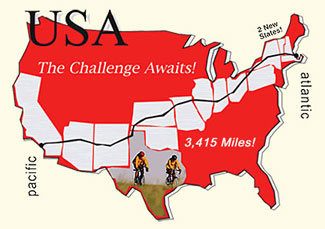 Where is Lance?
Follow Al on his cross country bike tour!
If you want to see the itinerary, click here.
To learn more about the tour, click here.
Day 18 Insanely difficult 96 mile ride from Tucumcari NM to Dalhart TX into a 3 club wind.
2009-05-26

Scores from the: I didn't take any pictures today because there was nothing to take a picture of and besides I forgot to charge my camera battery bike tour.

Starting out directly into a 10-15 mph wind: Ugly
Having the wind build all day to God knows what: Urg
The Texas country side: Why would anyone live here, but wait, no one does.
Blue Angel riding with top riders: a treat.
Stench from the XIT feeder agri
business with 400,000 beef cattle: What do you think?
Crossing into our 3rd time zone: Really.
Exhaustion level: Out of category, out of this universe.
Harry, Karen and Ira doing another 4 miles to make an even 100: Nuts.

We have been heading west all trip. Today we turned NE into an outrageous head wind. I rode the first 67 miles with Chris, Willie and Peter, top riders in this tour. Jim caught us at about the 40 mile mark. We did riding like I have never done before, something like the Blue Angels. We did pairs, rotating pairs, pace lines, inches apart from one another to deal with the wind. I would not attempt this with anyone less then riders of this quality. At the 67 mile mark, Peter decided to call it a day. He still has a grip on reality. The wind continued to build to at times an estimated 20 to ?. At the 78 mile mark there is a Crossroads van. We stop and I decide to let the strong men go. 45 minutes later the next riders appear and its Harry, Ira, Karen and Alec. I join them and we struggle in. It took the leaders 8 hours, we made it in 9. To my knowledge only one other rider did not take the SAG.
Tomorrow 72 miles to Guymon OK with strong head winds predicted.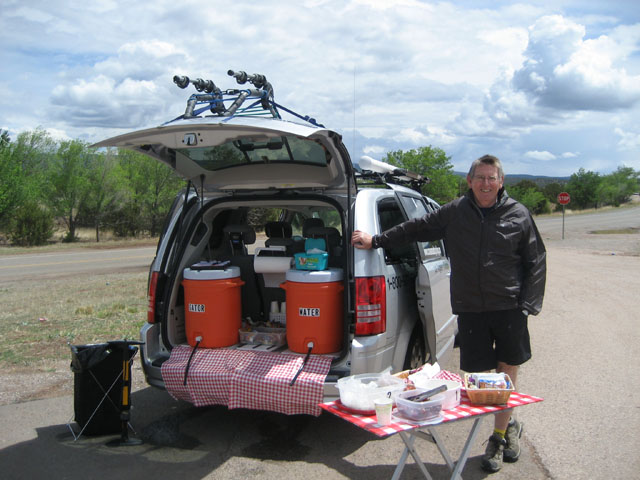 Mac at the SAG van. All Crossroad support staff are volunteers and do not get paid. Mac comes from England to help us. Always positive, always helpful.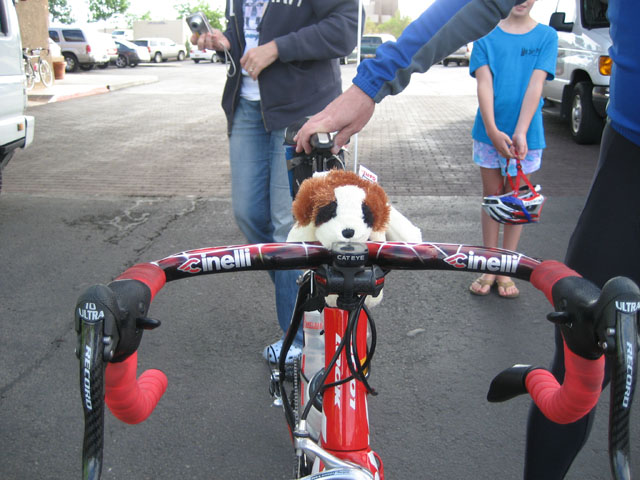 Boston, a recent addition to Harry's bike. Harry is a little nuts, but in a good way.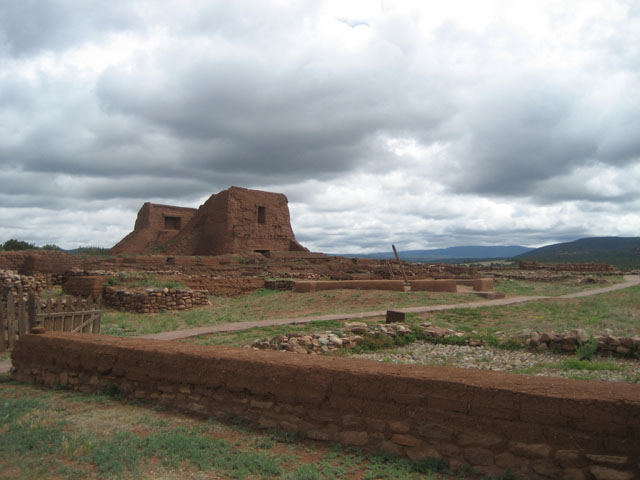 Pecos National Historic park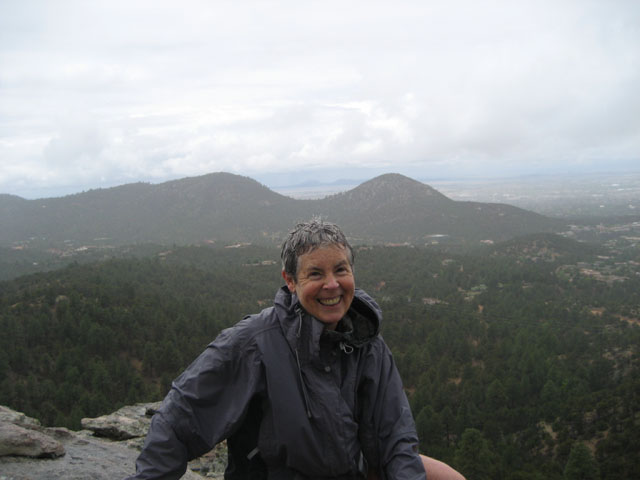 Roddy climbing a mountain in the rain
Messages
Hi Roddy! Is Al on some kind of bike ride??


Sent 2009-05-28 from Carrie Serfass
Hell, Al, next time do an extra 29 miles to make it an even 125!
Sent 2009-05-28 from Phillis
Al Al Al, leaders schmeeters we just want you to finish, not kill yourself leading!
Sent 2009-05-27 from Dan G.
Don sends his best. He enjoys the reports about your progress. Be safe.
Sent 2009-05-27 from Ed
P.S.- Lance is now in 12th place, but was riding with the leaders on the last climb,before droping back to help a teammate. they say he would be in 5th place if he was riding for him self! They say he is getting STRONGER!!!!as the ride goes on!
Sent 2009-05-27 from peter brown
its good to be head strong into head wind... some days are just tough... way to go!!
Sent 2009-05-27 from peter brown
Hey Al,
Great Photos! We miss you guys and I miss the daily routine and riding with you all. Melissa and I both enjoyed meeting Roddy, she is a delightful lady and was beaming proud of you. Keep grinding out those beautiful miles Dude and keep those photos coming. Hope to see you and Roddy in the near future!

Sincerely Your Friends,
Mark & Melissa
Sent 2009-05-27 from Mark & Melissa
Texas makes me think of cattle and cattle makes me think of big Texas size steaks, doesn't a thick, juicy 24oz Porterhouse sound good about now? I don't see any Coors Light in the SAG, I could never have made this trip! Keep up the good work Al!
Sent 2009-05-26 from Dave Smelewski
I just cooked three bags of oatmeal chocolate walnut cookies for you guys. They will go out FedEx tomorrow. Tell Peter to look for them when he checks in. Thinking of you guys. Hang in there big guy and if it isn't fun one day ride and rest. Treats are on the way!!!!
Sent 2009-05-26 from Rich
I can tell you're tired, Al, when you don't know west from east (please say you'll be rested before any orienteering.) Great job bringing it in today - take the rest of the day off.
NDJ4TB: Torturing Breeze
Sent 2009-05-26 from Chip and Carol
Dad, the SAG van is your friend. I repeat, the SAG van is your friend.
Sent 2009-05-26 from Dave
Al, come on man, we could be playing golf instead of this nonsense!!!
Sent 2009-05-26 from mark morton
Dad - Yay! A glimpse of sanity...that's what we like to hear. Miss you!
Sent 2009-05-26 from Anna