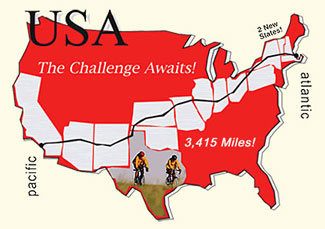 Where is Lance?
Follow Al on his cross country bike tour!
If you want to see the itinerary, click here.
To learn more about the tour, click here.
Day 15 Ann Arbor Cyclist, 63, attempting four naps in one day
2009-05-23

Rest day in Santa Fe, cool and wet.

7:00 am wake, down for breakfast, Roddy leaves to go hiking in mountains.
8:15 Call front desk for wake up call at 9:30. Long pause, apparently some confusion. Would that be for tomorrow? No the call is for today
10:00 Massage
11:15 Call front desk for wake up call at 11:45. Long pause but before response I add that would be in 30 minutes.
Noon Quick lunch.
12:15 Call front desk for wake up call at 12:45 since we are going to the bike shop at 1. I quickly add that is 30 minutes from now. I hope there is a shift change soon at the front desk, they are looking at me oddly.
1pm Off to bike shop.

4th nap looking tough. Roddy returned and heading downtown. At least I tried.

Little known facts:
35% of the traffic on I40 in the desert is semis.
On average 25 cars and trucks pass a bike rider on I40 per mile.
You can eat the same breakfast for 50 straight days.
GU energy gel can be consumed every hour instead of food.
GU is amazing stuff. What is in it?
Serious bikers clean their bikes daily and they sparkle.

For those of you who could not read the Ann Arbor News article.

Ann Arbor cyclist, 63, on cross-country trek this summer from LA to Boston
by Geoff Larcom | The Ann Arbor News
Wednesday May 20, 2009, 10:08 AM

Why?

It's a question Al Newman couldn't answer earlier this month as he began a cross-country biking trip that takes him through desert and mountains, all in the first week.

"I don't have an answer for the why," he said. "It's somewhere in there."

Yet those who know Newman, 63, aren't surprised that he would join a group of 20 bicyclists on this tour. His running buddies kidded him, but say his competitive nature will pull him through.
DETAILS

What: A seven-week, 3,415-mile cross-country cycling trip.

Residence: Ann Arbor.

Occupation: Entrepreneur. head of Newman Group, a technology company that helps venture fund startups.

Family: Wife, Roddy Wares; four adult children.

Online: Personal Web site is whereislance.com. For details of the tour, see crossroadscycling.com.

"A lot of us, we talk, we talk, we talk," retired Ann Arbor lawyer Ed Hood says. "Al writes the check and puts himself in a position where he can't back out."

Newman is confident. "I think if I don't get injured, I'm going to do it," he says.

The ride began May 9 in Los Angeles and runs through Death Valley and the Rocky Mountains before heading through the Midwest and New York and on to Boston. The riders are averaging 80 miles daily on the 50-day trip, and will take five days off for rest.

"Oh my God, it's daunting," says Pat Shields, another running buddy. "If anybody can do it, Al can."

Newman, who is also a national champion in orienteering, wasn't an avid cyclist until deciding to do the tour. He looked for cross-country trips and found one he deemed "absolutely terrifying" with Crossroads Cycling. He started training in February.

Friends and family are steeped in Newman's creative and quirky form of energy. Over 10 years, he ate and rated every sandwich on the menu of nationally acclaimed Zingerman's delicatessen in Ann Arbor. Out of that arose an annual sandwich contest that benefits Peace Neighborhood Center.

Newman's wife, Roddy Wares, recalled a talk with their daughter's field hockey coach, who asked how Newman talked her into letting him take such a trip.

"Well, he didn't," Wares says on the blog.

"We never had the conversation: Should he? Could he?" she writes. "If you float a seemingly unintelligible idea around for 15 or 20 years, it becomes a matter of, 'When?' And now that he has put the money down and is leaving. ... It seems a little late to be asking, 'Why?'

"The kids probably have the only answer," Wares concludes. "That's Dad, and he does stuff like that."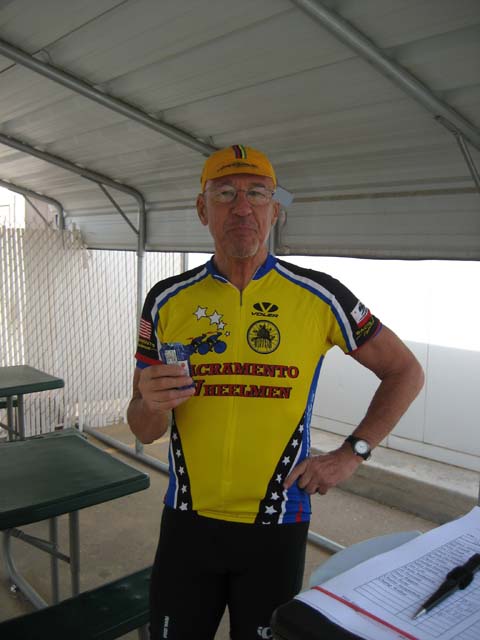 1-900-CallHank. Hank is 73, an extremely fit rider, and commonly referred to as "one speed." He rode 6000 miles in 6 months to prepare for this tour. He is great to ride with since he is fast, consistent, gregarious, and good humored. He does not like to be in pace lines except for being the lead rider. How great is that?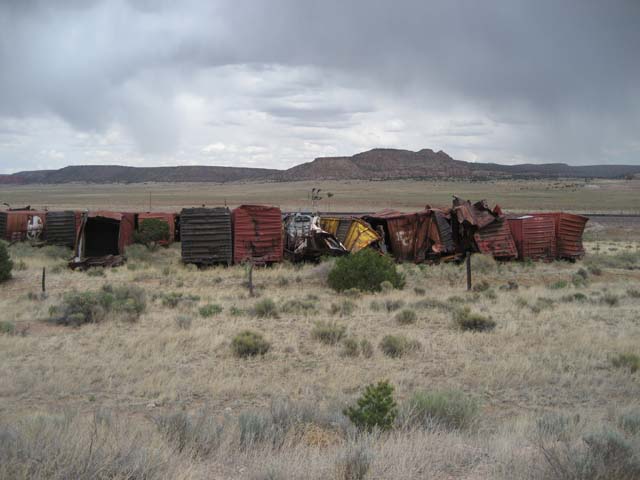 We see the most unusual sights as we cross the country. This is either a train wreck or a train graveyard.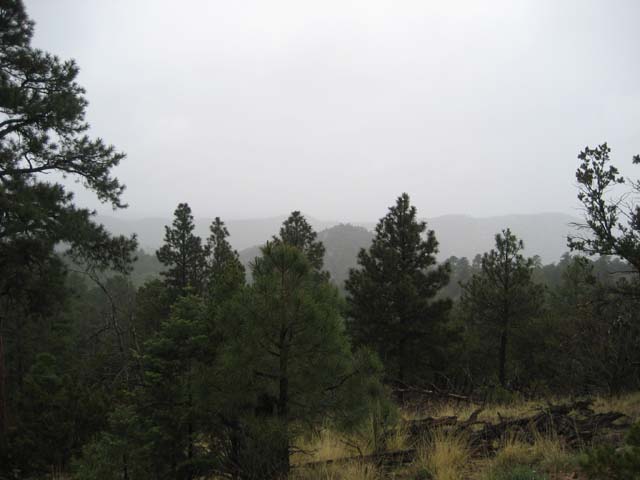 We have had continual stunning views.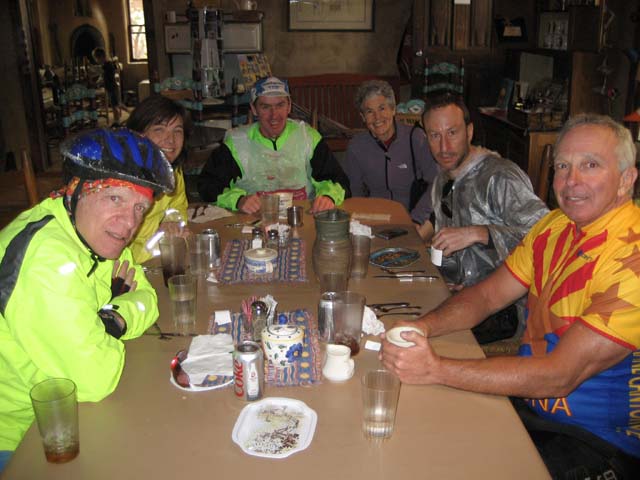 Lunch yesterday with Harry awake. Left to right: Lance, Nancy, Harry, Roddy, Ira and Alec. Notice our classy attire. Shower caps on our heads. Harry is wearing a plastic bag for warmth.
Messages
Al, I enjoyed perusing your web site on the cross country bike trip. Thanks again for guiding me Sunday on the Ann Arbor bike ride.With any luck I will see you again on our next visit. Safe riding!
Sent 2009-09-30 from PETER LEYONMARK ,HAMBURG,N.Y.
Despite all your naps, Roddy looks much more rested than you do. Your performance thus far (and competitiveness) are impressive and surprising.
Sent 2009-05-24 from Barry
A nap day: see, now this is the first thing on this trip that's made sense to me.
Sent 2009-05-24 from Nephew Steve
besides biking you may have set a nap record! What next? How about calories taken in too!!!have a great day!
Sent 2009-05-24 from peter brown
Dad, you should write a book.
Sent 2009-05-23 from Dave
Thanks for posting the newpaper article. It's been great meeting Roddy. She's a lot better looking than you are.
Sent 2009-05-23 from Jim