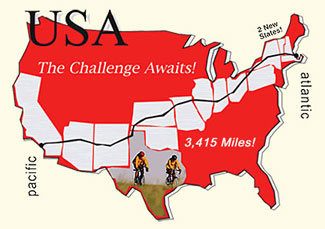 Where is Lance?
Follow Al on his cross country bike tour!
If you want to see the itinerary, click here.
To learn more about the tour, click here.
Day 13 Safety must not be compromised, not ever
2009-05-21

Scores from the Oh thank you sweet Lord, thank you, bike tour.
76 miles from Gallup NM to Albuquerque

Mandatory, yes I said mandatory 16 mile bump on I40 because of road construction and one lane traffic: Oh thank you Lord.
Singing in the rain with Hank in the high desert lava: Wonderful
1-900-callhank escort service: nice, very nice.
Forecasted 50% chance on thunderstorms: Motivating
Riding the last 40 miles with Jim Lyle: A treat. Jim did wait for me at the top of a 5 mile climb.

Tracey knew there was road construction so she had some of the slower riders start early.
It was raining when we left the hotel. Is it suppose to rain in the desert? I thought that was sort of the definition of desert, that it doesn't rain. Outside of Gallup they said it had not rained in 3 years.
Jim and Fred were in front of us and they made a wrong turn and Hank and I were leading the pack. Of course they soon passed us as we rode route 66. What a photographer's treasure, many abandoned buildings with the Sandia mountains for backdrop.
Because of pending electrical storms I didn't stop but would mutter photo op as I passed by.
When it stopped raining Jim and Peter had stopped to take off rain gear and I caught them. We rode into the 30 mile SAG and learned of the 16 mile bump. Safety is very important, never to be compromised. At least that was the angle I took.
Jim and I were in the 2nd van to leave. We joined up and rode the last 30 miles together. It is indeed a treat to ride with an accomplished cyclist.
We were the second into the hotel. Fred had come in 4 minutes earlier.
Roddy's plane is coming in at 3. I cannot wait to see her.






Grants NM to Albuquerque 76 Miles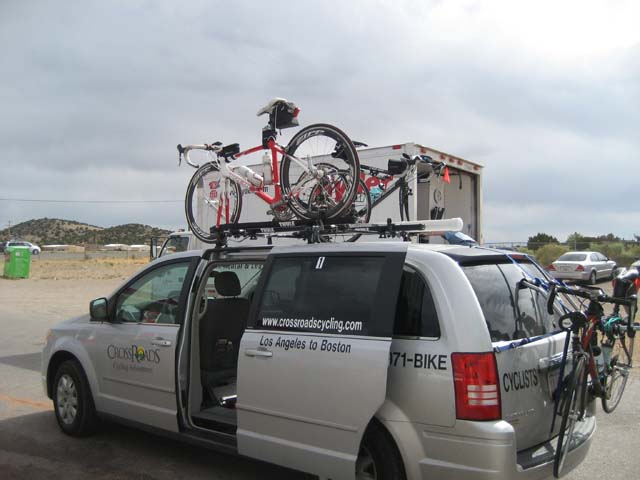 What a beautiful sight. My bike on the back just before the 16 mile bump.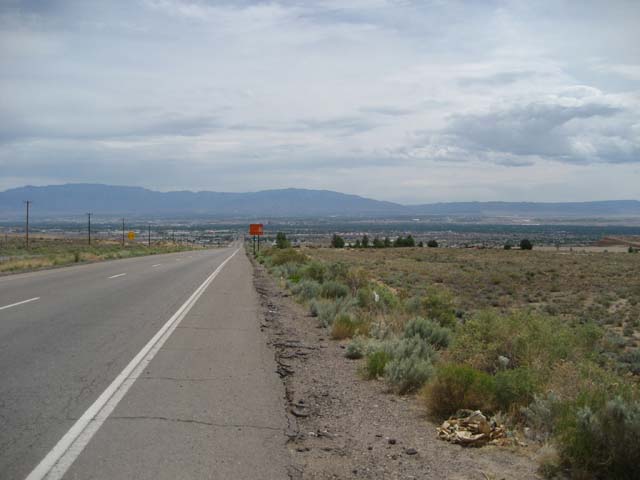 View as we enter Albuquerque. Sandia Mountain in the background.



Rio Grande. Isn't there a song: I'm an old cowhand on the Rio Grande?
Messages
Regarding the 16 mile bump: Uncle Allan, does this mean that you have to go back and ride that 16 miles to complete the bike ride across the country. Or does this mean that you have to back to Manhattan Beach and start over? Just wondering.
Sent 2009-05-22 from Old Uncle John
Does it count if you get a bump, or do you have to ride an extra 16 at the end?
Sent 2009-05-22 from Mike N
I thought this wasn't a race?? I should know better of the guy that hit me in the head with his paddle.
Sent 2009-05-22 from barb
Singing in the Rain? Safety first? The life-changing experience wasn't just talk? Wow, we're smiling. Having Roddy there should give you an adrenaline burst and help motivate you tomorrow.
BTW - Tomorrow could be a great day to come dragging in, if just for show. No excuse needed - though you could give them the nom-du-jour for TB: Total Bliss.
Sent 2009-05-22 from Chip and Carol
singing in the rain? you can't sing


Sent 2009-05-21 from deet
It's good to see that you still put safety first - take a bump when you have to and don't swing your arms around when there is lightning. It's good to hear that Roddy will be out to see you tonight. Have fun but let's all remember what our coaches used to warn us about the night before a big game. No excuses tomorrow if your draggin into the next pit stop.
Sent 2009-05-21 from Tom Tont
Bump? I thought a bump was a hump in the road. That would put you higher like a lightening rod.

Seriously, I'm glad the organizers were diligent in their responsibilities to keep you all safe. I know you have a respect for lightening as something not to tempt.
Sent 2009-05-21 from Rob
I'm the one who doesn't have to worry about lightening...Al's much taller than I am!
Sent 2009-05-21 from Jim
Uncle Allan,
regarding lightning, you don't have to worry until you smell the ozone. And once you smell the ozone, it's too late to worry. So, no worries! Besides, rumor has it that you're good at dodging lightning bolts.
Sent 2009-05-21 from Old Uncle John