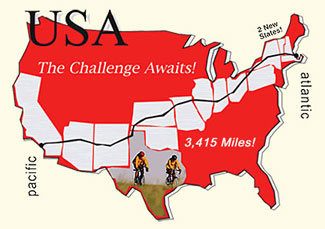 Where is Lance?
Follow Al on his cross country bike tour!
If you want to see the itinerary, click here.
To learn more about the tour, click here.
Day 12 Up and over the Continental Divide
2009-05-20

Scores from the How can this possibly be front page news? bike tour
68 miles from Gallup NM to Grants NM

70 degree weather: Ahh
I-40 shoulder: For the AA bikers, imagine a 3 foot wide strip similar to the road they repaved near Delhi last year, only worse, spread 1/4 inch of loose gravel, add 2 inch mounds of loose gravel, add radial tire pieces, broken glass, live ammunition. Yes, live ammunition. IRA found a live 45 caliber bullet: Scary
Getting caught in rain after strong winds have covered you in sand: Part of the experience.
Having a sore hamstring -5
Stopping for lunch for the first time: Excellent.
Having the fatigue level only at the maximum: Better


I started out with very strong riders: Willie, Chris and Mark. There is a God. I get a the second flat about 2 miles from the hotel. By time we change it we are behind everybody. We catch up with the sane riders (excellent riders who have chosen not to ride at their anaerobic threshold every minute) and we stay with them. What a treat. We stop and take pictures, we have lunch at the DQ and only put the hammer down the last 15 miles. We did catch the rain at the end and it is an usual experience having wet sand forced into your mouth.

Note to Rich: We are all wondering why you left a live goat in your room.

This is from Roddy: what allan did not explain about the How can this possibly be front page news? bike tour... Allan's picture and story were in the front page of the Ann Arbor News today... here is the website: http://www.mlive.com/news/ann-arbor/index.ssf/2009/05/ann_arbor_cyclist_63_on_crossc.html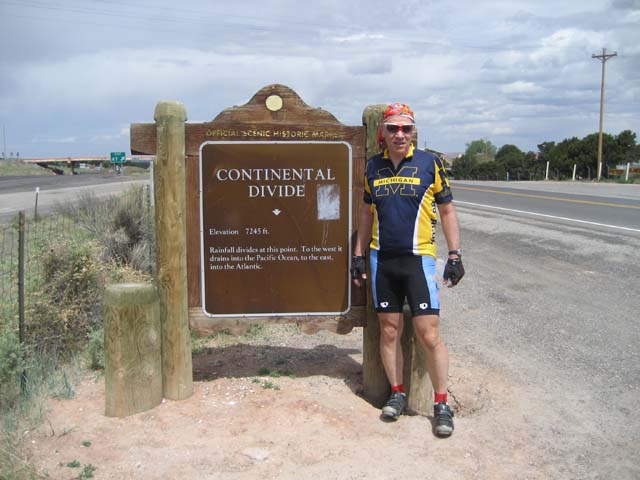 It is all downhill from here.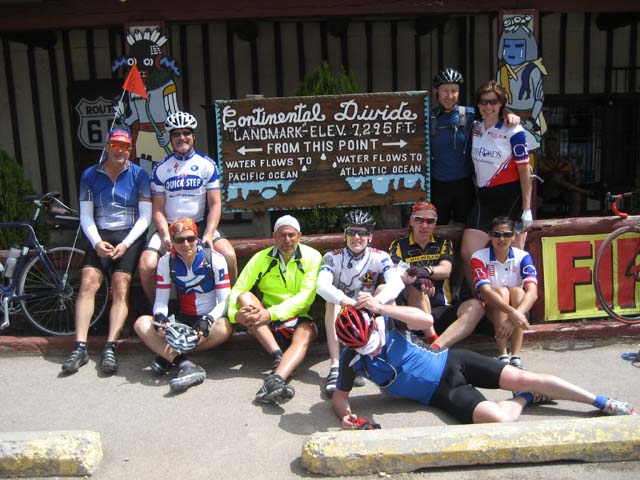 Top row: Jack W.,Mark, Ira,Karen
Middle row: Jack R., Willie, Chris, Lance, Barbie.
First row: Harry with his head down.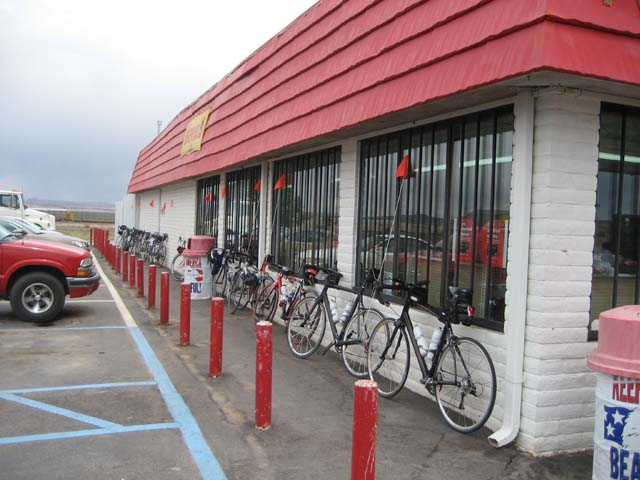 Stopping for lunch at the DQ.
Messages
Way to go, Al. Your latest A2 News article put Larry over the edge. Next thing we know he'll have cancelled his subscription!
Sent 2009-05-21 from Dave M.
Happily we know the tour will NOT get lost with a champion orienteer along. Truly a champion. Al, if you start wondering how many tow trucks it took to get all the cars out of the way it's time to worry.
Sent 2009-05-21 from jude
Hey Al, 63, do you have as many do-rags as jerseys, 63? You didn't say what you got at the dairy queen, 63? Geoff and I had a long talk, 63, about you for the article, but since he had already talked to Ed and Pat, I guess he got all the running buddy quotes he needed, 63. There was lots more good stuff, 63, so maybe there will be a supplemental piece in the Sunday edition, 63.
Keep up the good work, 63.
Sent 2009-05-21 from Larry
Clearly the association of Alzheimer's and this entire group is totally appropriate. If they could remember how bad they felt the day before, they'd never start out again in the morning.

Al - I'm glad you are having a good time. Bob was really worried about the having to force yourself to eat. I think he was fibbing about the 161 lbs though.
Sent 2009-05-21 from Rob
P.S. worried that someone got your goat????
Sent 2009-05-21 from peter brown
I saw the A2 news story in the real news paper!! Roddy- there is a service for ken king on June 1-see yesterdays paper. Back to you Al-- glad to know its all down hill now!!!
Sent 2009-05-21 from peter brown
TANK
Sent 2009-05-20 from Brennan
Great Ann Arbor news article! When do you get a rest day already?
Sent 2009-05-20 from Sharon
Dude! The front page??!!
Sent 2009-05-20 from Denny
Allan, listen to your children. We are lucky to have intelligent, thoughtful children. You should pay attention to them.

Looking forward to meeting the rest of this crazy group in Albuquerque.
Sent 2009-05-20 from Roddy
There aren't any sane bikers on this trip. We are all certifiable.

There was a goat? ;)


Sent 2009-05-20 from Jim
Honest Al I was just helping it over the fehehehehnce. It was cute thought huh.
Sent 2009-05-20 from Rich
Has Saneness set in yet....You look like you are having a great TIME....
Sent 2009-05-20 from RC
Just wondering why you don't ride with the sane bikers everyday. Sounds much more pleasant. Love ya
Sent 2009-05-20 from Jessie
Sounds like a great, and slightly sane day Dad! Have you decided on a bike name after all of the suggestions yesterday? Love you and miss you!
Sent 2009-05-20 from Katie