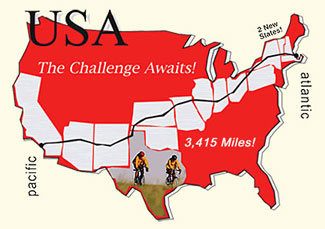 Where is Lance?
Follow Al on his cross country bike tour!
If you want to see the itinerary, click here.
To learn more about the tour, click here.
Day 8 America the Beautiful
2009-05-16

Scores from the MAID (my ass is dragging) bike tour:

Oak Creek Canyon 10
Red Rocks National park 10
Coconino National park 10
Climbing from Cottonwood AZ to Flagstaff: Tiring, very tiring
Losing strength in my right hand -10
Having a neurologist on the tour 10
Having a neurologist on the tour
with a friend who is a hand specialist 10
Getting a massage 8
Getting a massage from someone who is not great 5
Seeing a cloud 10


What a spectacular ride. The landscape is world class. I started behind the strongest riders on the tour and they took off. I rode alone expecting other bikers to catch me but they never did. Just beautiful but with gut wrenching climbing.
Many of us have been having hand problems. It is most likely a nerve compression issue according to Darrell, a neurologist who is leaving the tour tomorrow. He has suggested various remedies including rest so our day off from biking comes at a perfect time.
Most of the pictures I took today did not come out. I'll try to get images from others.
When I got to town I went and got a massage. It helped.
Keep those blog responses coming. I just love them.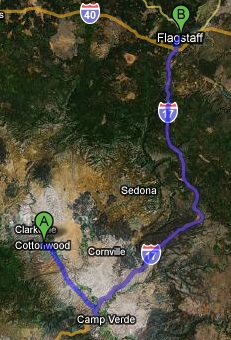 Cottonwood to Flagstaff - the Big Climb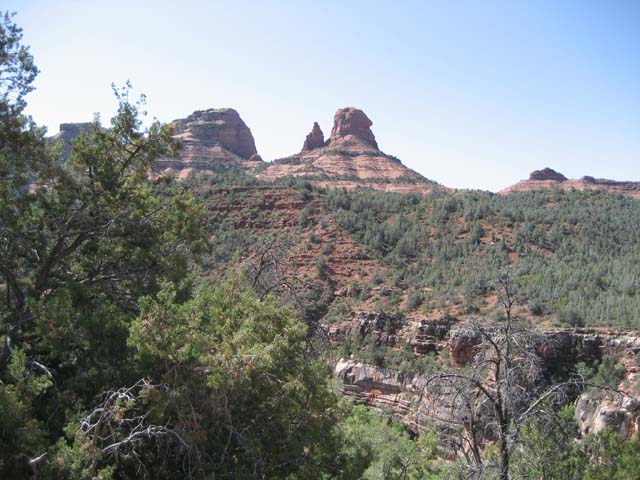 Oak Creek Canyon



View down mountain that I am climbing. You see many a cross on these mountain roads. They generally have a name, date and flowers.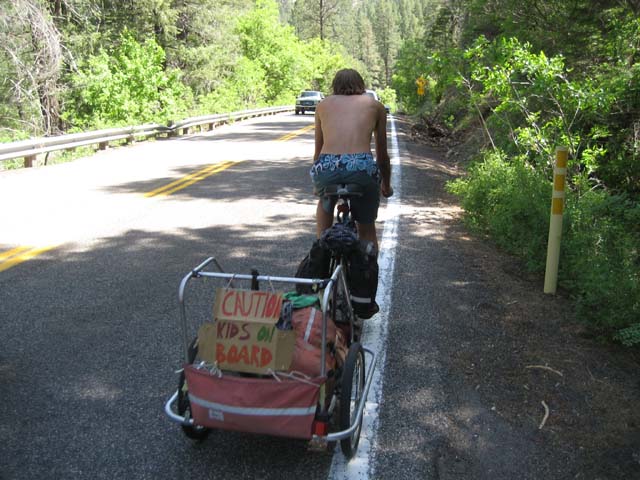 And you thought I was nuts.
Messages
I hear that if you regularly flex your middle finger, it helps with hand circulation. Enjoy your day off!
Sent 2009-05-17 from Phillis
Awesome photos!
Any flying chickens, yet?!
Sent 2009-05-17 from Niki from Arbor Farms :)
Good luck with the hand issues. You'll be in the Mountain Time Zone soon, and that's sure to help.
Sent 2009-05-17 from Leslie B. in Boulder CO
I can't say how impressed I am! of course you have to have some injuries to impress the rest of us even more! following you is almost as good as the 'tour'. put your legs up and read a book! keep up the good work!
Sent 2009-05-17 from peter brown
Enjoy your day of Rest Al. I am impressed at how tough you are! The scenery looks fantastic. Hope you are able to enjoy it.
Sent 2009-05-17 from Cousin Margaret
Hey Dad...We were at dinner tonight with Jessie and Dan remarking about how gaunt the Tour De France riders always look at the end of the race. We agreed that of all the concerns we have about your health and safety, insufficient caloric intake is not one of them. Love you.
Sent 2009-05-16 from Anna
Think you need a few whiffs of some supplemental oxygen. Don't think it's causing your hand problems but lower oxygen content at altitude may exacerbate your problem. Boy, you'll go to great lengths to have stories to tell.
Sent 2009-05-16 from 60
Great pics - and what a great way to see that part of the country. Fond memories for when you're in Kansas. No, we do not think you are nuts, but do keep trying. Rest well, and good luck with the nerve compression.
Sent 2009-05-16 from Chip and Carol