Where is Lance?
Follow Al on his cross country bike tour!
If you want to see the itinerary, click here.
To learn more about the tour, click here.
Day 3 Crazy man on crosscountry tour
2009-05-11

We left Riverside early and immediately hit two large hills. The four strongest riders took off and I thankfully let them go.
Near the top, there they were. Ira had taken a nasty fall and they were waiting for the SAG.
Soon they caught us and we were roaring through the countryside. What a blast. We hit the climb of the day, up I79 and it was suppose to take an hour. As it turns out I'm a relatively strong climber. We assembled at the top and had a 25 mile downhill run without the winds they had last year. It included a 5 mile downhill on I10 at speeds of mid 30's. What a rip.
Temperatures hit 100+ about 30 miles from the finish. We stopped in Palm Springs for fluids and the strong riders took off again. I ended up finishing with Jack from Isreal and Willie from the east coast. Both very strong bikers. We were the first ones into the hotel, the guys in front had made a wrong turn.
Tomorrow is 101 miles all in 100+ temperatures.
We have not stopped and done any tourist things. It is just too hot. Maybe when we are out of the desert.
A special thank you to Mike at Aberdeen Bike in Chelsea. I had a sore hamstring and nobody here knew what to do. I called at 6 Pacific time and Mike suggested I move my seat forward a centimeter. Fixed. Thanks Mike.
When in Indio do not stay at the Super 8.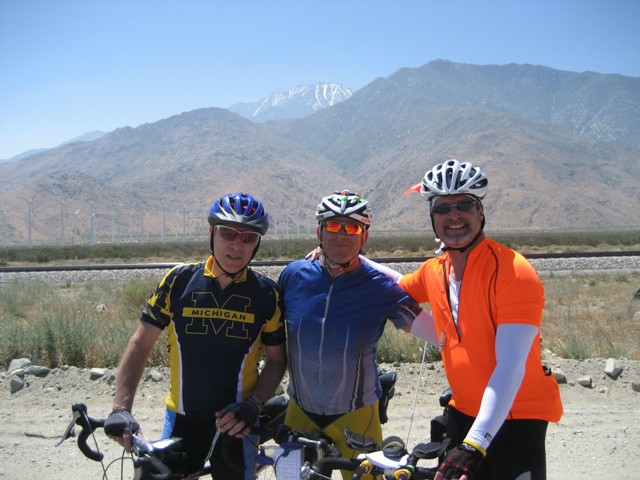 Note windmill farm in background. One our riders got blown off his bike here. With Jack from Isreal and Mark from Louisiana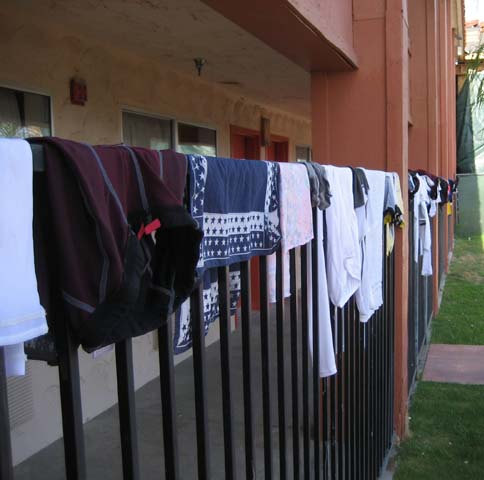 Classing up the Super 8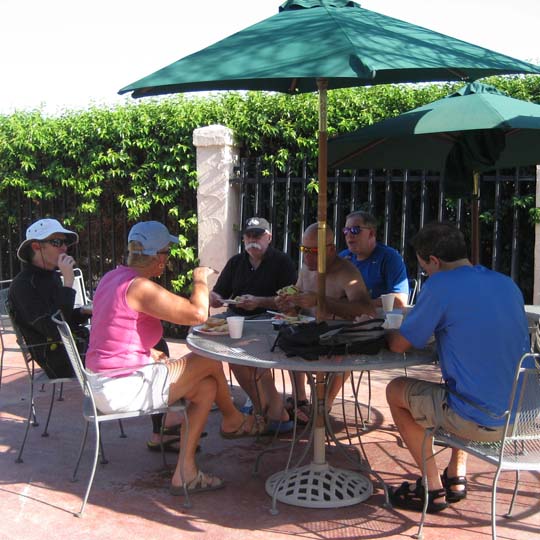 They are more tired than they look in this picture.
Messages
Katie,
No reason to worry about your Father's sanity . . . it's been gone a long loooong time.
Sent 2009-05-12 from Old Uncle John
Al! Super 8 is a Classy Joint!
Sent 2009-05-12 from Bonnie
You sound wonderful! We hope it lasts a few more days. We're holding down the fort here--very boring stuff. But Bob is off to Corpus Chrisi today and Pam leaves for Morocco on Friday--just trying to keep up with you in some small way.
Sent 2009-05-12 from Bob and Pam
This sounds like fun. Better than the dental work I had done this morning. Course your a strong climber. Its the same as orienteering.

Go Al.

Sent 2009-05-12 from JD Lindeberg
Go, Al!
Sent 2009-05-12 from Sara @theY
what a blast!! may the force be with you! You mean you are not staying at the 4 Seasons???
Sent 2009-05-12 from peter brown

I made the mistake of checking out Indio and Blythe on Google Earth. This is serious waste land. I hope that you are drinking every chance you get... starting now.

Love ya and stay safe.



Sent 2009-05-12 from Roddy
It's great to follow you like this Dad. I'm still concerned about your sanity, but it sounds like you are enjoying yourself. Be safe and have fun. Love you!
Sent 2009-05-11 from Katie