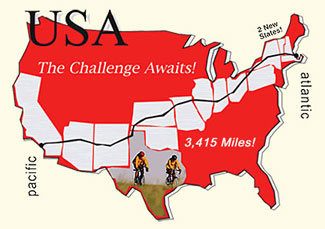 Where is Lance?
Follow Al on his cross country bike tour!
If you want to see the itinerary, click here.
To learn more about the tour, click here.
Kalahari Desert----Unexpected wifi
2017-05-31

This is Africa:

Emdai is one of our crew and from Zimbabwe:
"In Zimbabwe we have the right to vote, but our vote doesn't count."
"In Zimbabwe we have freedom of speech, but we don't have freedom after speech."

The staff consists of Emdai, Colin also from Zimbabwe, and JP the tour leader from South Africa.

OK, how about this: Wake at 3am. Ride 28 miles in complete darkness wearing headlamps on a paved road to Dune 45. We left early to see the sunrise and to beat car traffic that was able to enter the park at 5am. Climb the dune, spectacular sunrise, get on the bikes again, ride to Hidden Viel Do a 1.5 hour hike into the desert as stunning as Dune 45. Return to brunch of eggs, bacon, sausages, fried tomatoes, mushrooms, baked beans. Done by 10am.

The cyclists:
A German couple, Lisa 26 and Marco 44.
A British couple living in the Cayman Islands, Katlin 38 and Tim 48.
A German, Tom 40.
Another German, Uwe, 58.
Bernie, a Kiwi, 64.
Bob from the US, 65,

Around the campfire last night they stated:
If you speak 3 languages you are trilingual.
If you speak 2 languages you are bilingual.
If speak one language you speak English.
How true.

Forget that crap that the riding is easy. To recreate the experience:
Stand on a jackhammer. Turn it up until the pounding is so violent that you cannot see. Honestly you cannot focus. I announced to my cyclists that if I have my hand down my pants, I'm not playing with myself. I'm just checking to see if they are still there.
Turn the heat up to 90 degrees.
Get sunlight that is beyond intense. We tried to figure out last night how long it had been since we saw a cloud. We figured 4 days.
Blast dust up your nostrils.
Ride a entry level bike that has been beaten to death. It will not shift correctly, descending a 7000 ft. mountain pass my hand became oily and I discovered I had completely lost my back brake, and I had 3 flats yesterday.

On the other hand, we are in perhaps the most beautiful desert in the world.

Livin the dream.



Messages
To get a good laugh God gives you what you wish for.
Sent 2017-06-01 from Chuck
So happy to hear from you.. Protect the family jewels.. I get to live my dream tomorrow - on and island in Lake Huron. If we are lucky, Lynette and I will be the only ones there. Love you. Stay safe! Have fun! Isn't that what we said every night to our teenagers before they went out? Biggest emphasis on the "safe" part.
Sent 2017-05-31 from Roddy