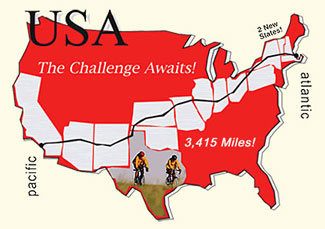 Where is Lance?
Follow Al on his cross country bike tour!
If you want to see the itinerary, click here.
To learn more about the tour, click here.
It is not a Holiday, It's an adventure
2017-05-28

This is Africa:
Do you have coffee? Yes, we have coffee but we don't have any cups.
Do you have wifi? Yes, we have wifi, but it does not work. But wait, We are in Windhoek, the Capital of Namibia, in a real hotel with real wifi.

A Day in the Life:
Up at 5:15. Toilet, stretch, hunt for things you forgot to put aside the night before, repack, realize again you need another thing, throw stuff out of the luggage, realize your late, throw everything back into the pack, pull like crazy to get it to zip up, take down the tent in the dark, lug everything to the van.

Eat breakfast of yogurt, cereal, PB&J.
Ride for five hours until the killer sun is unbearable.
Lunch of sandwiches of spam like substance or hot dogs.
Transfer by van to camping site.
Go on a twilight Chobe river cruise, airplane flight over the delta, hear a bushman talk, etc.
Sit around a camp fire, eat and talk to 9pm when I go to my tent and pack everything I will need for tomorrow.

Two days ago we took an open sided vehicle into the Moremi Wildlife Sanctuary. Normally we camp with other tour groups in large campsites with fences. In the Moremi we wilderness camped. No facilities, no fence and they dug a latrine. Just massive amount of animals, listed at the end of this blog. There are 200,000 elephants in Botswana and a great place to view wildlife with out the crowds in South Africa.

We went out a dusk to view wildlife went we met a truck that was lost, asked if they had seen anything interesting and they said there was a journey of giraffes just down the jeep path. We stop for pictures when one of the cyclists notices that there are two cheetah right in front of the giraffes. I am now convinced that there are may animals so well hidden nearby that you simply don't notice them. The cheetas had just had a big meal and rolled over and licked the blood off of each other. We followed them into the bush until stopped by trees, turned around and had a flat tire. We had to get out of the vehicle, but the tire iron did not fit the lug nuts of the jack. Great, it's dusk, there a lions about, and we are standing near a cheetah kill. Our driver was able to call for help and he was able to find us. Night setting in the wilderness was worth the trip. Really, really special.
That night we slept as the hippos bellowed all night: "These are my women and you must stay away". It was special. I loved it.

The cycling: I ride with the entire group at times, with the five strongest riders or with Tom and we get after it. The roads have been excellent but that is about to end. Yesterday, in a five person pace line I was second in line we Marco suddenly dives to the right and I follow him. A black mamba, a poisonous snake has jumped in front of him and he missed it by six inches. All riders got by it safely.

Emdai is one of the crew and he is from Zimbabwe. He explained to me that the snake is as scared as we are and just wants to find a hole. He raises his head when he is trying to figure out what is happening.

He also explained that elephants have very poor eye sight, but keen hearing and a sharp sense of smell. When we are on our bikes he thinks that they think we are some kind of new animal. I think they are alarmed by our smell. I have know seen enough charges by elephants that they are no longer terrifying. They have a nice jab step, wave their ears, and trumpet.

We are frequently very close the these wild animals. Often times within 20 yards.

We enter the desert for eight days tomorrow. It is quite intimidating. The van will be loaded with eight days of food and water. I will out of touch.

Animals seen thus far: Elephant, Hippo, Cape Buffalo,Cheetah, Giraffe, Dwarf mongoose, Slender mongoose, Impala, Kudu, Red Lechwe, Zebra, Wildebeest, Warthogs, Baboon Fox, Monkey, Lesser bush baby ,Eland, Crocs, Puff Adler, Black mamba, Water monitor lizard.

Birds: Tauny Eagle, Bafaleur eagle, white vulture, bucked vulture, African fish eagle, Ground hornbill, Yellow hornbill, Red hornbill, Grey hornbill, Lilac Breasted roller, Saddle billed stork, Marabou stork, Grey heron, Goliath heron, Egyptian Geese, Knob billed duck, Red Tees, Whistling duck, African jacorna, Fork tailed Drone, Little bee eater, Pied Kingfisher, Giant Kingfisher, Crimson Breasted shrike, Maslred Weaver, Blacksmith lapwing, Crowned lapwing, Blue waxbill, Great Egret, Little Egret, Sacred Ibis.





Messages
I'm impressed that you can name so many birds! Have fun!
Sent 2017-05-30 from Ellen
A journey of giraffes? A troupe of monkeys? A herd of elephants? What do you call a group of bicyclers in Africa? An asylum!
Sent 2017-05-30 from Jeff Chutz
Happy to get an update from you, but we think you are as crazy as ever (although Phil commented I can expect similar behavior from him in retirement!). Owen can't wait to FaceTime with his Bumpa once he's got wifi that actually works. Enjoy the adventure, we love you!
Sent 2017-05-30 from Katie (& Phil & Owen)
Awesome. Stay safe. Have fun.
Sent 2017-05-29 from Roddy
PS We have 2 chipmunks in our garden! Beat that!
Sent 2017-05-28 from jgrahamsmith@comcast.net
Amazing, Al.
Sent 2017-05-28 from jgrahamsmith@comcast.net