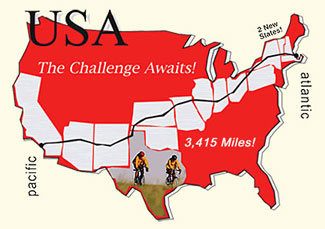 Where is Lance?
Follow Al on his cross country bike tour!
If you want to see the itinerary, click here.
To learn more about the tour, click here.
TIA This is Africa It is also an adventure.
2017-05-24

Their saying: TIA -this is Africa. They also have a saying: You may have the watch, but we have the time.

REI sold me a adapter that was suppose to work in Africa. It does not. I cannot charge my computer from which I post.

OK, how about this: We are cycling and in front of us there is a young bull elephant crossing the road and five more along side it. They see us and run, if an elephant can run, about 40 yards away, spin, throw out their ears, lift their trunks, and blast away. Later, we learned that wild animals will either flee or attack.

Today, I'm riding with Tom, a 40 year German from Hamburg, and a massive Bull Elephant is crossing the road in front of us. He is at an angle where he does not see us until we are about even with him. He spins, but we are long gone.

Yesterday, the support vehicle passes me and pulls over at an intersection, This means this will be the SAG stop. I start to pull off on the dirt road and their is an eight foot long black mamba with it's head about two feet off the ground. It is an adventure. We moved the SAG stop.

The animals are spectacular. I have seen at least 200 elephants. The Southern African countries are stable, have real economies, and realize that tourism is a main industry. The animals are well protected.

For me, the easy part of the trip has been the cycling.
Tom is the equivalent of Jim L. from the 09 XC ride, but other cyclist are strong but not XC09 quality. The tent, food, sleeping, communication, etc has been a real challenge. I also spend about half of each day looking for something I just had in my hand.

The tour is good at improvising. They need to be, TIA. Yesterday, they could not get the bikes off the vehicle. The lock had broken and they tried forever to get it free. They finally announced that we would have to go find a work shop. Bernie, a Kiwi farmer goes over and there is very loud banging. It is free. How did he do it, "brute force and ignorance."

OK, if you think I'm crazy, try this. I met two women from Iceland cycling from Kenya to Cape Town. Alone, unsupported, camping. And how about Bob from Connecticut. I heard him telling the support crew where to find his nitro pills. He is not suppose the ride in hot weather and at altitude. I asked him about this. "I'm feeling good. No problem."

I'm not sure about my ability to post from here. Tomorrow we are wilderness camping. In Namibia we will spend 8 days in the desert. I will be unable to post from there.


Messages
Great commentary, what an adventure.!!!!
Sent 2017-05-26 from Bob and Bonnie
Unbelieveable (regarding fellow cyclists and animal life and nature)! You can't make this stuff up about some of the people. Enjoy and be safe.
Sent 2017-05-26 from MARY JOAN