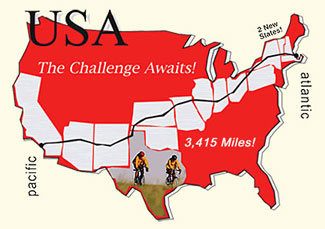 Where is Lance?
Follow Al on his cross country bike tour!
If you want to see the itinerary, click here.
To learn more about the tour, click here.
TIA This is Africa
2017-05-22

I am reminded of a Seinfeld episode where Jerry has made a reservation at a restaurant and when he arrive he is told there is no table for him.
I am told in Africa that they have wifi, but then they say it does not work.

This will be short because the wifi has one bar and goes in and out. Also none of my plugs work and it took three of the cyclists to combine their plugs to get this to work. REI was incorrect that the plugs they sold would work anywhere in Africa.

Excellent dat of cycling on good roads. Cross over the river dividing Zambia and Botswana. Then a late afternoon river boat on the Chobe river where we saw elephant, water buffalo, hippos, Kudu, crocs, impala, wart hogs, etc. All were within 10-50 yards.
There cannot be a better place to see wildlife anywhere.



Messages
It sounds like you are having quite an adventure already. Hopefully you'll be able to take some photos here and there otherwise I think you'll need to use National Geographic magazines to help explain the beauty of it all. Excited for you! Safe travels and thanks for taking the time to blog especially at a time when I'm sure you are more than tired and unsure of the wifi. Hugs, Mary Joan
Sent 2017-05-26 from MARY JOAN
Enjoy the ride and watch out for those wild animals on the ride, they will sneak up on you!
Sent 2017-05-23 from Dave
Sounds like GREAT adventures! ENJOY!!
Sent 2017-05-23 from Linda Thomas
Very cool! Keep having fun!
Sent 2017-05-23 from Mary L
Awesome. So glad that you are having a good time. How is the tent? Beautiful sunny day in AA today.
Sent 2017-05-22 from Roddy
Sounds like an incredible experience!
Sent 2017-05-22 from Angela Barbash