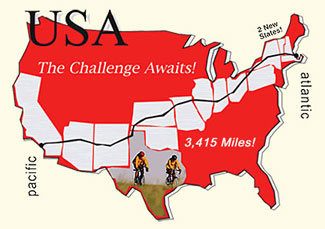 Where is Lance?
Follow Al on his cross country bike tour!
If you want to see the itinerary, click here.
To learn more about the tour, click here.
Real Africa and Victoria Falls
2017-05-21

Last evening I met a local who agreed to show me the real Africa. I met him at 9 and had a four hour bike tour of the non-tourist areas of Livingston. Unfortunately none of the many pictures I took came out. All pictures were fuzzy and I will try to use my iPhone if I can keep it charged.

Some of the things I learned:
In the game parks anyone can build a thatched house without paying. They keep the elephants out of their gardens by mixing elephant dung with chili peppers and burn it at night. The elephants hate the chili smell.
I viisted a quarry. Just surface diggings where people pound out rocks, then carry them to near the road and break them up by hitting rock against rock until they are all a similar size. They then are able to see them for 50 cents a wheelbarrow.
The non-tourists markets do not allow bargaining. The clothing for sale is used, from the US and Europe. My guess is the donation bins you see in Ann Arbor.
20% of Zambian children do not go to school. There is no free government education. Many charities are running the schools.

Last night there was a hippo outside our tents. Makes you think twice about relieving yourself at night.

At two the biking group met. Nine people, 2 couples and 5 men. 2US. 3 Germans, a Kiwi, a Brit, and tow Brits living in the Cayman Islands.

We biked to Victoria Falls, but alas, no photos.

Tomorrow breakfast is at 6 and the real riding begins.

I'm off to my tent for an early bedtime.


Messages
Speaking of hippos outside your tent at night, more people in Africa are killed by hippos than any other animal. Just some random information.
Sent 2017-05-26 from Old Uncle John
Al, What type of bike are you riding? Are there any medical professionals in the Group?
Sent 2017-05-22 from Bob and Bonnie