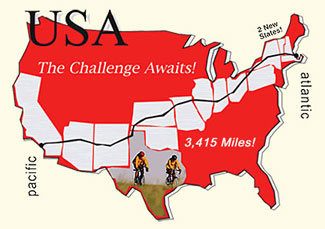 Where is Lance?
Follow Al on his cross country bike tour!
If you want to see the itinerary, click here.
To learn more about the tour, click here.
REST DAY in Souix Falls, SD
2014-07-13

676 MILES IN 8 DAYS, A REST IS APPROPRIATE

Averaged 84.5 miles per day. So here is my plan:
Rest
Watch Tour de France
rest
Go to a kids baseball tournament
rest
Get a massage---alas not possible, it's Sunday and they are all closed.
Watch World Cup
rest
Go to a Sioux Falls Canary baseball game

Is it considered a nap if you have gotten up, shaved, read your email, turned on the Tour de France and then fallen asleep without going to breakfast?

By the way I have sort of gotten my eating under control. I figure that by the time I get home I will have lost the weight I gained on the first 6 days of riding. Believe it or not, I was not alone in my eating habits. Last night we ate at the Royal Fork, an all you can eat buffet. Some of the riders had a minimum of 6 separate desserts.

This has been a different experience for me than the other organized tours. In those I have ridden pretty much with the same riders day after day. Here I have ridden with all the fast riders and there are a lot of them. They have been very accepting of me dropping into the middle of their cross country tour and I appreciate it.

I also learned some useful riding tips.
On the day I rode with Karen, one of the staff, she drank on every odd mile. I have adopted this habit and it is a sure cure for not drinking enough when riding.
I now wash my helmet on a regular basis. I had been wondering what that stench was since the only time my helmet had gotten clean was in a hard rain.
I have always been worried about what grows in my water bottles, especially when I drink Gatorade. I now use Efferdent and it works great.

Jim's comment about me possibly being able to ride like Sebastion when I was younger is just wrong. I do not have the body type, just too big. In the mountain stages early in this tour he would race up the mountain, turn around and ride half way back down and meet the A+ riders and ride back up with them. On the reactively flat stages he is just playing with us. At dinner last night I asked how many training miles per week he normally rode. "None". "What", I ask. "I ride kilometers". Well he has ridden 10,000K on this bike this year, he has another bike, and does indoor training as well.

I just came back from the Sioux City Canaries v Grand Prairie Air Hogs. Unfortunately the World Cup went into extra time and I got to the baseball game in the bottom of the first. The Air Hogs had scored 9 runs in the top of the first on 6 hits which is not ease to do. I actually thought I might be able to hit the Canaries pitching. I went to buy a t-shirt but all they had were Sioux City Pheasant logo shirts. Apparently that was the name of the team last year and they are not going to reorder until they sell out of their current inventory.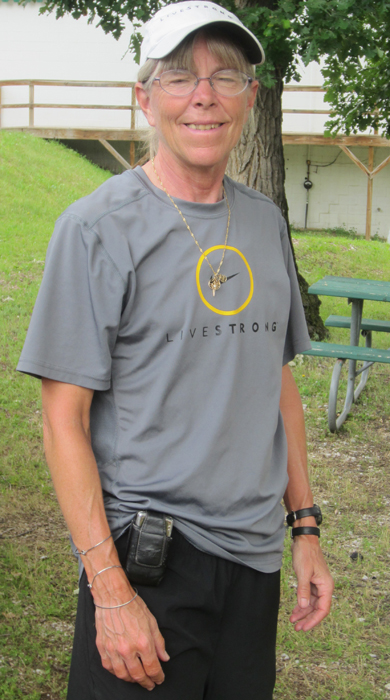 Karen, ABB staff. She has ridden this route 13 times. She is a beast on a bike. I am easily twice her body weight and cannot keep up with here on mountain climbs.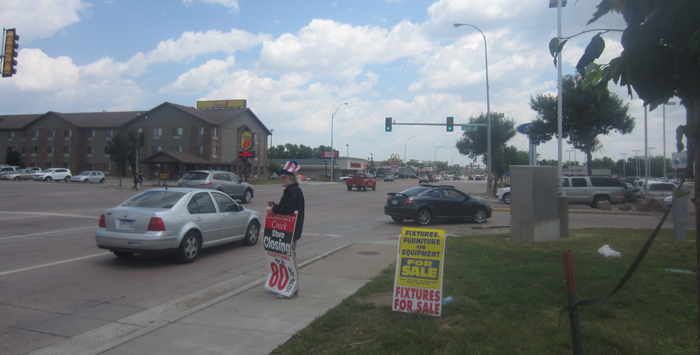 Unexpectantly, Sioux Falls has a number of franchise lined, heavily trafficked, ghastly roads. This one is 7 lanes wide.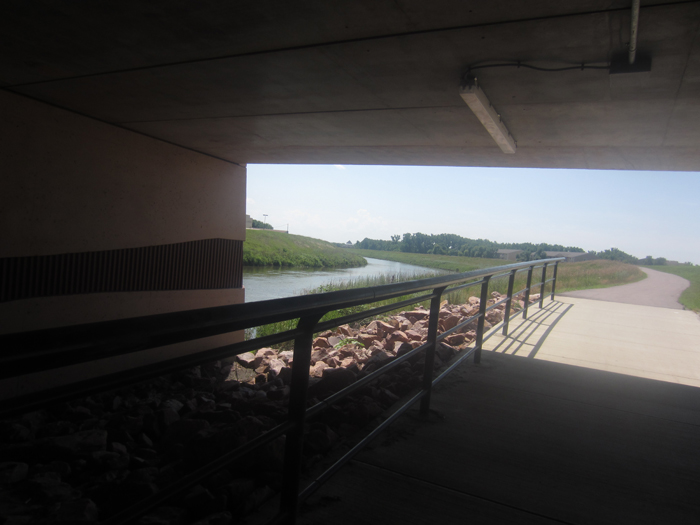 Sioux Falls also has a very nice little river with great bike trails.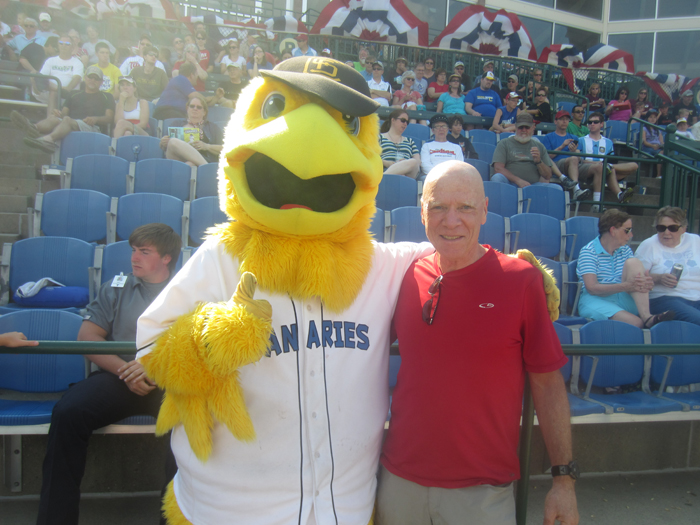 KG and me. Sioux Falls Canaries v Grand Prairie Air Hogs
Messages