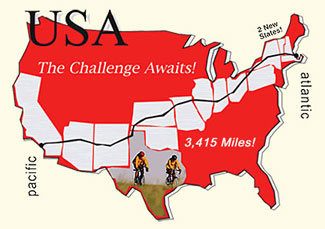 Where is Lance?
Follow Al on his cross country bike tour!
If you want to see the itinerary, click here.
To learn more about the tour, click here.
Another one---The Corn Palace
2014-07-11

Easy 71 miler from Chamberlain to Mitchell SD

OK he says, "The Black Hills has Mt Rushmore, Wall has a Drug Store, why don't we nail some corn stalks on a wooden building. People will come from all over." AND IT WORKED. Call me irrational, but I don't get it. Not even a little bit. Tacky, tacky, tacky. Next thing you know someone will get a giant clam, say it is man eating and people will stop there too.

Today I tried to ride with Sebastion. Ha. He comes by me, I catch his wheel and we are going 25mph. For a while. This was about 40 miles into a 71 mile ride. I knew I could not keep this up for 30 miles and eventually backed off. I rode into Mitchell just before the DQ opened at 10:30. Those chocolate shakes are tasty.

Even I realize my eating has gotten out of control. What I have not mentioned are calories consumed at the SAGs. Today was the first one SAG day. Most were three with one four. Let's say an average of 2.5. What do I eat at each SAG? At least 20 oz of Gatorade. Actually more because I put a double dose of powdered Gatorade in a 20oz bottle. Let's say 200 calories. A banana covered with peanut butter. Another 200. Four fig neutons with peanut butter on top. Another 200. At least a half cup of nuts. Another 200. Two energy bars. Another 200. That is 1000 calories per SAG and this is conservative. Plus I eat at least 2 Power bars while riding. Another 400. If I don't get done with this ride soon I will be too fat to ride.

It feels like we have left the West and entered the Great Plains. Little elevation change, corn, wheat and cattle. South Dakota has been a lot more pleasant to ride then when I rode across Kansas.

Little known fact:
Mitchell is home to Valtiroty Shiloh's Tabernacle. Bible Land walk through (live size models) Jungle Play room.Christian Store (unique Christian T-shirts), Artifacts Display some more than 3,500 years old.
George McGovern is from Mitchell.

If you think it easy to find a little know fact about a place like Mitchell, Sd you are wrong.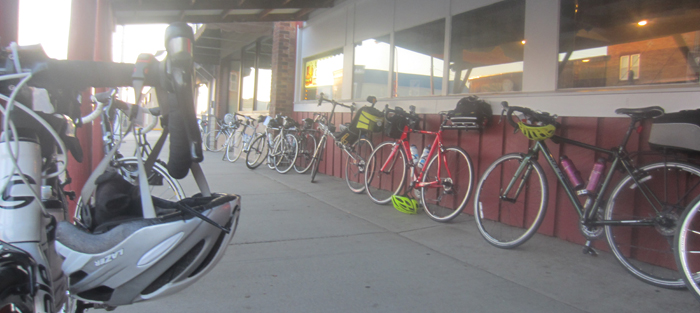 Bikes lined up at restaurant for breakfast. It was awful. Cold pancakes and cold scrambled eggs prepared the night before. Bacon was good however.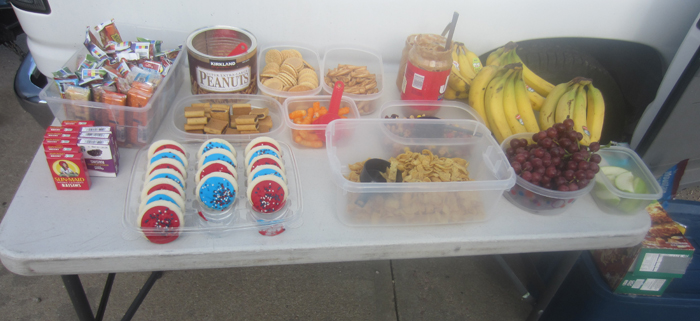 Food at the SAG stops. It has never changed.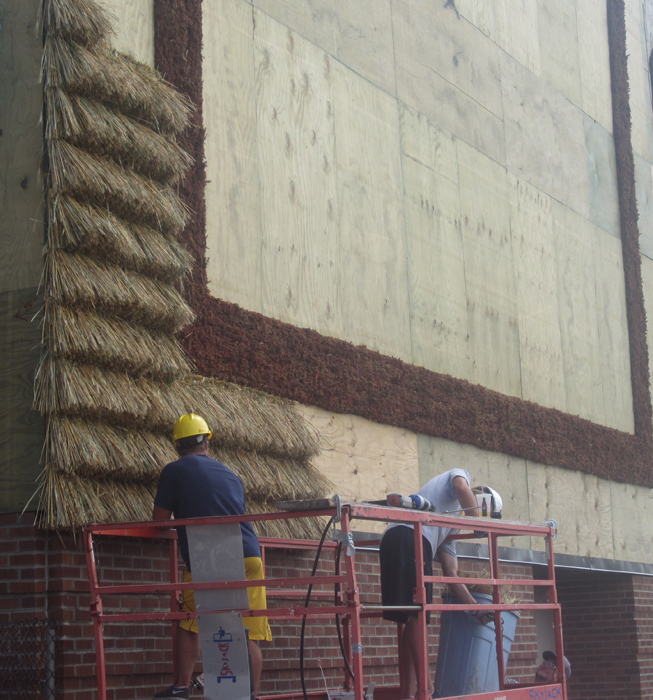 Nail some stuff to a wooden building and people will come from all over to see it.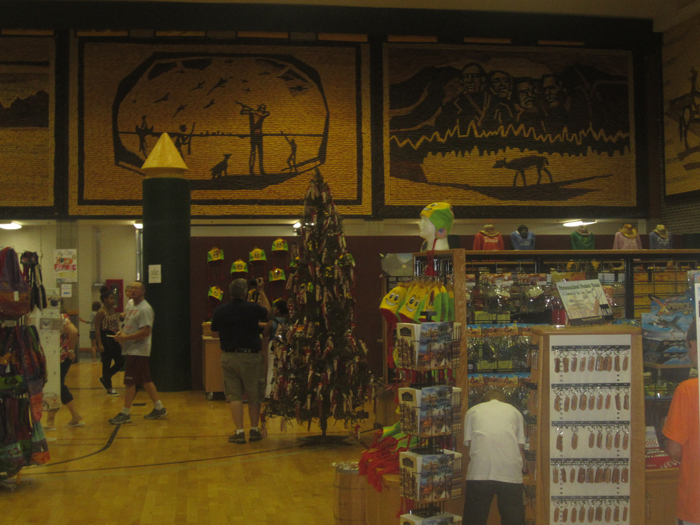 The inside of the Corn Palace. How could it be worse?
Messages