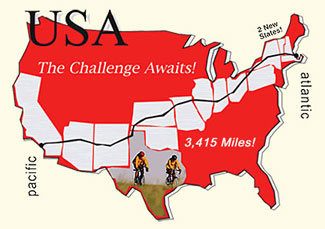 Where is Lance?
Follow Al on his cross country bike tour!
If you want to see the itinerary, click here.
To learn more about the tour, click here.
117 miles from Wall to Pierre SD. My 10th state capital
2014-07-09

South Dakota has been a surprisingly fine biking state.

Much to my surprise I have greatly enjoyed biking in SD. Terrific scenery, rolling hills, smooth road surfaces, and little traffic. And the heat and wind have been manageable.

I realized today that Pierre is the 10th state Capital I have ridden. Santa Fe, Topeka, Springfield, Indianapolis, Albany, Boston, St. Paul, Jackson and Honolulu. Maybe I should try riding in all 50.

4:15 wake up call today. 5:15 luggage load and off to breakfast. Or so we thought. The door of the restaurant was locked and as we waited I consider the fact that I was probably not calorie deficient considering the milkshake and steak sandwich for lunch, the two hugh heaping plates of BBQ ribs, beef and pulled pork for dinner. And let's not forget the bowl of chocolate sauce with a dab of ice cream for dessert.

Back to the Econlodge for two pasty bagels and off I went. Others took this option but I had no idea where anyone was. I ended a long day on the bike riding in with Kurt, a Washington U professor. Sebastion came charging past us at mile 106 but we were quite pleased to be in the hotel before the heat of the day.

There are 42 riders on this tour. Two of my favorite are good ole boys from Oklahoma. Russell last night told me coming down a hill in the rain that he was as nervous as a dog shitting razor blades. Quite the image.

XC09er Jim L sent me a link that is too good not to pass along. Check this out:
https://www.youtube.com/watch?feature=youtu.be&v=md7hjNEnxvA&app=desktop

Little know fact:
Pierre is the capital of the state of South Dakota. The population was 13,646 at the 2010 census, making it the second least populous state capital after Montpelier, VT.






Sunrise in Wall SD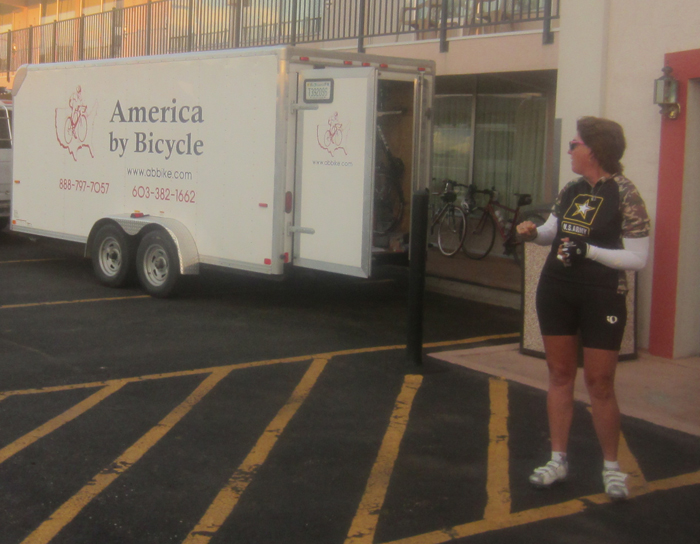 Ronnie. She has cancer and has a kemo treatment every morning. Broke her hand the first day of the ride. I saw her up the road today and it took me miles to catch her.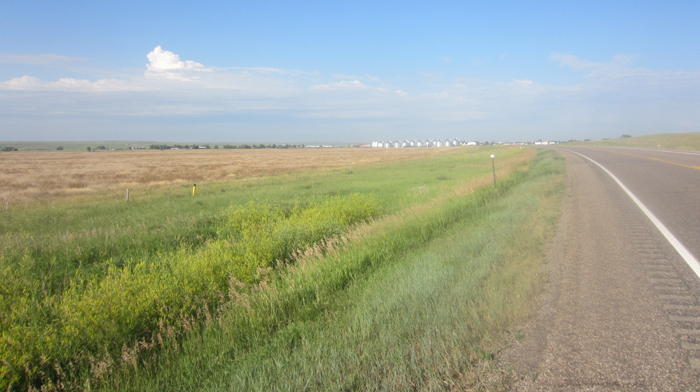 Oklahoma town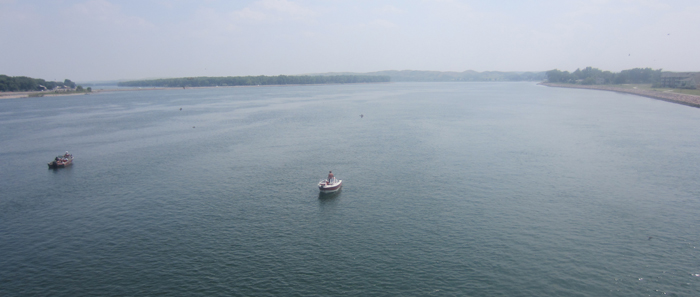 Crossing the Missouri River
Messages
Glad you are sticking to your chocolate milkshakes! Love you
Sent 2014-07-11 from Jessie
Wow, there are folks crazier than you, chemo for breakfast and a broken hand but still riding 100 miles a day. She's a badass.

There has been no mention of the literal pain in the butt of riding all day as there was on the Cali-NY trip. You find a magic seat for that bike or do you just stay on the pedals?

Enjoy all the info you provide.
Sent 2014-07-10 from 60
Whoa, you have some major calories to metabolize...they should all be burned off by noon...I am going to become the trivia queen with all these easy to remember factoids...the best part is it is all new to me so far, nothing I already knew! Could have done without Russell's over-sharing, wince-inducing graphic...but, hey, it's all in keeping with the colorful people you are meeting...Sebastian is earning the whiz kid title...

Sent 2014-07-10 from Marti root
Do you lead the tour in food consumption?
Sent 2014-07-10 from Barry