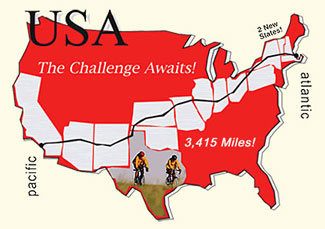 Where is Lance?
Follow Al on his cross country bike tour!
If you want to see the itinerary, click here.
To learn more about the tour, click here.
MISSISSIPPI RIVER RIDE DAY 10
2012-10-07

MISSION ACCOMPLISHED NEW ORLEANS

Mission: Find a route for The Joybox Express , stay safe, and have an adventure.

Route: Wow, what a challenge Mr. B has with this ride. We learned a great deal, found alternatives, but many decisions remain to be made. What are the tradeoffs of distance, grade, safety, places to play, number of helpers, traffic, etc? It is a daunting endeavor.

Stay safe: Except for Dave's Q-tip problem, there were no injures. We could always count on our expert SAG driver to keep us out of trouble.

Have an adventure: That we did and ate well too.



Heart felt thanks to fellow riders Chuck, Dave, Diane, and SAG driver Larry.

Other riders will be adding their comments on this blog so check back for their view.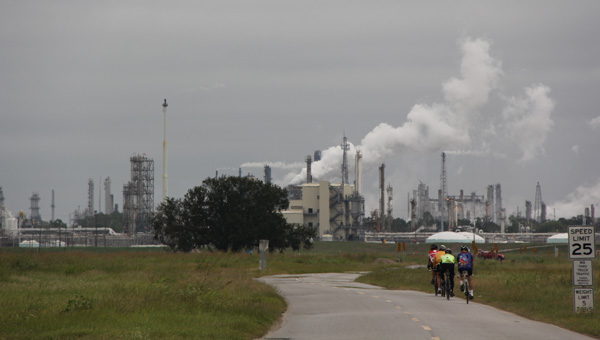 Riding the spillway to New Orleans. This area has constant refineries.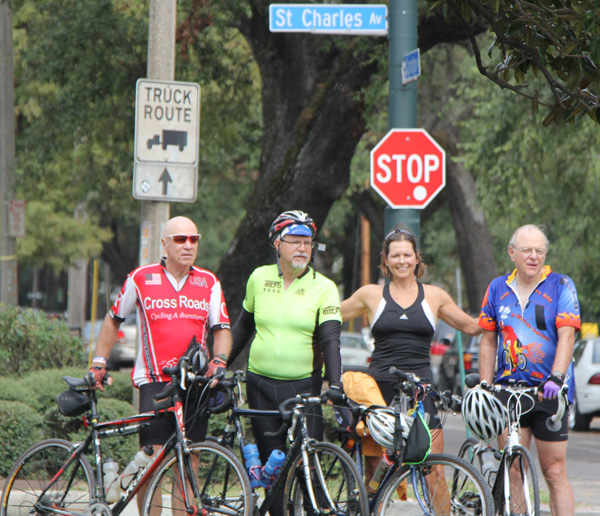 St. Charles street, we made it.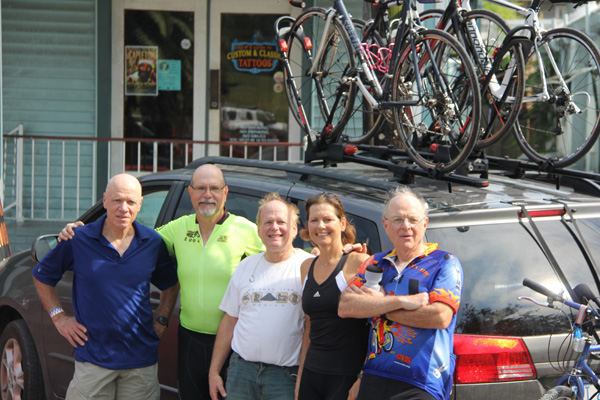 The Adventurers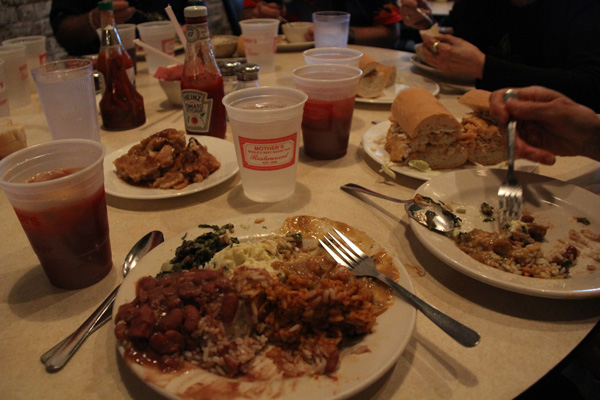 What did we do when we hit New Orleans? We went to Mother's with Chuck's friends Carol and Kevin and ate another delicious, hugh meal, got in the car and drove to Memphis. Next day drove home. Odometer said 4768 miles driven.
Messages
Wow! :-)
Sent 2012-10-16 from Bonnie
For the most part the trip back was uneventful. We arrived home the next day with some pedal down driving.

Larry felt that now that we didn't need him to drive any longer that Al wasn't treating him fairly. To comfort him I agreed with him and said that he was being treated like a piece of toilet paper. As a token of our appreciation for his efforts we are going to present him with a roll of TP that has been painted gold.

Larry exhibited the dexterity of a gymnast on many occasions when he climbed up on the roof of the van to load our bikes. We probably should have known that this would cause the roof to become concave instead of convex. David found this out when he leaned into the van to push up on the ceiling to restore it to its normal shape. Unfortunately it had rained before that night and Lake Hauptman had formed on the roof. When he fixed the roof it came cascading down on David's legs. Of course this resulted in great merriment for everyone except David.
Sent 2012-10-10 from Chuck
Alan, Chuck, the whole team, I admire what you have done. It is truly an accomplishment of significant portions. (pun intended) I must admit,your blog is quite lucid while the trip next Sept defies lucidity. I look forward to your blog from that adventure. Congrats to all of you! PS the pictures are great!
Sent 2012-10-09 from Cousin Louis Newman
Sounds like a great adventure again Dad! I'm glad all returned safe and sound and well fed, I would expect nothing less. Thanks for blogging about it all again- but I miss mom's maps to track you across the nation. I can't wait to join you on one of these adventures some day soon. xoxo
-Cute Kate
Sent 2012-10-09 from Katie