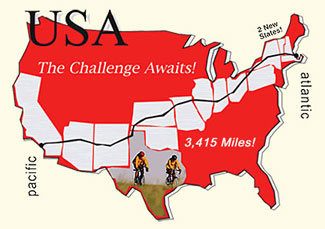 Where is Lance?
Follow Al on his cross country bike tour!
If you want to see the itinerary, click here.
To learn more about the tour, click here.
MISSISSIPPI RIVER RIDE DAY 6
2012-10-03

QUINCY TO ST. LOUIS. THE TEAM IS LOOKING A LITTLE TIRED BUT WELL FED.

My God, can this group eat. Every night we gorge, including Larry. Larry forgot to pack his belt, but tonight he announced after dinner that he no longer needed one. We ate at a BBQ that had the most morbidly obese people in one place that I have ever seen. Hugh portions. I finished every last morsel and ate some of Dave's ribs as well.
Burb.

The group is getting a little tired but they are game. Chuck announced today that he is really disappointed that we only have four more riding days. I expected this to happen. These rides are exhausting, can be boring at times, but overall a blast.

Today I arrived at the edge of St. Louis and called the van. They were 1.5 hours from picking me up so I biked down the road and found the Jamestown mall. This mall had at least 80% unoccupied store fronts. I took my bike inside and considered riding it down the hallways. Nobody would have known since there was no one at all in parts of the mall. The food court had two open business's, I of course ate at the BBQ joint.

Diane arrives tomorrow at 9:30am. Since we need to ride 200 miles tomorrow we have not been able come up with an algorithm that has Larry driving less that 600 miles and gets us in before dark. So we just decided to wing it.

When reviewing tomorrow's route I decided to check the times that the Dorena Hickman Ferry crossed the MR. I could find the daily start time but not the crossing times. Then I noticed the picture with the caption, "Ring the bell and we'll come get you." What?

Another excellent riding day. 70's but Chuck did get rained on a little. But it was a dry rain.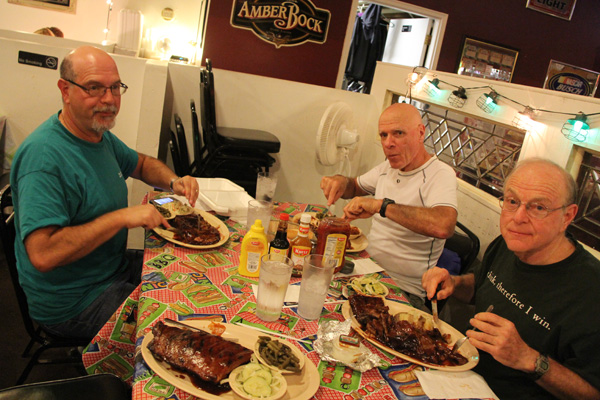 Again?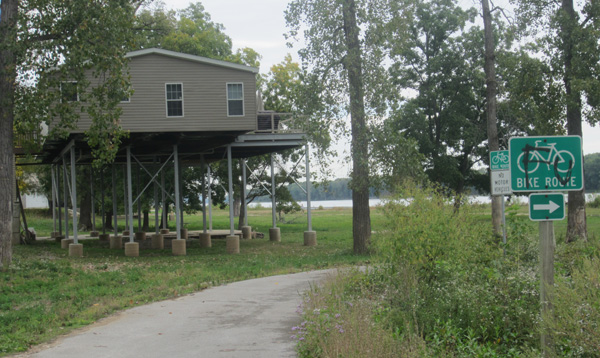 I know it's on stilts, but would you want to live here during a flood?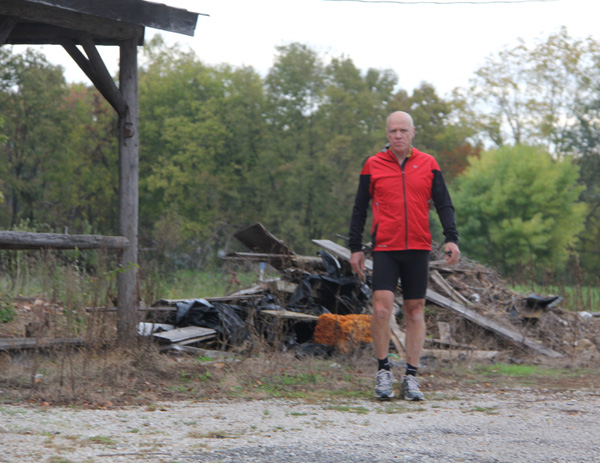 Ready to ride.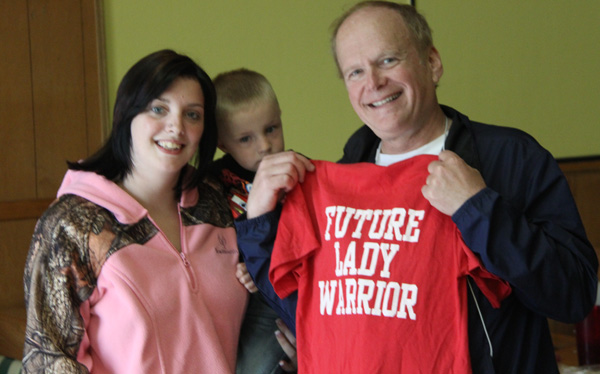 I wasn't there when this picture was taken. What is going on here?
Messages
Allan, Do you remember the way you would describe the diets of some of your buddies on the cross-country biking trip... all the meat and hamburgers consumed, no veggies, little fruit, etc.?
I have not seen a lot of vegetables in the pictures on your blog. You must eat those up first, right? Or maybe you just get tired of all the fresh fruit and veggies that you nosh on during the day. Miss ya
Sent 2012-10-05 from Roddy
I read every entry and looked at every picture. Looks like a great trip! And the food - wow! Yes, I'd probably be the one to gain weight on a trip like this! And I too am sad that you only have a few days left! Having done quite a bit of cross country biking, I really identify with so many of the issues you face. I'll look forward to the reports of these last days. I'm rooting for you!
Sent 2012-10-04 from Chuck's friend, Jasmine
Another boring day of biking. That makes 2 days in a row of Illinois farm country. The first third of the ride today was hilly, the second third of the ride had headwinds and the lasr third rain.

The only diversions on the ride were a sign at aproduce station advertising Titsworth melons and a dead raccoon by the side of the road with a white wine priest around.

I too was a member of the clean plate club with dinner.
Sent 2012-10-04 from c h u c k
Anyone have an idea as to why Larry has that T shirt?
Sent 2012-10-04 from chuck