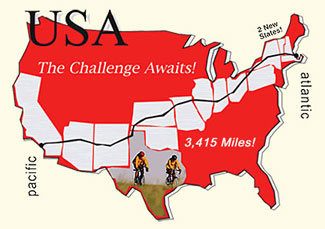 Where is Lance?
Follow Al on his cross country bike tour!
If you want to see the itinerary, click here.
To learn more about the tour, click here.
Road Trip 9/27/12
2012-09-27


A LONG DAY FROM GRAND RAPIDS TO BEMIDJI MN

We drive to cousin Dave's house in Grand Rapids after Break Fast on Yom Kipper day, arrive at 10:30pm and are up at 5:30 for the long trip to Bemidji MN.
To add to the adventure we are taking the ferry across Lake Michigan to Manitowoc Wisconsin.

On the ride to the ferry Dave tells of his ride on Monday. He is riding on a bike path when a car pulls out of a driveway and seems to be following. When he gets to the first stop sign the driver of the car and his wife are there, grab him and proclaim "you killed our dog". The wife states she saw him do it. Dave: What? I killed your dog? How? Why would I kill your dog? They are furious and will not let go. The police are called, Dave is interrogated and the cop says he will file a report and the DA will decide the next step. Dave is quite concerned, blabbering about all the reasons he wouldn't kill a dog. We, of course find this hilarious and no longer call him Dave. He is now referred to as Dog Killer, or Killer for short.

Once on the ferry I hand out the detailed road directions , along with Rand McNally state maps. This was a strategic decision on my part. When I explained that the application I used to create the directions was a piece of crap (ridewithgps.com should under no case ever be used) and in many cases just wrong there seemed to be a fair amount of agitation amongst my companions. I had spent many hours trying to correct the directions but in the end I thought it to be useless because even if they were correct I didn't think anyone could possibly follow then. This did not go over well. And in the end I was correct, useless and impossible to follow. I now know why we pay Tracey the big bucks.

We head north to the western end of Lake Superior and head west. You know you are North when you see road kill and it is a bear. The fall color was fabulous and it was scenic country.

We arrive in Bemidji at 10pm central. A long day.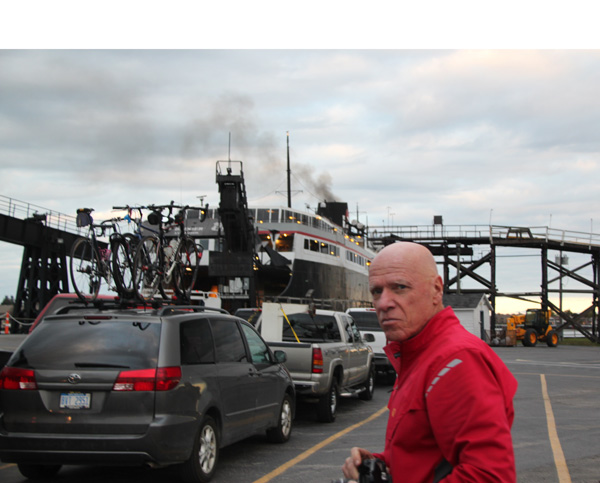 Early morning at the ferry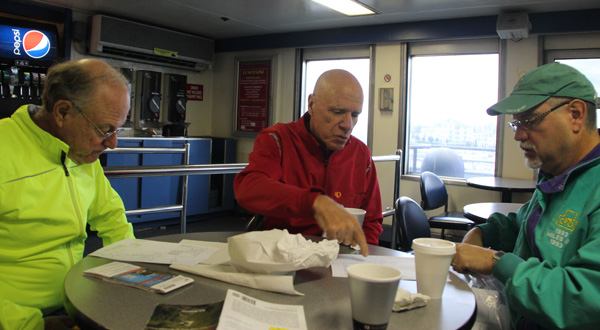 Explaining the directions. There seemed to some agitation when I informed my companions that the directions were terrible, but it didn't matter because I did not think they could be followed anyway.




We had not thought about the fall colors. Stunning.



A long day of driving.
Messages
Bear as roadkill?! Great line, Al, but where's the proof? Seeing is believing - no Photoshopping allowed.
Sent 2012-10-06 from Carol (and Chip)