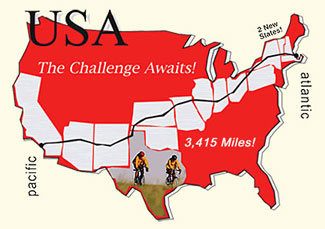 Where is Lance?
Follow Al on his cross country bike tour!
If you want to see the itinerary, click here.
To learn more about the tour, click here.
Day 24 Final riding day St Augustine to Daytona Beach Fl
2011-10-15

53 Mile ride into Biketoctober 2011

Pictures all around at the hotel in St. Augustine. Jim, Jack, Peter and myself set out just cruising along until Stuart passed us. Well, we have been the fast riders almost every day and this gets us excited. Off we go, leaving Stuart and speed into Daytona Beach.

This is pretty much what we have done every day. We just like to ride fast in a disciplined pace line.

Daytona Beach is hosting biketoctober 2011. There are thousands of motorcycles in this city. From what I tell they just ride around revving their engines.

The trip has been a blast. Good roads, good weather, all in safely, and most importantly great friendship.

This will be my last posting for this trip. Thanks to all who have followed it.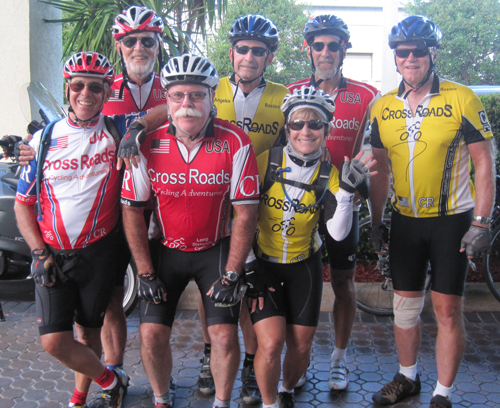 The Pedigrees: L to R Scott, Bob, Tom, Bill, Chris, Larry, Champ.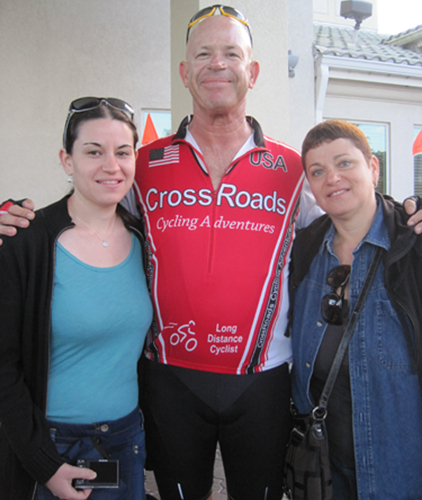 Jack's wife and daughter have come to visit.

Netta, Jack, Smadar.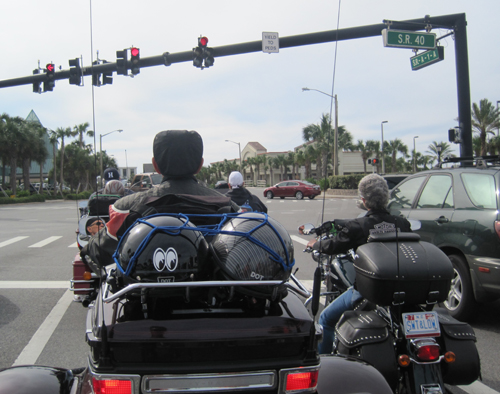 This is what it looked like riding into town.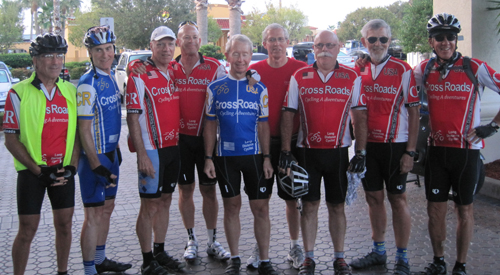 XC09ers on the East Coast ride: L to R

Mike, Peter, me, Jack, Jim, Tom D., Tom R., Bob, Hank. Champ not in picture.
Messages
Thoroughly enjoyed reading the posts from beginning to end - albeit only this morning. Especially compared to the XC trip, you made this sound almost easy, but another impressive ride! More importantly, I think, the camaraderie your group shared came across loud and clear. Nicely done!
Sent 2011-10-22 from Steve Taylor
Great postings Al! Glad I could follow along! What's NEXT??????
Sent 2011-10-18 from Bonnie
Glad you had a good time dad, we missed you and are happy you are headed home!
Sent 2011-10-16 from Anna, Darin and Ella
Congrats on a safe finish. Thanks for all the updates - look forward to seeing you again soon.
Sent 2011-10-16 from Chip, Carol & Ron
Good for you! but compared to the last trip this was to easy!(just kidding)
Sent 2011-10-16 from peter b
I can't believe how fast this trip has gone. So glad you had a great time and everyone rode safely. Love you and miss you.
Sent 2011-10-16 from Katie
Hey, Al. It was fun following you on this trip! Great job.

Howard
Sent 2011-10-16 from hserlin@umich.edu
Way to go guys!
Sent 2011-10-15 from Wally Herrala
Those bikers may be able to rev their engines but you could take 'em in a foot race.
Sent 2011-10-15 from 60