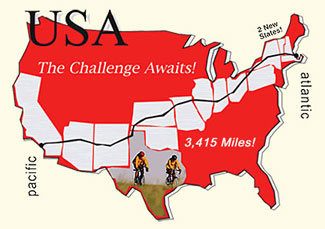 Where is Lance?
Follow Al on his cross country bike tour!
If you want to see the itinerary, click here.
To learn more about the tour, click here.
Day 23 57 Miles from Amelia Island to St. Augustine FL
2011-10-14

Florida--The Sunshine State

I'm reminded of the film Animal House.

Otter: I think that this situation absolutely requires a really futile and stupid gesture be done on somebody's part!
Bluto: We're just the guys to do it.
D-Day: [stands up] Yeah, I agree. Let's go get 'em.
Boon: Let's do it.
Bluto: [shouting] "Let's do it"!

There was a ferry that we needed to catch that leaves at 15 minutes and 45 minutes after each hour. It was 20 miles from the hotel and we leave the hotel about 5 minutes after the hour. We never know how quick the ride will be, there are just too many variables. We stop at all red lights, the road surface effects speed, traffic, wind, etc.

Jim was not up for trying so the Yids set off on there own. We were going so fast we considered trying to make the 9:45 ferry, but that would have meant averaging over 30mph. Despite road construction, traffic circles, and wind in our face we made it in 56 minutes. Jim soon decided he was going to race also but he was too far behind to catch us. The pedigrees came in just as the ferry was leaving, another minute and they would have made it.

There was not a cloud in the sky today and we had nice Atlantic views all day.

The eastern coast of the US is remarkably flat. We have had no elevation except for bridges since New Jersey, about a 1000 miles. This makes for fast riding times.

We passed a naval air base today and four engine prop planes were landing. Jack announced that he was a paratrooper in the Israeli army and used to jump from these kind of planes. This lead into an interesting discussion at lunch about the Gurgkas, fierce warriors from Nepal who sided with the Allies in WW11. They were asked to volunteer to be dropped from planes behind enemy lines and only a few hands went up. This was unusual because they are fearless. When someone mentioned that they would have parachutes, all hands went up.

We passed eleven golf courses today bring the trip count up to 40. Today we had ten that were within ten miles of one another.

I had an interesting conversation with Bob today. He was seriously injured on the XC trip when hit by a motorcycle. I witnessed this accident. He remembers nothing of this event and I was able to fill in the details for him. The wonderful news is he has no lingering emotional effects from the accident and is an avid cyclist.

Little known fact: Founded in 1565 by Spanish explorer and admiral Pedro Menéndez de Avilés, it is the oldest continuously occupied European-established city and port in the continental United States
Spanish rule St. Augustine was intended to be a base for further colonial ventures across what is now the Southeastern United States, but such efforts were hampered by apathy and hostility on the part of the Native Americans towards becoming Spanish subjects. The Saturiwa, one of the two principle chiefdoms in the area, remained openly hostile. In 1566 the Saturiwa burned down St. Augustine .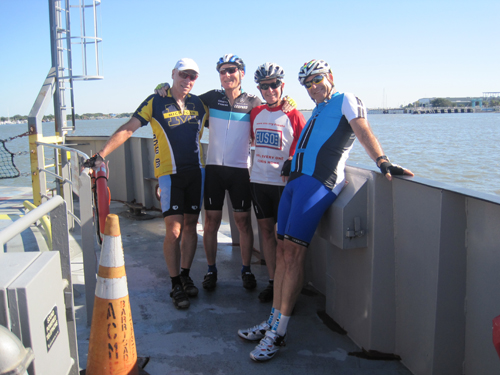 On the ferry. Me, Peter, Jim, Jack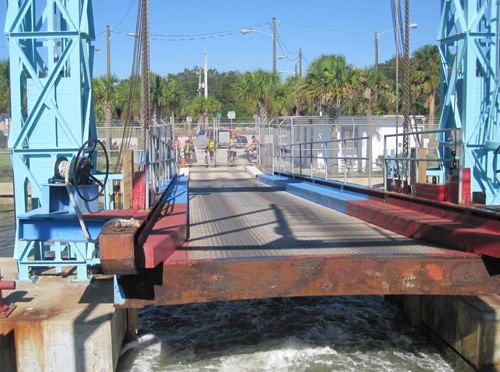 The Pedigrees at the gate. All of us on the ferry found this quite humorous.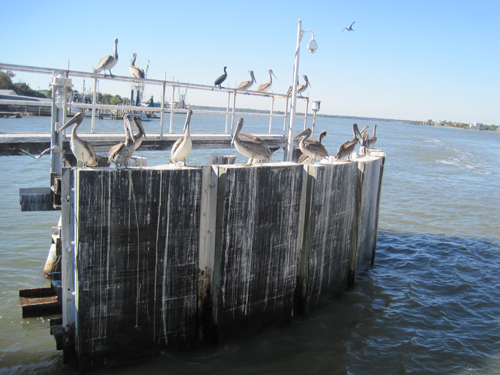 View from the ferry.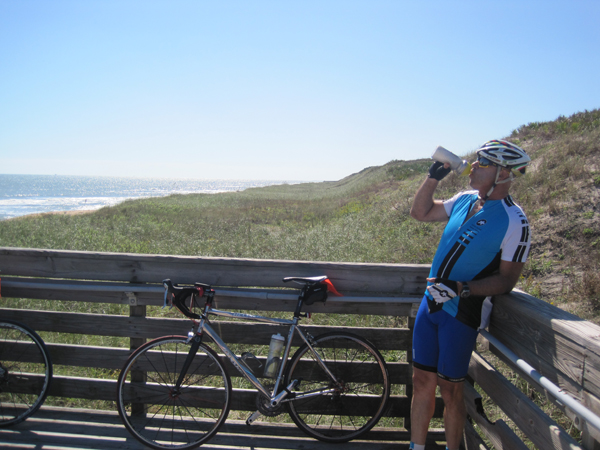 At the Atlantic.
Messages
Why are Jim, Peter and Jack still wearing their helmets on the ferry ?

I am happy that Bob made the trip this year.
Sent 2011-10-14 from Ira