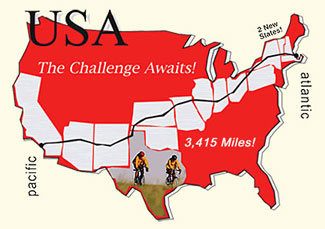 Where is Lance?
Follow Al on his cross country bike tour!
If you want to see the itinerary, click here.
To learn more about the tour, click here.
Day 22 61 Miles from Brunswick GA to Fernandina Beach FL
2011-10-13

Our 13th State.

Yesterday we rode on 71S again and it is not an excellent road to travel by bike. Generally a four lane divided highway, rumble strips by our side and four lane semi urban scenery. Don, one of our riders checked and we already have ridden 240 miles on it.

Each day at 5:45 we review the next day's ride. Before Tracey began to speak, Bubba and the Broads (Hank, Jan, Elsa) get up sing the following to the tune of MTA by the Kingston Trio:

Let me tell you a story of a man named Bubba
On 6 tragic and fateful days
He put his cue sheet in his holder
Kissed his wife and Robin
Went to ride 17A

Did he ever return?
No he never returned
And his fate is still unlearned
He may ride forever on the rumbly stripy shoulder
He's the man who'll never return

Well today's ride was 50 miles straight down 17a before we left to go on A1A. Lyle and the Latkes (thanks Peter) decide since the ride is only 60 miles, which on a normal day takes three hours, we will stop and smell the flowers. Jim's last name is Lyle.

I start and am at the end of a slow pace line. This is uninteresting to me and I stop and take numerous pictures. I see a rider in my rear view mirror and don't recognize him. It's Mac, our mechanic, so we meander down the road. We see a Kodak moment ride awhile and turn around to take the picture. Jim approaches and says he is DFL (dead f**king last). He joins us and we stop at a park to play. We are last into the SAG and Peter and Jack have waited for us.

We pick it up some, but stop for more pictures and I am DFL to reach Florida.

I learned a new word today: Grupetto. In the Tour De France the last riders, often injured, saving their energy for another day (often sprinters) or just slow riders form a group at the back of the day's ride. Since there is a cut off time at which you can be eliminated they work together to just beat this time.
My group informed me we were the Grupetto today.

We have entered Florida. They are correct. This was the first sunny day we have had.

Little known fact: Known as the "Isle of Eight Flags", it has had the following flags flown over it since 1562: France, Spain, Great Britain, Spain (again), the Patriots of Amelia Island, the Green Cross of Florida, Mexico, the Confederate States of America, and the United States.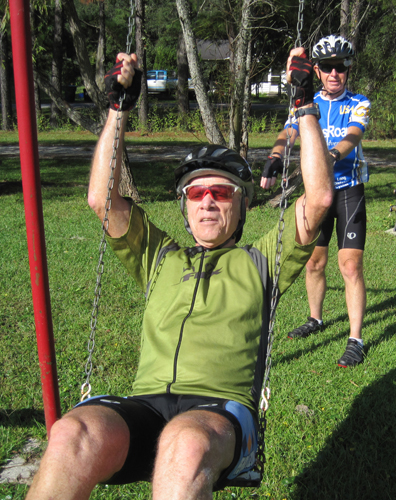 Jim pushing me on the swing.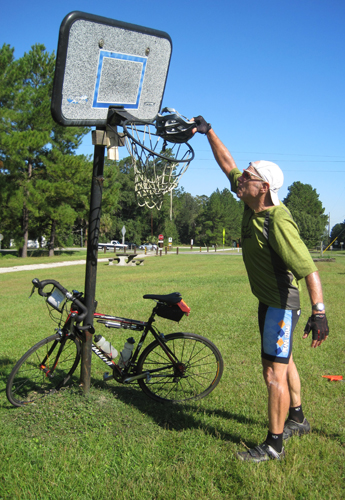 Playing in the park.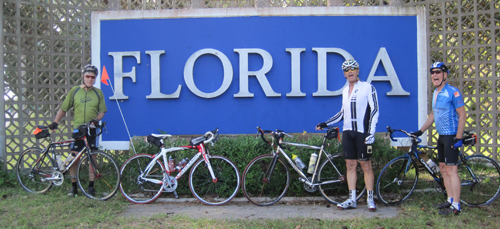 Our 13th state. Me, Jack, Peter, Jim taking picture.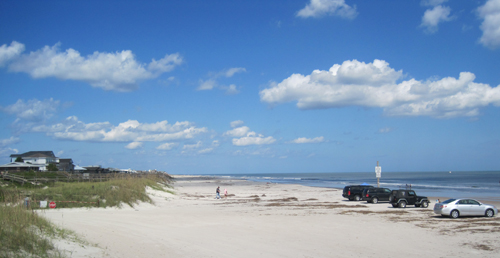 Fernandina Beach
Messages
And where are the superman pics?
Sent 2011-10-13 from Anna and Ella
Hi Gramps - We miss you today... but looks like you are picking up some good babysitting tips along the route. Maybe we can enlist Jim as well? Ella is looking forward to a bunch of pushes on the swing when you return. Bike fast and hurry home! We love you!
Sent 2011-10-13 from Anna and Ella