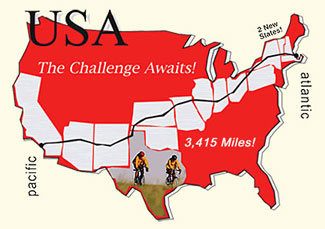 Where is Lance?
Follow Al on his cross country bike tour!
If you want to see the itinerary, click here.
To learn more about the tour, click here.
Day 20 Rest day in Savannah GA
2011-10-11

Where is Cassie?

Our hotel is three blocks from the Savannah College of Arts and Design. Cassie Russell is my all time favorite Michigan basketball player. So I get the bright idea of going to get my picture taken with him.

I walk over to the campus and outside the coffee shop I ask a patron "Can you tell me where to find the basketball arena"? "Are you sure they have a basketball arena"? "Yes, their coach is from the U of Michigan". I then ask if he is a student. No. He then replies "It is a long way from drawing a tree to being an athlete". Hmm, I suppose it is.

I ask three more people who are students. They all stare at me with bewilderment.

I return to the hotel, look Cassie up on wikipedia, he is in his 12th season as coach at SCAD it says. I then google athletics at SCAD, there is no basketball team listed in their athletic roster. I call info at SCAD, can you connect me with Cassie Russell? No listing.

Where is Cassie?

Six of us were out to dinner last night. When the waitress found out that we were all riding from Maine to Florida she responded "You must all be really good friends". How true. You make great friends on a trip like this.


Savannah is a city with a very nice feel. Twenty squares filled with historic monuments, beautiful historic houses, park spaces, civil war history, fine restaurants, and hotels. It is just very well done. A group of us took a tour bus this morning to learn about the city.

It is also the second largest port on the East Coast and the fastest growing port in the country.

And I will not be riding my bike today even though it is not raining.

But where is Cassie? I have a call into the SCAD athletic department. Hopefully they will return the call.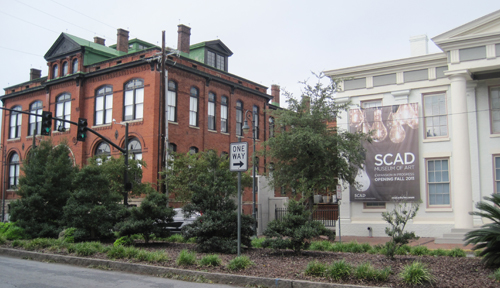 Where is Cassie?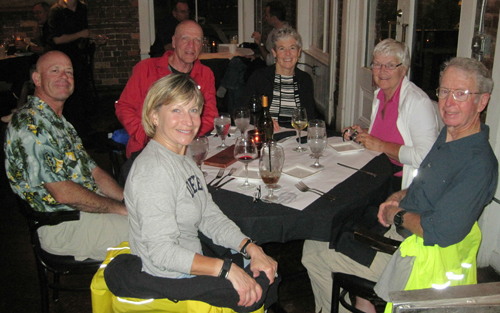 Dinner in Savannah: L to R Jack, Chris, me,
Roddy, Jan, Jim.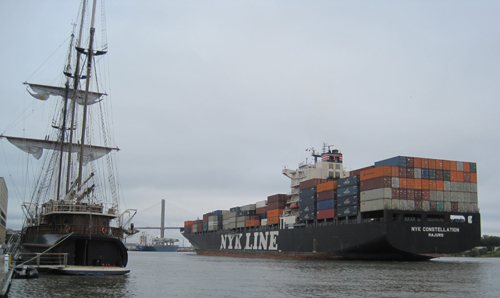 I estimated 1000 shipping containers on the deck of this ship. In the distance is the bridge we rode over to enter Savannah.



What an interesting city.
Messages
Miss you and Mom- sounds like a great rest day in a cool city! Love you, keep riding strong!
Sent 2011-10-11 from Katie
Love all the group names - white bread and the bagels is my favorite.
Sent 2011-10-11 from Dave N.