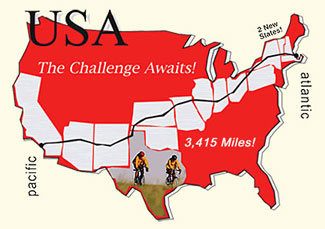 Where is Lance?
Follow Al on his cross country bike tour!
If you want to see the itinerary, click here.
To learn more about the tour, click here.
day 16 109 miles from Jacksonville NC to Little River SC
2011-10-07

Huge golf course day.

One of the things I do to make the ride more interesting (yes, I know) is to count golf courses. In the last 10 miles of today's ride we counted 10 courses to bring the trip total to 24. Huge day for golf courses.

Zinfandel and the Mogan Davids had decided to take an easy day and the 109 was as easy as 109 gets. We had generally favorable winds and cool temps. There are seven "big dogs" on this ride. The people I ride with and Sam and Don. Sam normally rides with Michell who is strong but not quite as fast. Sam went off the front going to Ocracoke Island and I chased him down. We actually caught riders who had started 44 miles ahead of us.

Don is extremely fast but chooses his days. When I was having bike trouble in the mountains I'm told he went off the front. He has taken a two week mountain riding class and was testing his learning. Today, he decided to try for a PR for 100 miles. We wished him well and off he went.

Since we had favorable winds it is easy riding for everyone. We decided to back way off and rode with people we never see. We did pick it up after the second SAG and passed all except Don. We were not really trying and did the century in 5:17. A easy day to ride indeed.

Last night we ate dinner at the Golden Coral. It was an all you can eat buffet roughly the size of Crisler Arena. Peter describes it as the closes thing to a human feed lot he has seen.

Today, after we passed the 100 mile mark Jack spotted a Bagel shop and we headed there for lunch. Little did we know that Bagel shop was an exact description. They had exactly one bagel. We had our sandwiches on bread.

This evening begins Yom Kippur, the day of atonement for Jews worldwide. We have decided not to try to attend services after our experience with Rosh Hashananh. As Jack, my fellow Israeli rider, has pointed out, in Israel you feel Jewish. In the United States you join a synagogue to have a Jewish identity. In our riding group we do have a strong Jewish community.

Tomorrow, Roddy arrives. I can't wait to see her.

Little known fact: The Myrtle Beach Boardwalk opened in 2010 and has been recognized as the nation's #3 boardwalk by National Geographic.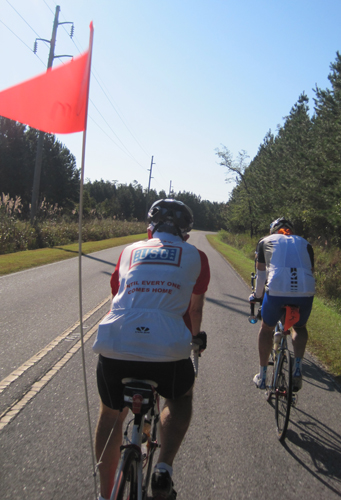 This is the view I have every day. My riding buddies going down the road. Jim, Jack, and if you look closely Peter's shadow.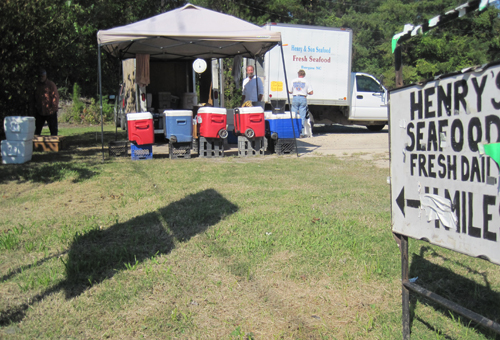 We are near the ocean. The fisherman go out in the morning than sell their catch at roadside stands.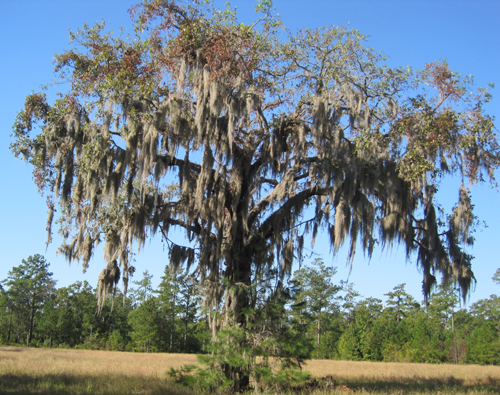 We are in the south. Spanish moss on an oak tree.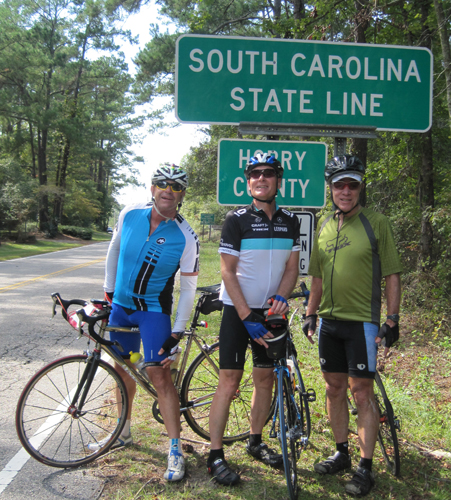 Our 11th state. Jack, Peter, me. Jim taking picture.
Messages
Al! You have never been to a Golden Coral? Wow! What about Red Lobster? Ryans? Old Country? WOW I'm gonna have to take you cool ard from you! LOL
Sent 2011-10-18 from Bonnie
I am following everyday,but with a 2yr. old and 4yr. old at my feet I am a little distracted-I think some of my e-mails did not go thought-I should let the 4yr. old do it!
Sent 2011-10-08 from peter b.