Where is Lance?
Follow Al on his cross country bike tour!
If you want to see the itinerary, click here.
To learn more about the tour, click here.
Day 7----81 rainy miles from Somerset to Hammonton NJ
2011-09-28

Happy New Year It's Rosh Hashanah.

Jim and the J-boys set off on an overcast and drizzly morning. Since we begin our rides at 7:30 we catch rush hour traffic. After 30 miles we started seeing small farms. On the cross country tour the farms were millions of acres. Here I would estimate 20 acres farm. Cranberries, horses, beans, berries.

When we cycle through these small towns that frequently have estalished in ---- signs. I saw the sign entering Medford NJ today that said established in 1692. Now that is old.

The signs from tropical storm Irene was more prevalent. The fields were saturated with lots of standing water. We encountered washed out roads that we detoured around.

We have had only a couple of hours of riding in the sun, but I keep thinking about my friend Bill G. who is doing Maine to Florida on a bike and he is camping! He started almost a month before us and he has been deluged. And he is camping.

This evening begins Rosh Hashanah and we have found a Temple that will accept us we think. We made a detour into town to check it out and found it to be tiny. This should be interested. My riding companions are all Jewish except Jim and he doesn't want to left out and says he is coming to services.

Little known fact: In 1949, Hammonton was the winner of the Little League World Series.

Another little known fact: Hammonton is known as the "Blueberry Capital of the World. I actually wonder about this. Who decides that they are the blueberry capital of the world?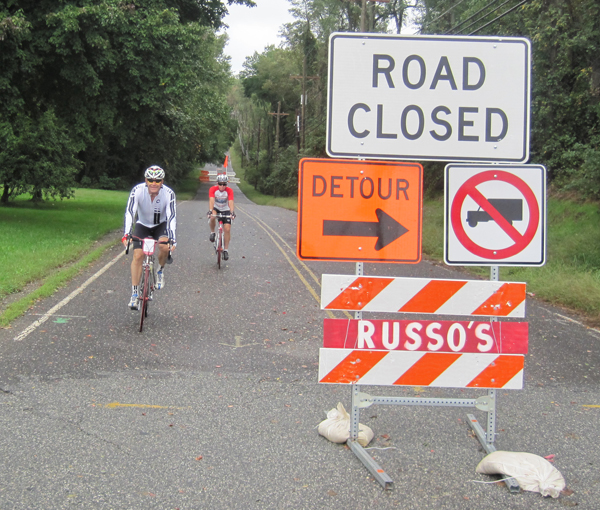 This reminds me of orienteering. There are map symbols that say uncrossable swamp. Well, who decides that it is uncrossable? We were able to walk over the damaged bridge.




Horse farm.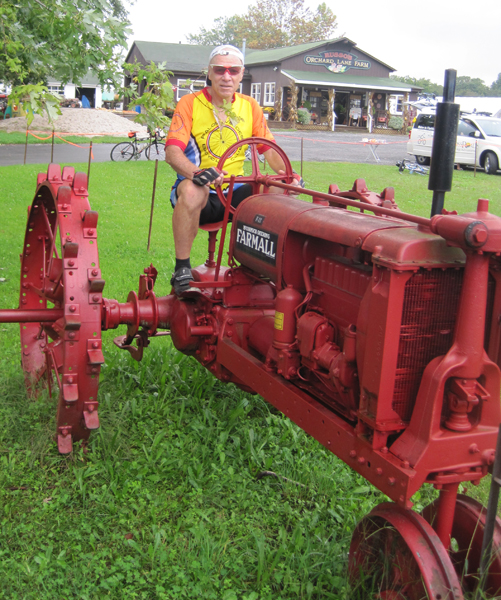 I could not get it to start.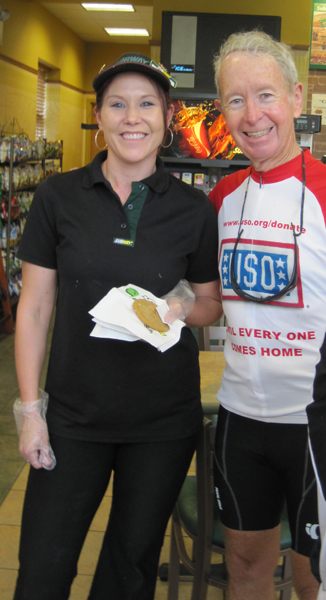 We stopped at Subway for lunch. When they found out we were riding to Florida, they gave us free cookies. Yes.
Messages
As I always say the only thing better than cookies is free cookies
Sent 2011-10-05 from Dave
Happy new year Dad! I've got to say, you do not look natural on that tractor- good thing you are sticking to the bike. Hoping sunshine is coming your way. Love ya
Sent 2011-09-28 from Katie
Al: Enjoy your messages. Pleased to observe that Larry got you to smell the flowers. The Renfrew/Crouch Group and The Geezers send their best. Be safe. Ed
Sent 2011-09-28 from edwhood@gmail.com
Al: Enjoy your messages. Pleased to observe that Larry got you to smell the flowers. The Renfrew/Crouch Group and The Geezers send their best. Be safe. Ed
Sent 2011-09-28 from edwhood@gmail.com